Latest posts by Melanie Griffin
(see all)
As we get older, cell phones take on extra importance. They're must-haves for emergencies that become more common, mobility coordination as that becomes more complicated, and keeping in touch with friends and relatives who don't live so close anymore. 
But that doesn't mean cell phones have to be complicated. There are plenty of basic phones and minutes plans that give you only the necessary features without crowding their memories or yours with applications and instructions you won't ever use. 
Tracfone has always kept their devices and plans simple. While they're not specifically built for seniors, more and more are embracing Tracfone's streamlined products to stay in touch without needing constant help or a degree in IT. Adult children are also using Tracfone as a brand to give their elderly parents for everybody's peace of mind.
But not all Tracfones are created equal – and neither are all senior citizens. We've compiled a list of best Tracfone models for a range of golden years circumstances; whether you're looking for a way to learn how to get photos from your grandchildren, or all you want is a voice phone system you don't have to leave at home, we've got you covered. 
We've also sorted them into two categories, flip phones and smartphones, so you can start with the exact style you want and go from there. (Unfortunately, Tracfone has discontinued its standard, non-flip dial pad basic phone the Alcatel "Big Easy," but refurbished models are available on Amazon and eBay if you don't want a flip or smartphone.) 
Flip Phones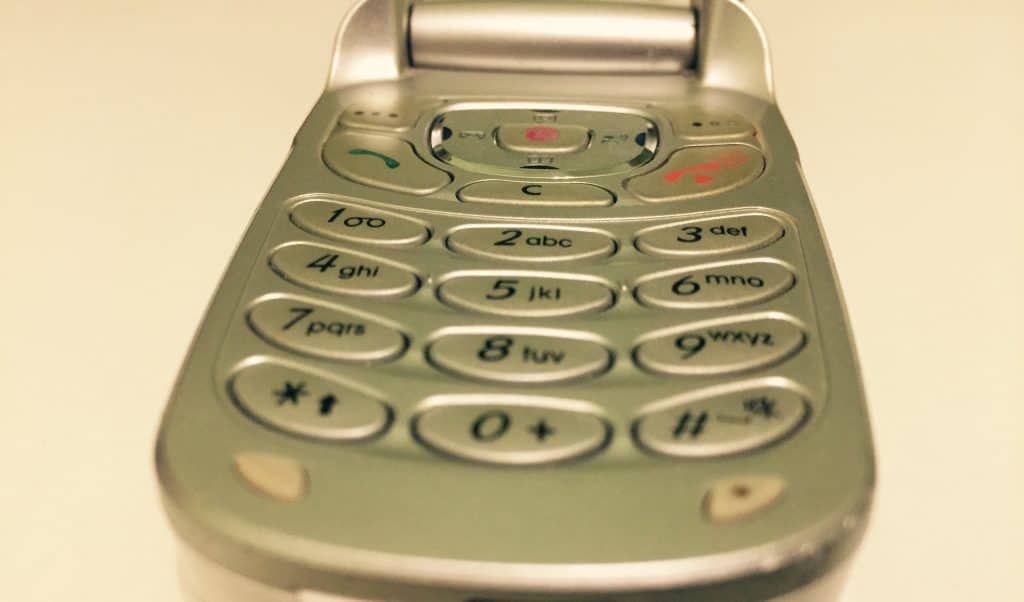 Flip phones are cell phones that close on a middle hinge. They have number buttons instead of a touchscreen, and their screens are generally too small to facilitate a lot of visual data. However, Tracfone has a few that retain the simplicity of their origins while using technological updates to bring you more services. 
Advantages of Flip Phones for Seniors
Size. Because they close on a hinge, flip phones are shorter to store than phones that don't. A lot are also just as thin as smartphones, thanks to huge leaps in nano-computing over the last fifteen years. This overall smaller size makes flip phones easier to store in pockets, purses, or wherever will be easiest for you to reach.

Function. Since they don't have touch screens, flip phones rely on the same number button pads as touch-tone landlines do. For a senior citizen who has lost fine motor skills in their hands and fingers, these are much more reliable, responsive, and easier to operate than touch screens on smartphones. 
Disadvantages of Flip Phones for Seniors
Hearing and speaking. Unfortunately, flip phones are designed with smaller speaker and microphone areas that must be close to hear and operate. Holding a flip phone close enough to hear and speak into these areas may be difficult for seniors with joint pains or any sort of arm and hand mobility issues. However, there are ways around that, and the Tracfones on our list have several options to increase communication quality. 

Screen size. Generally, touch screens are going to be larger than flip phone screens because they hold more function. This means that flip phone screens are not the ideal size to view photos or any other visually complex information; it also means that important operational text may be too small for those with visual impairment, or just for the basic comfort of older eyes. However, Tracfone flip phones have magnifying options designed with this very problem in mind. 
Best Tracfone Flip Phones for Seniors
Doro 7050TL Flip Easy-to-Use Cell Phone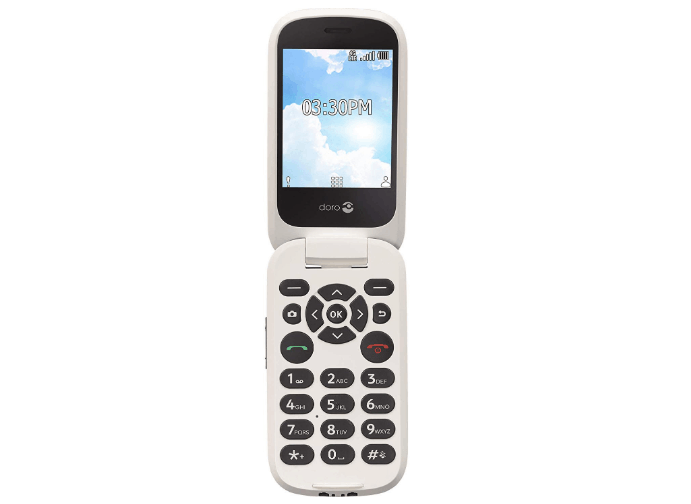 Overview: Designed specifically for seniors, the Doro is a happy medium of a flip phone. It's not so big that it becomes uncomfortable to carry, but it's not so small that it will get lost in a purse or on a crowded table. Its features cover all the basic usage needs, plus a couple extra for those who want to explore them. 
Pros: 
Long battery life. If you're worried about losing access to your cell phone functions after only a few hours, consider the Doro. Tracfone claims it keeps a charge for eleven hours of talking, and up to 384 hours on standby. This also means you won't have to charge it more than once a day with normal usage.

SOS button. This feature is what makes the Doro stand out as a great cell phone specifically for seniors. Many times in emergencies, there's no time to fully open and dial a call on a flip phone, or doing so would bring too much attention in hostile situations, or the nature of an accident makes it physically impossible to do anything except push a button. Fortunately, that's all you have to do on your Doro – push the SOS button on the outside edge, and you'll be connected to emergency personnel as quickly as you need them.

Large icons. With the rise of smartphones came the ubiquity of screen icons that could mean anything if you can't read their labels. Doro fixes this by making their phone's icons large and clearly labeled for minimal eyestrain and maximum understanding.

Very clear audio. Flip phones can be entirely hit or miss with audio quality. The Doro makes sure it lands on the excellent side of that scale, which is another quality that makes it great for those of us who don't have all the hearing that we used to. Plus, it's compatible with

M4/T4 hearing aids.
Cons: 
Sluggish OS. For all its excellence on the voice end of cell phone usage, the Doro scores below average in the operating systems response category. Reviews mention the difficulties users have when texting, which they say goes beyond the normal frustrations of using a numbers pad to text letters. One user did point out this is because of the network and not the phone itself, but since the Doro only works with Tracfone, that's going to be something to think about at any rate.

Small screen. The Doro's large icons are great, but at 2.8 inches square, the interior screen is too small for any intricate visual display.

Minimal camera quality. Another con to the Doro's visual functions is its camera. There IS a camera built into the front of the flip phone, but the quality of its photos and video functions (coupled with the small display screen we mention above) makes it less than ideal for exchanging media. 
TracFone Alcatel A206G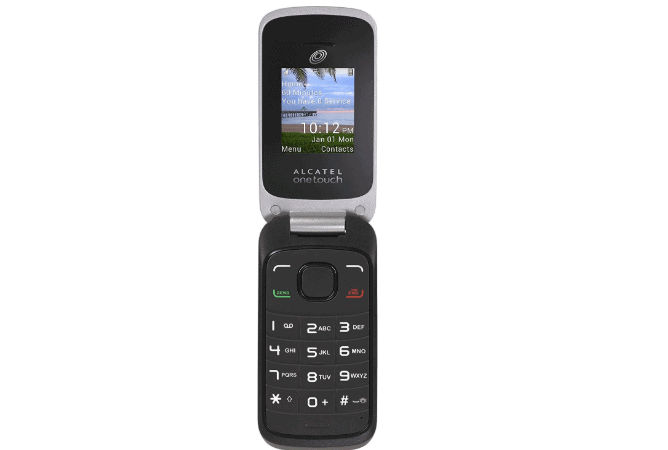 Overview: The Alcatel is another flip phone from Tracfone that keeps its functions simple but usable. With fewer frills offered than the Doro, the Alcatel is great for seniors who only need the basics (and want to pay accordingly). 
Pros:
Low price. The Alcatel is a great deal on Tracfone's website. For $20 (plus a minute card to act as your service starter), it's yours now; if you're willing to buy one that's been refurbished, you can get one for just the price of your service card. Bargain-hunting seniors don't have to sacrifice their budget for functionality with the Alcatel.

Elongated shape. During the golden age of the flip phone, cell phones seemed to get smaller with every new model, pulling the speaking microphone further away from the user's mouth as they did. But the Alcatel has kept a long but thin shape so that you're right against the talking piece while still taking advantage of how compact technology has grown.

Notepad feature. This is a simple yet perhaps the most useful non-phone function on the Alcatel – a screen where you can jot down notes like you're typing a text message to yourself. They save automatically for whenever you need a reminder. Perfect for grocery lists, medication information, and emergency instructions that are easy for others to get to in case you become incapacitated. 
Cons:
No remaining minutes display. Tracfone's big service hook is that you only pay for the minutes you use, as you use them, so the vast majority of their cell phones have your remaining minutes displayed as a default for your convenience. Unfortunately, the Alcatel doesn't have this feature for some reason; it requires you to log in to your Tracfone account to see how much time you have left. This is a massive inconvenience for those who plan on going through a lot of minutes on a regular basis, such as talking to long-distance family and friends. 

The camera button on the side. The placement of the Alcatel's camera button is intended to make operating its rear-facing camera easier, and it does that. But easier access to that camera button also means you're much more likely to turn the camera on when you don't mean to, and that can confuse you when you're trying to access another function.

Relatively short battery life. The Alcatel is not going to die on you anytime soon, but its battery does last significantly less when you're using the phone – 6.5 hours of talking time, versus up to 288 hours as advertised on standby. 
ZTE Z233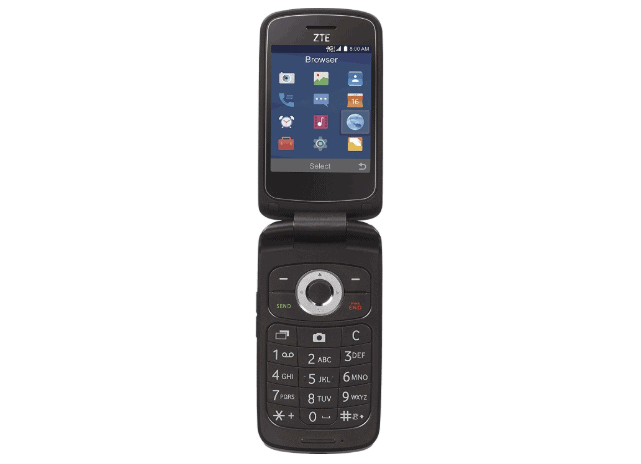 Overview: Many reviewers cite the ZTE as the flip phone they switched to after Tracfone's line of LG flip phones were discontinued. The roughly equivalent shape, size, and semi-smart phone features let those users transition without having to learn a whole new set of functionalities.
Pros: 
More talk time on one battery charge. Tracfone lists the ZTE as having 8.5 hours of talk on one battery charge, as well as 288 hours on standby. A notch up from the Alcatel (but still less than the Doro), the ZTE stretches its battery life further.

64k color display. Just because flip phones aren't technically "smart" doesn't mean they have to look dull. The ZTE's display resolution is the best Tracfone offers for its flip phones, and that keeps everything crystal clear for your user convenience. 
Cons:
Jumbled interface. The colors look great, but that doesn't make the ZTE's user interface easier to interact with. Several basic functions, like adding a contact number, hide in sub-menus that aren't obvious when remembering where to go. That's not a great incentive for a less tech-savvy user to explore.

Have to call or text to check minutes balance. Once again, Tracfone left off the most useful feature that pertains to its specific way of doing things; the ZTE also does not display the number of minutes you have remaining on your plan. However, you can call or text a specified service number instead of having to get on the internet or the Tracfone app to check. 
Smartphones 
Although Tracfone is most famous for its basic voice and text phones, it's got a few smartphones that offer the same straightforward usage and payment system models. Smartphones don't have to be intimidating for seniors to use, and these are a great start for those who are a little more tech-savvy – or willing to become so.
Advantages of Smartphones for Seniors
Features. Smartphones have become such an everyday item that we take a lot of their best features for granted. Tracfone wants to introduce these to seniors and other folks who have never experienced them before. Email, photography, web surfing, and GPS applications are all ways seniors can stay in touch with their favorite people and explore new ideas and places with an extra layer of security. There are many senior-aimed smartphone apps as well that they can take advantage of with Tracfone.

Compatibility. Beyond applications you can access on your own smartphone, it can also connect you to bigger areas of storage and knowledge, like backing up important life information into a cloud database. Tracfone's smartphones are much more portable than computers, yet they give you access to the same things. 
Disadvantages of Smartphones for Seniors
Battery life. Smartphones use a lot of processing power, and that drains their power sources quicker than batteries in flip phones or non-flip voice phones. Depending on what you use it for, your smartphone may require charging more than once a day, which is a recipe for disaster if you're depending on it for unpredictable emergencies. At the very least, your Tracfone smartphone will need to be charged nightly to make sure it's always available when you need it.

Complications. Tracfone smartphones are designed for untangling smartphone use. However, there remains a certain level of a necessary learning curve if you've never used a smartphone at all before. The use of multiple screens, for example, is a great way to fit more functionality into one device, but it also tends to hide important applications when you need them most. 
With all that in mind, here are our picks for Tracfone smartphones that are good picks for seniors.
Best Tracfone Smartphones for Seniors
Tracfone LG Rebel 4G LTE Prepaid Smartphone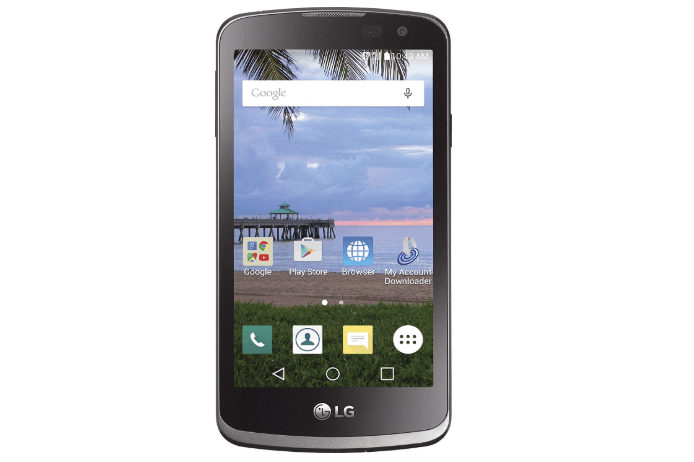 Overview: The LG Rebel is listed as a good middle ground between ease of use and full smartphone functionality. 
Pros: 
Easy setup. Many reviews by current Tracfone users described the ease with which they transferred all of their current information into the Rebel. And if you're a new Tracfone user, setup is even simpler – just pop in the provided SIM card and the battery and you're good to go.

Bright and clear icons. Color contrast is especially useful for those who need visual help checking their phones. With the Rebel's HD display, you'll see everything in Technicolor, including text labels, so you won't have to guess about what you click. 
Cons:
Volume range. Reviews mention that although the volume of applications such as music players work fine, the volume of actual voice calls seems to stay at a lower range. Keep this in mind if you need hearing assistance (and remember that the Rebel does come with

M4/T3 hearing aid assistance).

Have to use data to check voicemail. Hearing your voicemail messages does require using Tracfone mobile data with the Rebel. This is unfortunate for smartphone users who want to rely solely on wifi for their application needs, or those who want a simpler way to check voicemails.

No notification light. If you have a text message, a missed phone call, a voicemail, a new email, etc., you will have to check the Rebel's screen. There's no pulsing light to go along with the notifications you haven't checked, which makes it slightly more labor-intensive to see what you've missed. 
Tracfone Samsung Galaxy J7 Sky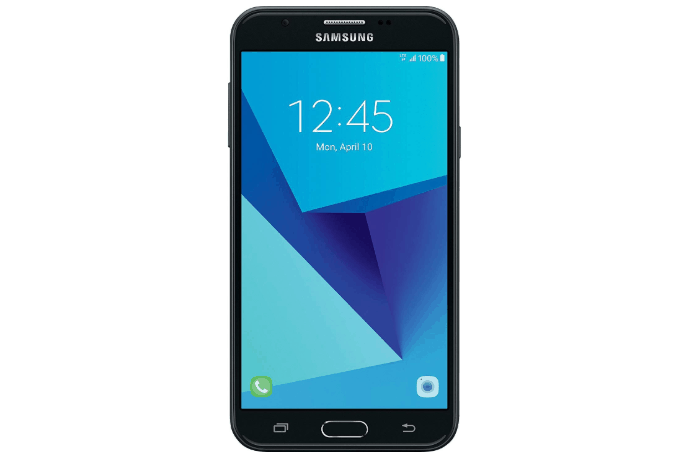 Overview: This is where Tracfone starts to get fancy. The Galaxy is Samsung's star, and it has all the trappings of a contemporary smartphone. If you or the senior cell phone user you're buying for are tech-savvy and are looking to fully upgrade, the Galaxy gives you access to advanced smartphone features every senior can enjoy as much as their grandkids can.  
Pros: 
Long battery life. The Galaxy advertises a continuous talk time of up to 24 hours on one battery charge, plus a standby time of up to 648 hours. Any other smartphone feature beyond talking and texting are going to drain it faster, of course, but with attention to your background tasks, you can keep the Galaxy going for days.

Large screen. The advertised 5.5-inch display takes up most of the Galaxy's front face. For seniors who are hesitant to try touch screens, this extra space to maneuver is exactly what you need to help you learn your way around a smartphone.

Advanced camera. Both the front-facing and main camera are 13MP, which means excellent clarity for your photos. The Galaxy also has in-phone editing assistance, so even if you're not a pro photographer, you can totally look like one to keep in touch with and view updates from those you love.
Cons:
Weight. 6.38 ounces doesn't sound like a lot, but the Galaxy is weightier than other smartphones available by about one full ounce. If you have any concerns about deteriorating hand strength, go hold a few smartphones in person to make sure the difference in weight won't be significant for you.

No external storage comes with it. The Galaxy comes with 16GB of device memory, but if you want to add more, you'll have to get your own micro-SD card. 
ZTE ZFive C LTE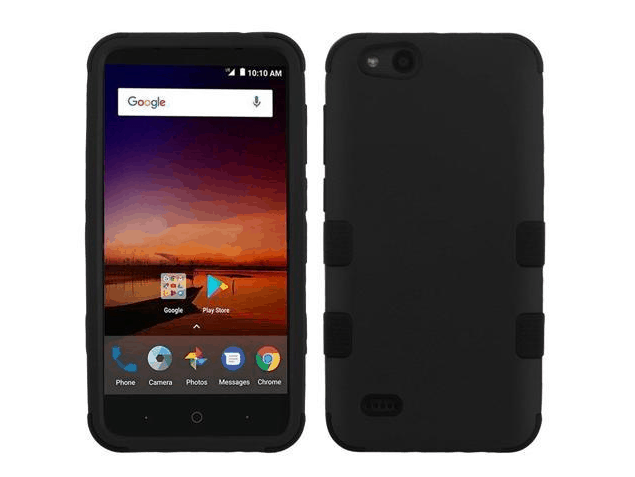 Overview: This is the cheapest and simplest new smartphone phone that Tracfone offers on its website. It's rated as a no-frills favorite for those just getting into smartphone usage.  
Pros:
Best bargain. You really can't go wrong with a smartphone that's under $10. With Tracfone's full support, any senior can buy this and a service plan to get started without breaking the bank.

Micro-SD card available for additional memory. If you ever crowd the ZFive's 16GB of internal storage, no sweat. An additional micro-SD card will give you plenty of room to grow, up to 32GB of total memory.
Cons:
Overly sensitive touchscreen. There's a fine line between touch screens that seem to ignore you all together and touch screens that jump whenever your finger gets near them. Unfortunately, the ZFive doesn't quite master that balance yet; reviews mention its over-responsiveness as one of the smartphone's downsides.

Apps you can't delete. Other reviewers lament the fact that they can't delete applications that they don't use on the ZFive. Those take up memory and eat battery life, but they're there to stay. 
FAQs About the Best Seniors Phone
Does Tracfone make a cell phone or cell phone plan specifically for seniors? 
While Tracfone does not make any phones that are specifically for seniors, they advertise their simplified devices and payment plans as ideal for seniors (and others who want a more basic cell phone experience).
What kind of payment plan does Tracfone require?
Tracfone requires you to buy minutes and data as you go. For example, you can buy 100 minutes from a card or their website that expire on a certain date, and once you've used most of those 100 minutes (or it's close to the expiration date), you get another card or go back onto their site and order more for your phone number. It's meant to help you never pay for more than you need, which is great for seniors who want the convenience of a cell phone plan without worrying about cost or underuse.
Can you use Tracfone with any cell phone, including the one you didn't buy from them?
Yes, mostly. If you have a phone you'd like to switch to Tracfone, their Bring Your Own Smartphone program lets you transfer your plan to them. GSM Unlocked phones, AT&T-compatible phones, T-Mobile-compatible phones, Verizon-compatible phones, and some CDMA Technology compatible phones are compatible, and you can check your phone's specific compatibility on the Tracfone website BYOP page. This is ideal if a senior user does not want to get used to a new phone but would like to simplify their plan.
Whether you're just looking for an extra piece of mind, or you want to dive headfirst into the latest technology, these Tracfone options will keep your cell phone plan simple. Great as a straightforward way for seniors to only pay for what they use, Tracfone also offers a variety of hardware to get you there. 
Recommended Reads: