Latest posts by Alexandra Gavrilescu
(see all)
If you're taking care of a loved one who's ill or of an elder family member, you will most likely need to use a homecare bed which looks pretty much the same as a hospital bed. In this situation, you need to find a high-quality comfortable bed that has plenty of useful features. After all, the person you're taking care of will probably spend a lot of time in this bed. Homecare beds are adjustable and fully or semi-electrical. These essential functions work as a supportive surface while also preventing bed sores.
In today's post, you will find some of the best hospital beds available on the market along with all the main tips you need to know in order to purchase a great product that's within your budget range.
How to Find the Best Hospital Beds
7 Main Steps to Finding the Right Homecare Bed
1. Make a List of All the Features and Extras You Want the Bed to Have
The majority of home care or hospital beds have the following common characteristics: they are electric, their height is easily adjustable, they have a wooden structure, and they feature a platform where the mattress goes. These are just the basic standard elements because, from here, you will have to choose between a large array of extra features and many available options. For instance, you can supply the bed with side rails or you can opt for one that has a good low height range. Here are the possible things you might take into consideration:
Side rails;
Remote handsets to operate the bed electrically;
Height adjustment functions;
Profiling mattress platform;
Tilt function;
The possibility to fit an air mattress;
Fully-enclosed foot and head panels;
Customizable wood colors, etc.
2. Choose a Homecare Bed that Has a Decent Height Range
When it comes to home care or hospital beds, selecting one with a great height range plays a crucial role. This feature can be found when one measures the distance that's between the platform where the mattress goes and the floor. For instance, some beds allow users to lower them to as close as 40 cm from the ground. The same bed model can reach a height of 80 cm. In fact, 40-80 cm represents a good height range.
3. Make Sure the Bed Comes with a Mattress Profiling Function
Most hospital beds feature this particular function which consists of a mattress base (it's usually an adjustable one). Due to the profiling characteristic, caregivers will be able to modify the patients' position. With the bed's help, one could raise the legs or bend the knees or even sit up while still on the bed. All these are possible due to certain features like a knee break, a leg raiser, and a back and/or headrest that the mattress platform should be equipped with. Moreover, you can easily control these electrical functions with a remote handset.
4. A Lower Bed Might Be Better (in Some Cases)
If a patient is weak, he or she might face higher risks of falling out of the bed which means you, as the caregiver, should opt for a lower homecare bed. The best solution is to purchase a product that is adjustable and can be lowered as close as approximately 20 cm from the floor. The lower the bed is the smaller the impact will be, in case of a fall, hence, the patient won't suffer serious injuries. An interesting trend is one of low homecare or hospital beds which have become a lot more popular compared to side rails.
5. Always Prioritize Quality
Besides functions and design, one of the most important aspects of a homecare bed is its quality level, especially when you think that, in most cases, this purchase is a one-off type of investment. If you select a lower quality bed only because it's cheaper, you might need to replace it after just a couple of years. So, while the budget is important, looking at the product's quality might play an even bigger role.
One thing you should do is buying a bed that has a decent warranty of at least 2 years. Furthermore, the supplier should have included the bed's replacement parts as well as the labor costs in the warranty.
6. Choose a Reliable Supplier
You should carefully research the market to find the best supplier you can afford. This kind of purchase shouldn't be done on a whim. After all, I am positive all clients desire to achieve the most from their purchase. Make sure the vendor provides extra services, too, besides just selling the bed. The most common additional services are the following ones: customer service, quick delivery, free or discounted installation costs, good warranties, etc. What you can do is look online and read other users' reviews and testimonials.
7. Design Is Also Important
When buying a homecare bed that looks like a hospital bed, most people are worried because they think that the new acquisition will feel unwelcoming and will look cold in their home. To be honest, it's true that most hospital beds have ugly designs that look both uninviting and clinical. However, certain manufacturers have thought about their products' designs as well. On the other hand, design-led beds are more expensive, so it all depends on your budget, not only your preferences. Still, if you search long enough, you may want to make a compromise, and find a decent medium-priced bed.
How Many Types of Hospital Beds Are There?
There are plenty of different hospital bed types. The ones people see when they visit a hospitalized relative or friend aren't the only available models. Each bed type is used in specific circumstances and situations, based on the patient's health problem, needs, and physical condition. Simply put, a hospital bed serves a specific purpose which includes the patient's treatment.
a. Gatch Bed
This model has been used in hospitals since forever. You will often see them in nursing homes. Remote locations or older facilities which don't have big budgets also utilize this type of beds. The main characteristic of gatch beds is the fact that they don't need electricity. Below the mattress, there are a couple of cranks placed right at the bed's foot. One of those cranks lowers or raises the entire bed; the second crank adjusts the head part, and the third crank does the same thing but for the foot part.
b. Stretchers
You will typically see stretcher beds in the emergency room units of the healthcare facilities and hospitals. They were created to provide a lot of mobility. Also, stretchers can be easily transferred or moved from the ambulance to a patient's house and then to the operating room. All these maneuvers are possible due to the bed's special features like folding legs.
c. Electric Beds
These are basic yet modern hospital beds and they can be seen in most of a city's healthcare institutions. Electric beds come with remote controls or buttons placed on the side of the item's structure and you can operate them if you want to adjust the bed's height. The bed can be easily lowered or raised even by the patient himself without assistance.
d. Low Beds
Low beds were specially manufactured for those sensitive patients who are prone to falling off which might lead to serious injuries. Usually, the resting platform is situated at approximately eight inches from the ground. Some low beds also have an adjustability maneuvering option. Still, most of these models only have the high/low functions for the foot and head areas.
e. Circo-Electric Beds
This type of hospital bed is equipped with circular bars that look similar to a hamster's treadmill. They rotate on the inside. Circo-electric beds come in handy in case of patients with severe burns, serious skin conditions, or those with spinal injuries.
f. Low Air Loss Beds
This bed features special cushions as well as a system that blows air into the mattress' sacs. They are supposed to keep the patient cool and dry. Low air loss beds are used for people with the following problems: skin grafts, burns, pressure ulcers, skin issues, circulatory conditions, etc. They are good because they lower the pressure that's exerted on the patient's skin.
g. Clinitron Beds
These beds are a combination of circo-electric and low air loss models. They are dedicated to patients with flaps, skin conditions, burns, pressure ulcers, and grafts. The bed is filled with a special material that mimics the feeling of sitting on the sand. Dry warm air is allowed to ventilate the material to keep an optimal temperature level.
Hospital Beds vs. Homecare Beds – Main Differences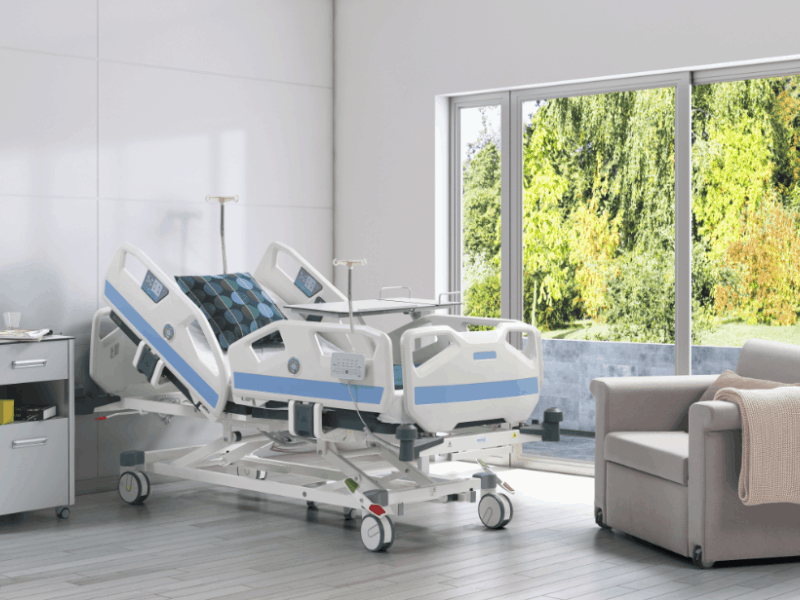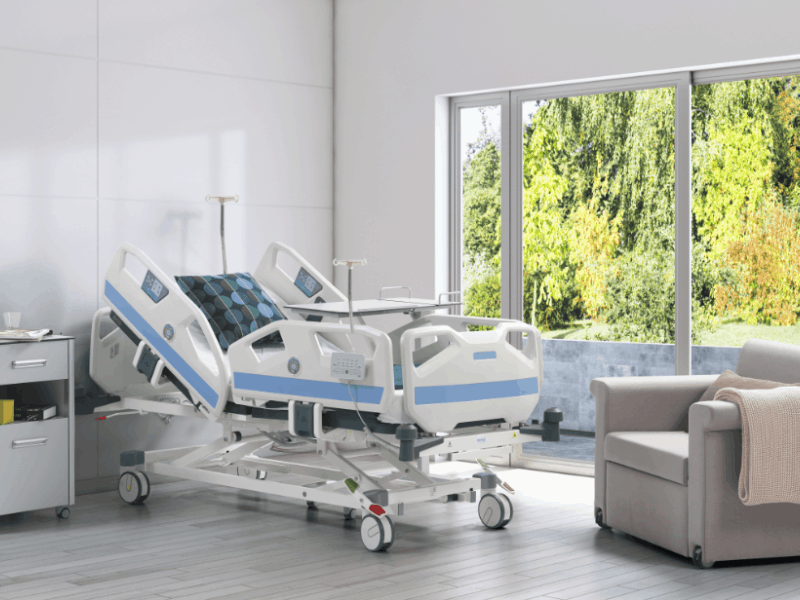 Medical hospital beds differ from homecare beds because they must meet special functional and structural requirements. They are also less personalized. As opposed to regular hospital beds, home care alternatives can be designed for individual clients who have unique needs, different preferences, and different homes. So, families usually pay a lot of attention when it comes to customizing the design and functions of a homecare bed.
Both hospital beds and homecare beds are adjustable but that's about it. After that, their similarities normally end. Medical beds have special structures to accommodate patients with serious health issues and some models will even allow the caregiver to sit and rest on them. Besides raising or lowering the foot and heat elements, hospital beds can also be lowered or raised vertically which modifies their height.
Hospital beds have larger wheels that have an industrial look which increases their mobility. The mattresses are normally filled with foam and covered in vinyl to allow disinfecting and scrubbing. Being created for industrial use makes hospital beds bulky. These products come in twin size which means that the caregiver won't be able to sleep next to the patient.
Meanwhile, adjustable homecare beds look more like a traditional bed. You can even remove the side elements from the head and foot areas so that the bed resembles the other furniture pieces in your house. The mattresses are much comfortable and made of high-quality fabrics. They come in different firmness levels. Homecare beds are more comfortable than their hospital counterparts.
Hospital Beds vs. Regular Beds – Main Differences
Regular Beds Don't Have the Raise/Lower Function
Hospital beds are more complex and they offer a higher level of adjustability. A regular bed, if it's a premium one, might allow you to lower or raise the end parts but the rest of the surface usually remains flat. Also, you cannot change the height of regular beds by clicking on a few buttons. For all these reasons, it's best to use home care or hospital bed when you're taking care of a sick family member than use a traditional bed. It's a good way to avoid injuries.
Hospital Beds Have a Different Construction
Traditional beds will lie in a flat position and they can be manufactured in a wide variety of sizes such as full, king, twin, and queen. On the other hand, hospital beds focus on a more practical structure and they are often made in twin sizes, being created for single use. After all, the patient's safety remains a primary concern. Traditional beds can be adjustable but hospital beds come with larger industrial wheels. Regular resting platforms might be more comfortable but their medical counterparts are more flexible and easier to clean and disinfect.
What about Hand Controls and Other Extra Options?!
Usually, adjustable yet regular beds can be controlled with a remote or a button. There are both wireless and wired alternatives out there. You can select the patient's favorite sleep or resting position to adjust the bed. Hospital beds also feature these buttons but they are located on the bed's sides. In some cases, these controls are wired to the main structure of the bed. Moreover, medical resting platforms provide essential and additional functions such as safety rails, IV hooks, over-bed tables, and more.
The Best Hospital Beds to Look for in 2019 – Top 7 Options
1. Ultra-Light Plus by Drive Medical
The full electric hospital bed made by Drive Medical is a versatile option. You can buy it as it is, without a mattress or you can choose to opt for the half rails, full rails, or innerspring mattress versions. This product comes with color-coded labels. It will be easy for the user to install the bed's side rails due to the product's springs.
Characteristics:
It's a fully electric hospital bed;
Measurements: 88 by 36 inches;
It comes with a one-year warranty;
Its weight capacity is 450 lbs.
Another thing that I consider a valuable advantage is the bed's flexibility. You can lower or raise it so that the person who uses it will be able to easily sit on the bed or stand up. There's a remote that one can use to adjust the bed that's functioning with a 9-volt battery. The bed is sturdy and safe to use. It has panels made from wood grain that are resistant to scratches. Moreover, its shape and design resemble a classic bed due to the item's tall headboard.
You can quickly remove or replace both the foot and headboards. The Drive Medical hospital bed features a lightweight structure that allows you to move the bed around from one room to another. This also makes the cleaning process a lot simpler.
Price
This ultra-light hospital bed manufactured by Drive Medical is sold for the price of $600.
2. Patriot Homecare Bed by Lumex
Lumex's Patriot bed is semi-electric and all its adjustments can be done easily and quietly. It has a smooth operation. These features are important, especially in the case of those patients who're sensitive to noise. Simply put, the Lumex bed can be calibrated the way you want even when the patient is sleeping.
Characteristics:
Comes with a 2-year warranty;
It's a semi-electric hospital or homecare bed;
Measurements: 36 by 87 inches;
Its weight capacity is 450 lbs.;
There aren't any rails.
As a potential downside, the caregiver must make all the necessary adjustments using a hand crank. The tool is placed on one side of the bed. So, the product is handled manually. Its height can be fixed too and it varies between 15 and 24 inches. The foot and head panels can be removed or lowered simultaneously or separately. If there's a power failure, the bed comes with a backup represented by a 9-volt battery.
The Patriot homecare bed is easy to install. All you have to do is put in place five main components. There are two available choices regarding the bed's end parts. You can either choose those made from walnut fiberboard or select the plastic alternatives which are resistant to high impact actions. Nevertheless, the mattress must be purchased separately.
Price
The Patriot Homecare bed manufactured by Lumex is available online for the price of $495.
3. L300 Adjustable Bed Base by LUCID
It's true that this is, first and foremost, a popular adjustable and comfortable bed. However, it can be safely used as a hospital bed as well. As a matter of fact, the L300 model has gained a lot of awareness among patients due to its original features. The manufacturer has proven that it can approach homecare quite differently. For what's worth, the bed's design looks a lot like a regular hospital bed.
Characteristics:
This adjustable bed has a 10-year warranty;
Measurements: 37.5 by 79.5 inches;
There aren't any rails;
Its weight capacity is 750 lbs.
There are three available size options: Split King, Twin XL Queen, and King sizes. This means that the patients can easily sleep next to their partners or caregivers instead of being apart. My favorite option would be the Split King model because it allows you to adjust each side of the bed separately. So, while the caregiver lies down on a flat mattress, the patient can remain with his or her head lifted in a more comfortable position.
This bed provides plenty of useful extra features such as a remote that also works as a flashlight and a USB charging station. On the other hand, you won't be able to modify the item's height so you will probably have to assist the patients every time they get out of bed.
Price
You can buy the LUCID L300 bed on Amazon. Its price starts at around $599.
4. Full Electric Homecare Bed by Invacare
Despite the fact that the price of this hospital bed is quite high, it remains one of the most popular best sellers on Amazon. The fully electric bed has a remote but also comes equipped with a backup manual hand crank for emergency situations when there's a power loss.
Characteristics:
This bed is completely electric and it comes with either half or full rails;
Measurements: 88 by 36 inches;
It provides a 2-year warranty;
Its weight capacity is 450 lbs.
The clamp-on rails are very easy to install and you can even remove them securely. This homecare bed was created to accommodate two different types of mattresses: foam mattress or a six-inch innerspring. I must admit that this particular feature enables users to target multiple care needs. The mattresses feature a waterproof cover which is easy to clean. The head panel, as well as the footboard, mimics wood so it's possible to fit the bed nicely with all the other furniture items that are located in the bedroom.
Price
The Invacare electric bed can be bought on Amazon. It costs $893.88.
5. Electric Bariatric Hospital Bed by Drive Medical
This fully-electric homecare or hospital bed is made to carry heavier patients. It represents a trusted choice due to its sturdy steel construction. Also, the resting surface is wider compared to many other similar products. The Drive Medical bariatric bed is both durable and comfortable.
Characteristics:
You can choose between half rails or full rails;
This bariatric bed is completely electric;
Measurements: 88 by 42 inches;
It comes with a one-year warranty;
Its weight capacity is 600 lbs.
What's even better is that when you purchase this bed, you will also receive one set of rails, as well as a mattress. If you need an extra set of rails, you will have to buy it from the manufacturer. The bed can be easily assembled and you won't need to use any tools, whatsoever. The caregiver can control the bed effortlessly, by either using a remote control or the emergency manual crank.
Both the foot and the headboards have a wood grain finish that mimics the design of a regular wooden bed. In other words, this bed won't be visible in a negative way if you place it in your home.
Price
The whole Drive Medical package costs $1,398.95. It contains the following items: the full electric bed, one set of rails, and one mattress.
6. MDR107003E Full- Electric Bed by Medline
This is a popular hospital bed that can also be used at home due to its simplicity and ease of use. Its design is versatile so it will please many people, regardless of their personal preferences. Furthermore, this Medline hospital bed is durable so if you want a product that can be used for a long time, this can be a suitable choice. It can also be moved around quite easily. Moving it from one place to the other doesn't require the help of other individuals. It features a nice and solid steel frame which supports plenty of weight.
Characteristics:
It comes with a powerful battery backup;
The bed is made of high-quality materials which means it is a sturdy product;
Although it is made to accommodate heavier patients as well, the bed is lightweight;
You can easily adjust the back or leg resting areas;
As a downside, it seems that the headspring support isn't very comfortable.
As you can see, this product offers numerous benefits but it also has some small inconveniences like the fact that it comes without a mattress. However, the company puts safety first. The bed can work without a problem even during blackouts.
Price
The Medline full-electric bed costs $875 on Amazon.
7. Hill-Rom Resident Care Bed
Your loved one will receive a personalized level of comfort with this adjustable and versatile homecare bed. You can adjust the product's settings to match the patient's individual needs. This bed is completely electric and features a high/low function which is very useful. It's a stylish bed that's very easy to operate.
Characteristics:
There's an Auto Contour™ feature that allows the user to simultaneously raise both the knee and the head sections to prevent the patient from falling off the bed;
It comes with mattress stops so you won't have to worry about sliding issues;
You can either purchase the 2-side rail configuration or opt for the 4-side rail version;
There are lockout controls through which you can block the functions of the hand control;
It has a great design – it looks elegant;
Optionally, you can also buy the assist bar.
Basically, the Hill-Rom care bed includes everything a patient and a caregiver need. It has a lot of essential features and it's made of high-quality materials. Nevertheless, the price is a tad steep, according to some reviewers. Also, you cannot simply purchase this product from anywhere you want. You will need a prescription.
Price
On Amazon, this product is currently unavailable but you can find it on the manufacturer's official website. There isn't a price featured on the site but online visitors are encouraged to contact the company via different phone numbers.
The Best Hospital Beds and How to Find Them – Bottom Line
As long as you follow all the guidelines provided above, the entire purchasing process will become significantly easier. All the hospital beds presented in the article are good but the final choice is all yours, based on your unique needs and preferences. If your budget allows it, it's only natural to opt for a premium bed that's fully equipped with accessories such as mattresses and rails. If you're on a tight budget, there are still plenty of decent options to choose from. You'll need a little bit of patience and perseverance because, in the end, I am positive that you will find what you're looking for.
Further read: