Latest posts by Alexandra Gavrilescu
(see all)
Hearing loss is an inevitable fact of getting older, but just because your own ears don't work as well as they used to doesn't mean you have to live with it. 
Oticon is a hearing aid company that sells a variety of ways for you to improve the sound in your life. It's been around since 1904 and has offices worldwide that conduct hearing loss research and offer training to hearing loss professionals, as well as help customers, navigate their product options.
According to its website, Oticon focuses on what they call "brain hearing," which acknowledges that people with hearing loss need help with more than just the volume in their ears but also the clarity of sound to focus in their minds.
Oticon says its products are designed to dampen background noise as well as boost the signal and purity of intended sound so users can physically hear better and also have to concentrate less on filling in any gaps that still appear. 
Oticon hearing aids are consistently rated highly by both users and hearing loss specialists, so it's no surprise that they have an expanded line of products to fit a range of hearing problems. Each of their hearing aid models comes in a range of strengths-based on levels of direct sound clarity and background noise reduction.
Oticon also uses these levels of technology to price their hearing aids, so different models across the same level will generally be the same cost – that's why we've grouped them by level in this guide. 
We'll be focusing on what the Oticon levels 1, 2, and 3 mean specifically and which hearing aids they have available in each level. We'll show you their similarities, differences, technical specifications, and price range to see which of the three is the best overall package.
Oticon Level 3 Hearing Aids
We're starting with Oticon Level 3 because it's considered the base model for Oticon's hearing aids. At this level, you'll get basic technology that works for those who are experiencing mild to moderate hearing loss. 
Technical Specifications
| | |
| --- | --- |
| Balancing Power Effect | 50% |
| Maximum Noise Removal | 3 dB |
| Spatial Sound LX | 2 estimators |
| Fitting Bandwidth | 8 kHz |
| Processing Channels | 48 |
| Transient Noise Management | On or off |
| Fitting Bands | 12 |
| Available Hearing Aid Models | Opn, Opn S, Opn Play, Xceed, Xceed Play, Siya, Dynamo, Sensei, Sensei SP |
Advantages 
Fewer controls to learn and fewer barriers to getting started. If you're looking for a simple hearing aid that is easy to use, Oticon Level 3s give you that without sacrificing the company's high baseline standards. Their Level 3s get all the scientific advancement of their research and development within straightforward binary setting choices. 
iPhone compatible. they can communicate with your smartphone; this lets you control your hearing aid from its app on your phone, which gives you the power to adjust with much more nuance since you can see the controls in front of you. This hands-off approach also keeps your hearing aid secure within its place on your ear, and lets someone else take control if they need to without invading your physical privacy.

 
Disadvantages
Price. Oticon hearing aids all cost variations on thousands of dollars. Unfortunately, the Level 3s are somehow not at the lowest end of that spectrum. Their lowest price is around $2400, while one level 2 model goes for about $1800. Oticon doesn't comment on why, but it's something to pay attention to while you're deciding since the pricing range is not intuitive. 
Lowest level of technology. Oticon's Level 3 hearing aids are solid pieces of equipment, but they're not able to handle the higher end finer points of advanced or severe hearing loss. If you or a senior you know want a hearing aid that will provide you with the same depth of hearing assistance through a number of years as your hearing declines further, Oticon's Level 3s probably don't have the staying power you need. 
Why They're Good for Seniors
Oticon is a well-established company with over a century of continuous research and development going into all of their products. Even their "basic" Level 3 hearing aids have features that make the subtle nuances of true sound restoration available, and their relative simplicity makes these great for seniors who may balk at having to learn new technology.  
Oticon Level 2 Hearing Aids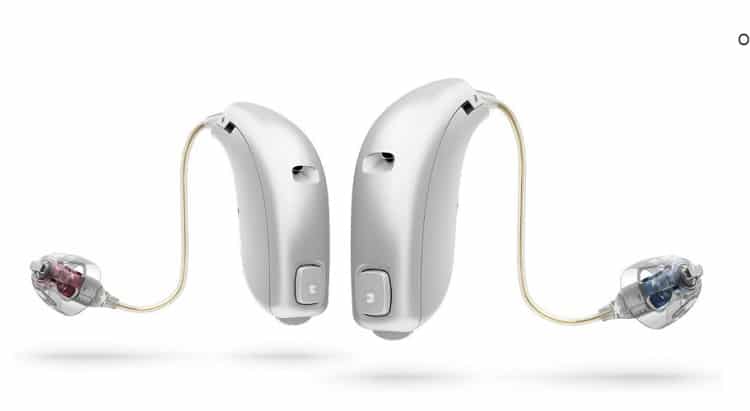 As you might have guessed, Oticon Level 2 is the middle range of Oticon's hearing aids. A few of their features are a step up from Level 3 but not as in-depth as Level 1. For example, with Level 2s, you get 14 different fitting bands instead of 12, and you can control a few more elements such as the clear dynamics and binaural noise management. But several of the crucial technical specifications are the same within both Levels 3 and 2. 
Technical Specifications
| | |
| --- | --- |
| Balancing Power Effect | 50% |
| Maximum Noise Removal | 5 dB |
| Spatial Sound LX | 2 estimators |
| Fitting Bandwidth | 8 kHz |
| Processing Channels | 48 |
| Transient Noise Management | On or off |
| Fitting Bands | 14 |
| Available Hearing Aid Models | Opn, Opn S, Opn Play, Xceed, Xceed Play, Siya, Dynamo, Sensei, Sensei SP |
Advantages
Clear dynamics. With Oticon Level 2 hearing aids, you're introduced to a new way to control clarity of the sound you want to hear and not just the volume. Oticon knows that volume is just one piece in the hearing assistance puzzle, but Level 2 is the first chance you get to set your own levels for this to sharpen your focus and push away background noise yourself rather than relying on automatic settings. 
Binaural Noise Management. As one of Oticon's standard features, binaural coordination is a breakthrough. It's wireless technology applied to hearing aids so that instead of each part of the technology process being processed as separate inputs, they're merged together to create a holistic hearing experience that is much closer to real life. It smoothes background filtration, wind shielding, directional hearing, etc. into one broadcast so you don't get distracted by single elements of your environment but hear it as one continuation. And at this level, you can control all of that at a single point so your hearing environment improves by taking advantage of the blended commands. 
Disadvantages
Much the same technology as Level 3. Oticon's Level 2 hearing aids don't have the increase in technical specifications that you'd expect from their next level of technology. Although they've got a couple added features we highlighted above, their balancing power effect, for example, is 50% – which means you're able to balance your audio inputs only as well as you can with the lower level of tech. Processing channels stay the same at 48, and your transient noise management control remains binary like a Level 3. 
Why They're Good for Seniors
The two additional features on Oticon's Level Two hearing aids make them viable for seniors with advancing hearing issues, while their price makes these accessible to those who may not have the budget for other Oticon models.  
Oticon Level 1 Hearing Aids
This is the highest level of hearing aids Oticon offers. They're the company's top of the line technology – which is reflected in their prices as well as their features. But their jump in quality and the amount of control you can take over your hearing aid experience makes it worth a consideration.  
Technical Specifications
| | |
| --- | --- |
| Balancing Power Effect | 100% |
| Maximum Noise Removal | 9 dB |
| Spatial Sound LX | 4 estimators |
| Fitting Bandwidth | 10 kHz |
| Processing Channels | 64 |
| Transient Noise Management | 4 configurations |
| Fitting Bands | 16 |
| Available Hearing Aid Models | Opn, Opn S, Opn Play, Xceed, Xceed Play, Siya, Dynamo, Sensei, Sensei SP |
Advantages 
"Platinum Level" of Oticon technology. Level 1 is outfitted with Oticon's "platinum" level of technology, as they call it. That means you're getting the best they have to offer: the most sensors for various sound inputs, the largest range of settings, and the sharpest focus they've engineered so far. You also get 64 processing channels (instead of 48 in Levels 2 and 3), 10 kHz of fitting bandwidth (as opposed to 8), four spatial sound estimators (instead of 2), and four configurations of transient noise management in place of an on/off switch. This means you can hear a wider range of sounds, pitches, and volumes as well as calibrate your exterior sound experience to make sure you've got it exactly how it helps you hear best.   
Most options for fitting. Oticon's Level 1 hearing aids come with 16 options for how your hearing aid will fit over your ear. That's a more nuanced fit than you get with either Level 2 or 3, and the better your hearing aid fits, the easier it is to forget you're wearing one altogether and concentrate on what really matters. 
Disadvantages
High price. The Level 1 Oticon hear aids do come with the highest price tags of the three groups, averaging about $4,000 per unit. If you are on a budget, you may not be able to tell enough of a difference in the technology to make the extra cash worth it.  
Controls may get overwhelming. In the same vein, the amount of control that Oticon gives you in its Level 1 hearing aids may not be the best choice for seniors who don't want to adjust every aspect of their experience. It's a nice technical advantage, but for those with limited eyesight who can't view all the controls, or limited experience with smartphones and applications, or just mild hearing loss that doesn't seem to be getting worse, it might be too much to handle.  
Battery life not any longer. Unfortunately, the technology bump to Level 1 doesn't give you more battery life in this tier of Oticon hearing aids. You'll get 50 – 60 usage hours out of a 312 – IEC PR41-sized battery and 95 – 115 hours of standby out of a  13 – IEC PR48, whichever level of hearing aid you end up buying. The size battery you need will depend much more on the specific model than the technology level they use.
Why They're Good for Seniors
The amount of control you get in a Level 1 Oticon hearing aid makes it perfect for folks who are getting older but still want to fully participate in their world without compromising their hearing quality.   
FAQs About Oticon Hearing Aids
What do the levels of Oticon hearing aids mean?
The three levels of Oticon hearing aids indicate the levels of technology features Oticon uses. Level 3 is standard, Level 2 is advanced, and Level 1 is premium. 
What technology are Oticon hearing aids based on?
Oticon hearing aids are based on the neurological science of hearing. They call it "brain hearing," meaning their hearing aids aim to help the thinking process of hearing as well as the physical volume and clarity.  
Does Oticon give discounts to senior citizens?
A: Oticon does not give any discounts to senior citizens, but they do work with veterans. Oticon's website says that its hearing aids and other products are covered through their Veterans Health Administration benefits. But make sure to check with the hearing loss professional you work with just to make sure. 
Where do I go if I have problems with my Oticon hearing aids?
Oticon's website has an extensive section on troubleshooting your hearing aid problems and how to fix common issues that may come up in the lifecycle of your equipment.
They also have tutorials on how to maintain your hearing aid in its best condition, how to connect your hearing aid to your wireless devices, and how to download extra copies of your instruction manual. If you have questions that you can't find on their website, there's also contact information for Oticon itself and a way to find your nearest hearing loss medical provider.  
Oticon Level 1 vs 2 vs 3 Final Verdict 
Splurge on a Level 1. Because of its additional Extended Bandwidth feature as well as Oticon's highest levels of technology available for its other features like background filtration, spatial noise management, and speech focus technology, Oticon Level 1 hearing aids win out.
They're worth the extra price for the jump in quality that you'll get. The Extended Bandwidth is especially useful for seniors because high-frequency sounds are the first to disappear as you start to lose your hearing, and using the optimum version of that feature lets you have optimum control over what your brain processes.
Plus, the extra battery life and each other feature gets a distinct boost from the lower levels, unlike going from Level 3 to Level 2.