Latest posts by Melanie Griffin
(see all)
It's easy to take breathing for granted – after all, you've been doing it without thinking for your whole life.
But at some point, as they age, many people's bodies will lose that natural ability to process air into the oxygen that's so vital for everyday life. Whether from too many years of smoking, going through chemotherapy or other medical treatments that weaken the lungs, growing up in polluted environments, or just the wear and tear of age, senior citizens often need outside help in order to properly breathe. According to the Centers for Disease and Control and Prevention, about 16 million people over the age of 18 experience chronic obstructive pulmonary disease, and about 19 million deal with chronic asthma. Even more deal with seemingly unrelated issues like heart disease that make it difficult to breathe and also require help to get the oxygen they need. And these figures only grow higher as you enter your senior citizen years.
That's where oxygen therapy comes in. It's the blanket term for any assisted breathing through outside devices and is common for those who have gone through the extensive lung or respiratory illnesses.
Fortunately, you don't have to move into a hospital or a nursing home to take advantage of oxygen therapy – there are lots of home options. Oxygen tanks and portable breathing apparatuses are getting more convenient and streamlined all the time so you can take your help with you instead of being tethered to a stationary device that limits your mobility. Plus, with the advances made in user experience, you don't need a medical professional to supervise your every move, either. Of course, always consult your doctor or another medical professional before you start any course of oxygen therapy or usage of any medical device!
What is Inogen Gen3?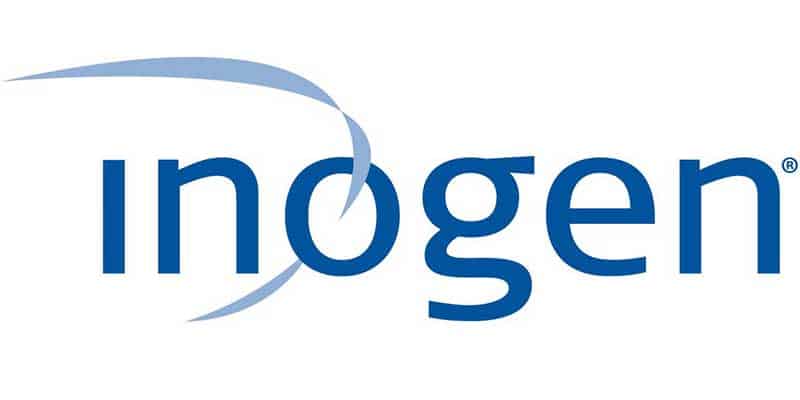 Inogen Gen3 is a portable oxygen concentrator. That's a fancy way of saying Inogen has found a way to put all the usefulness of an oxygen tank into a small, lightweight, battery-powered device that you can carry with you like a shoulder bag or backpack.
It's the third generation (makes sense from the name!) of Inogen's portable oxygen concentrators. They've been helping folks breathe better since 2001 when the founder's grandmother went through oxygen therapy herself and inspired the creation of a more portable way to integrate it into her new lifestyle.
The Inogen Gen3 is maximized for portable efficiency. Here's a look at its technical specifics so you can study its usage details:
| | |
| --- | --- |
| Weight | 4.8 lbs |
| Dimensions | 8.75 in x 3.0 in x 8.25 in (height measurement includes single battery attached) |
| Oxygen flow | Settings 1 – 5; this means a maximum oxygen delivery of 1050 mL per minute |
| Pulse delivery type | Minute volume delivery |
| Power sources | AC power supply (100 to 240 V, 50 to 60 Hz), DC power supply, single or double battery |
| Battery life | Up to 4.7 hours on a single battery, and up to 10 hours on a double battery |
| Noise level | 39 dBA on setting 2 |
| Warranty | 3 years for concentrator unit, 1 year for accessories |
| Insurance eligibility | Check with your provider for options |
How does Inogen Gen3 work?
The Inogen Gen3 works on a pulse flow oxygen system. That means it detects when you are about to inhale, and delivers a boost of oxygen (called a bolus) at the start of your breath. When you're in between breaths, the concentrator rests and conserves the rest of the oxygen until you take your next one.
Pulse flow oxygen systems are great for users who want to maximize their mobility. Because of the way they work, you can set them to give you a bolus at specific points in your breathing patterns, such as when you're working out or just any time your breath gets more strenuous and can be detected over a certain rate per minute. (Unlike continuous flow oxygen systems, which are your more traditional models that deliver a steady stream of oxygen without any activity or breath detection. This makes them much less mobile.)
The Inogen Gen3 takes advantage of the portability of this technology to give you a pulse flow oxygen system that you'll barely notice until it jumps into action for you.
How does Inogen Gen3 fit the senior citizen lifestyle?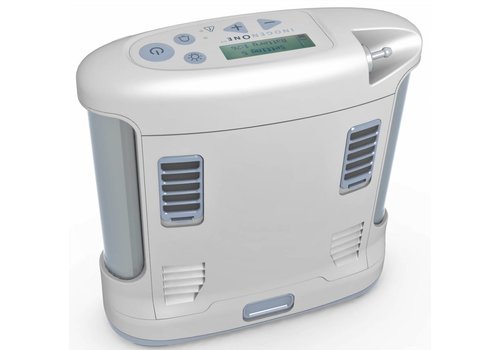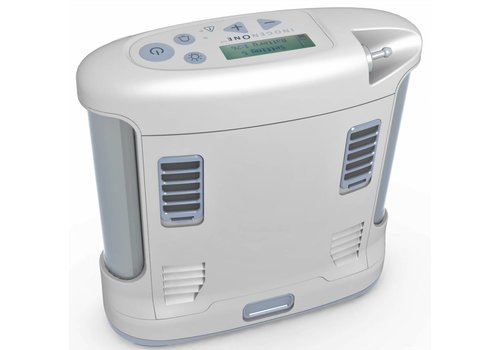 The Inogen Gen3 pulse flows oxygen system is designed for the senior citizen who doesn't want their need for respiratory help to cramp their style or interrupt their life. Here's how this device fits that bill exactly.
On the go charging options. Your Inogen Gen3 pulse flow oxygen system comes with one battery and can hold another – but what if you forget to bring either on the trip you've been planning and looking forward to for weeks? No need to worry. The Inogen Gen3 also comes with a DC power adapter that lets you charge in any car or plane outlet without worrying about stopping either your medical help or that next vacation to see your grandkids.
FAA rated for flights. Speaking of travelling, your Inogen Gen3 pulse flow oxygen system is also specifically rated by the Federal Aviation Administration to work on flights up to 10,000 feet. That means that even if you need breathing assistance, you don't have to stay grounded. Go on and take in the sights of exotic new lands you now have time to see, and your Inogen Gen3 will make sure that your breath will only be figuratively taken away.
Clear display and controls. Your eyes aren't all they used to be, and that may make you hesitant to buy a device that depends on you to control its medical properties like the setting of airflow. But the Inogen Gen3 gives you a large, easy to read LCD display that clearly shows you what you're getting at any given moment. Coupled with simple controls and a senior-friendly user manual, these traits lend you that extra visual hand that means so much if you can't remember where you put your glasses.
How much does Inogen Gen3 cost?
The Inogen Gen3 has a few options you can add on to your base order for a little bit extra.
Basic order. $2,295. This includes your Inogen Gen3 pulse oxygen flow unit, an AC power supply, a DC power supply, a single battery, and a carrying case.
G3 Freedom Package 1. $3,195. This comes with everything in the basic order, plus three more single batteries.
G3 Freedom Package 2. $3,195. This comes with everything in the basic order, plus one more single battery.
G3 double battery. $346.50
G3 external battery charger. $199.50
G3 backpack. $70.00
What are the advantages of Inogen Gen3?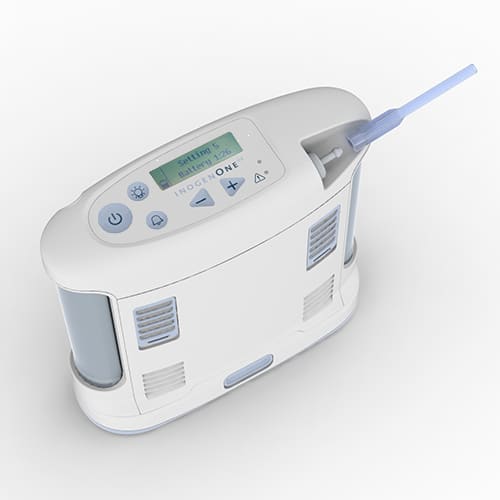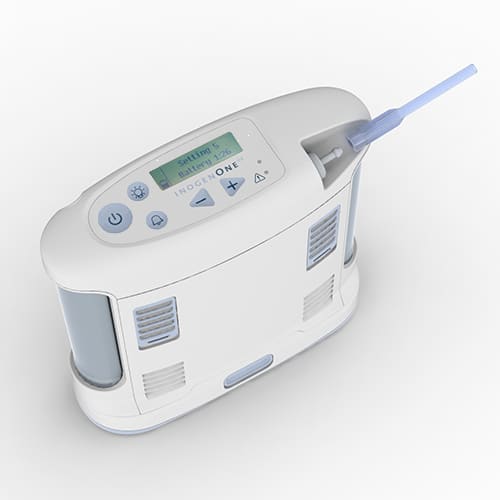 The Inogen Gen3 has a lot of good traits that make it ideal for portable oxygen use.
Compact and lightweight. If you've ever had to tether yourself to a medical device, you know how restricting those can make your life. Luckily, the Inogen Gen3 pulse oxygen flow unit wraps strength in a small package. At just under five pounds, the basic unit is easy to carry in one of Inogen's branded carriers, or any way that makes you feel most comfortable. Plus, all the controls are on one face, which makes it convenient to carry securely without giving up any access to its functions.
Battery life. Part of what makes the Inogen Gen3 pulse oxygen flow device so portable is how long it can go on one battery charge. Even with just a single battery installed, you can go up to four hours without worrying about needing another power source. If you've opted for the double battery, your Inogen Gen3 will give you almost ten continuous hours of usage. Both of these ranges are impressive considering the work a pulse oxygen flow machine goes through, and that lets you roam far and wide for adventures without putting your respiratory health in danger.
Control of oxygen flow. One great trait of pulse oxygen flow devices, in general, is the ability to self manage how much oxygen you're getting from them at any given point. The Inogen Gen3's breath recognition system in particular lets you cater the usage even more to your own needs, saving energy and product for both you and your device to go full out when you require it the most.
Daily cost and convenience of oxygen. Although the upfront cost of buying an Inogen Gen3 pulse oxygen flow device may seem daunting, especially to those on a fixed income, it becomes a great deal when you average out the daily cost of oxygen versus a method like oxygen tanks. The cost for oxygen therapy can run into the thousands per day with certain methods, and when using therapy that depends on discrete units like replaceable tanks, it's all too easy to run out and not be able to get a replacement in times of most need. The Inogen Gen3 gives you an ease of mind on both issues – it self-conserves the oxygen it uses and replaces it automatically, so you don't have to worry about continuous costs or running out.
Reliability. Inogen's Gen3 pulse oxygen flow device is consistently rated top marks for reliable continuous service and use. We don't need to tell you how crucial that is for a medical device. If you can't rely on your oxygen supply to work on the spot whenever you may have an emergency, it's not worth buying. Fortunately, the Inogen Gen3 has proven itself worthy several times over.
What are the disadvantages of Inogen Gen3?
Even with all its convenience and reliability, the Inogen Gen3 oxygen pulse flow system is not for everyone. Here's a look at its less than ideal traits to help you decide if it's what you need.
Purchase not covered under Medicare. Unfortunately, Medicare will not help you with the upfront purchase cost of an Inogen Gen3 pulse oxygen flow machine. That's going to be a major setback for senior citizens who are on a fixed income and depend solely on Medicare to help them shoulder their medical costs. However, it's not quite as black and white as Medicare won't pay anything at all ever for this device. Sometimes you may be able to get help with a rental situation instead – but don't take our word for it. Check with your Medicare representative to get the full picture of what financial help is possible and what is not with your coverage.
Not rated useful for sleeping. For all its portability, the Inogen Gen3 does not have great ratings as a sleep aid. That's because you still have to tether yourself to it for it to work, and unless you can sleep very still in the exact position that doesn't strain the oxygen line, crimp it, or pull it from the device, at some point during the night you will get unhooked.
Not for extreme oxygen needs. As illustrated by the Inogen Gen3's weak rating for sleep time, this unit is not powerful or flexible enough for the high needs of oxygen. Its battery life and rugged construction make it useful to run 24/7 if you need it to, but as a pulse flow system, it will not be able to reach the highest ends of oxygen pushout. It's built as an aid for otherwise healthy seniors, so keep that in mind if your health needs are more intense.
Need a prescription to use. If you're thinking about buying any medical device to make your life easier, ask your doctor first. That's just common sense. But to buy the Inogen Gen3 oxygen pulse flow machine, you have to get a prescription for it. If you're homebound, dependent on someone else for your transportation, or otherwise unable to easily see your doctor in person, this makes it one step harder to take advantage of the Gen3.
FAQ's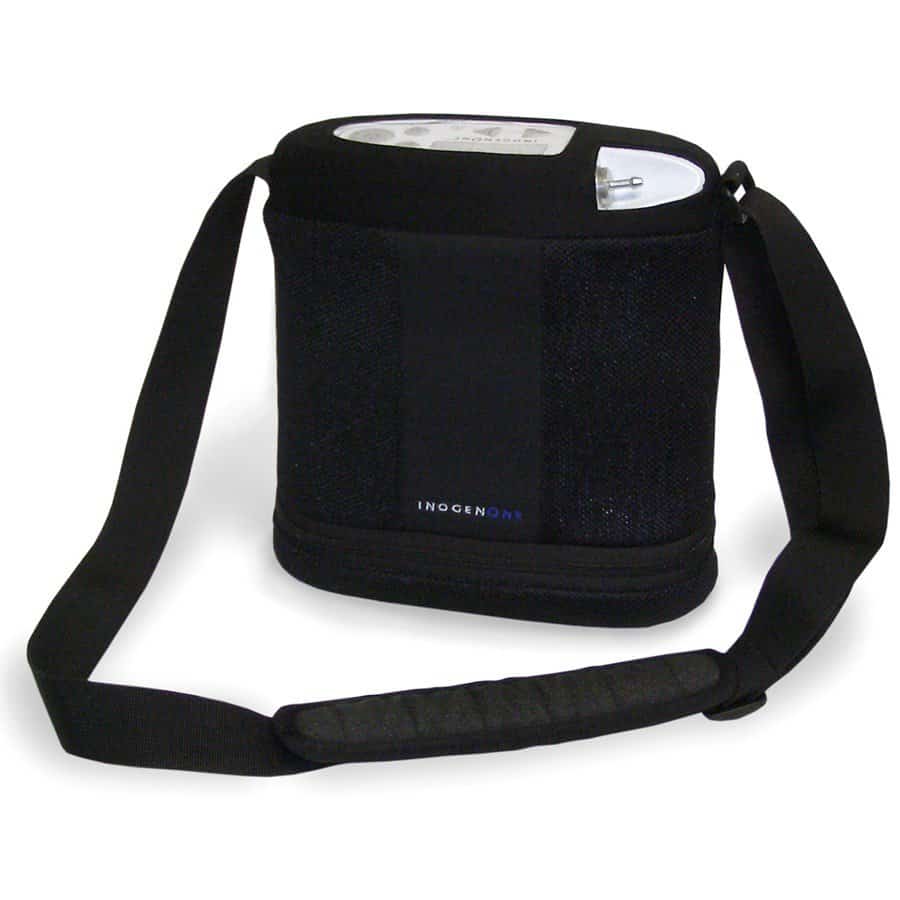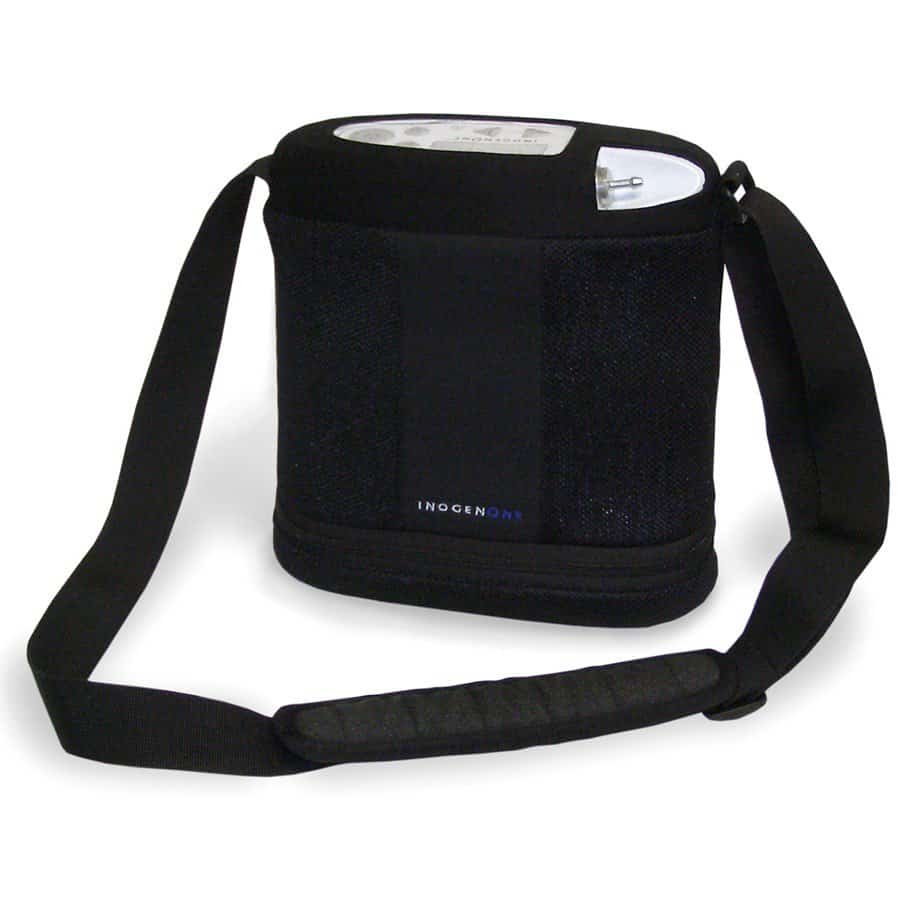 Q: What is the temperature range for operating the Inogen Gen3?
A: Inogen does not recommend a specific temperature range to keep a Gen3 operating; instead, they say that generally, as long as the user is comfortable, the machine should work. If you ever do get out of working temperature range, the device will give you a warning on its LCD screen.
Q: Can the Inogen Gen3 work with a pacemaker and/or a CPAP machine?
A: The Inogen Gen3 does not interfere with a pacemaker and can be used in tandem with that without any problems. But the Gen3 will interfere with a CPAP machine since both are required to hook up to a user through the same nasal passage area. If you use a CPAP machine and are thinking about getting a Gen3, ask your doctor their best advice for scheduling the usage of each.
Q: Can a swivel connector be used with an Inogen Gen3?
A: Inogen does not recommend using a swivel connector with the Gen3. There is too big a chance the oxygen line will become blocked when connected like that. Nasal cannulas up to 25 feet are the recommended way to link to your Gen3.
Q: How do I clean an Inogen Gen3?
A: To keep your Gen3 clean for top performance, clean the particle screen and surface regularly (about once a week, or more as needed) with a damp cloth and mild detergent. Replace the nasal cannula, filter, and columns on a regular basis as needed or prescribed by your physician.
Q: Where can I get more information?
A: If you have any questions that aren't answered in this review, visit Inogen's website or call 1-800-695-7915.
What are good alternatives to Inogen Gen3?
If you like the idea of a portable oxygen pulse system but want to shop around, there are plenty of alternatives to the Inogen Gen3. Here are our top three picks for Gen3 competitors.
AirSep Freestyle. We like this one for how it expands the range of the Gen3. The AirStep Freestyle has two models to choose from, the 3 and the 5, and both give you more air per liter than the Gen 3. Both are also safe to fly with up to 12,000 feet – the highest flight range for any of the oxygen pulse systems we looked at.
Inova Labs Activox 4L. Inova has perfected the art of long-lasting battery life. Its Activox 4L gives you up to eight and a half hours on the single charge of one battery. That's almost twice as much as its nearest competitor.
Respironics SimplyGo Mini. This device has all the functions you need from an oxygen pulse system simplified into a single-touch system that is easy enough to operate even in the most confusing of emergencies.
What is the final verdict on Inogen Gen3?
The Inogen Gen3 goes above and beyond the expectations of its weight class. If you need a way to boost your oxygen levels at critical points but won't slow you down in your everyday life, the Inogen Gen3 portable oxygen pulse system is an easy and powerful device to help you enjoy your senior years without feeling tied down.
Further read: