Latest posts by Melanie Griffin
(see all)
Smartphones are great. Besides keeping you in touch with all the people most important to you, they also give you a place to store life management tools in one portable device. That can be literally life-saving, especially if you're in the stage of life where your independence can come into conflict with your need for safety.
But if you're not used to dealing with them, smartphones are confusing. They operate more like computers than actual phones and remembering the myriad steps involved in opening a specific app, finding someone on your contacts list, or sending a text message are easy to mix up or forget. Plus, their buttons are small and based on the screen, which means if you press the wrong one, a whole new menu may pop up – not a great situation for those who have finger mobility issues.
This is where Jitterbug's smartphone comes in. You might have seen their commercials for their simplified flip phones, which are outfitted with large buttons, magnified type, and a red button specifically dedicated to an emergency line. As cell phone technology has evolved, so has Jitterbug's offerings, and now they've got a line of smartphones designed for the same purpose – to make all the benefits of cutting-edge technology accessible to seniors.
But how exactly does their pared-down approach work with smartphones? And does the Jitterbug make it worth your time and money? Read on to find out!
What is the Jitterbug Smartphone?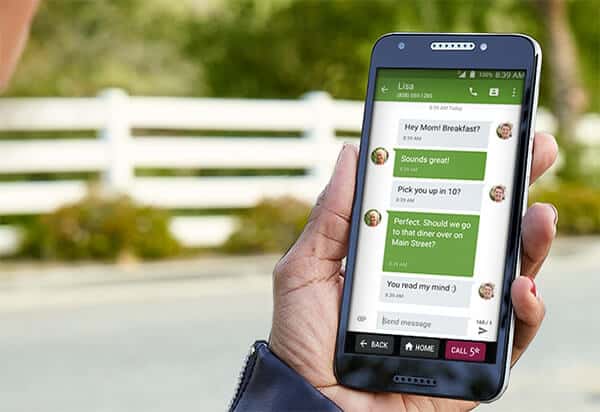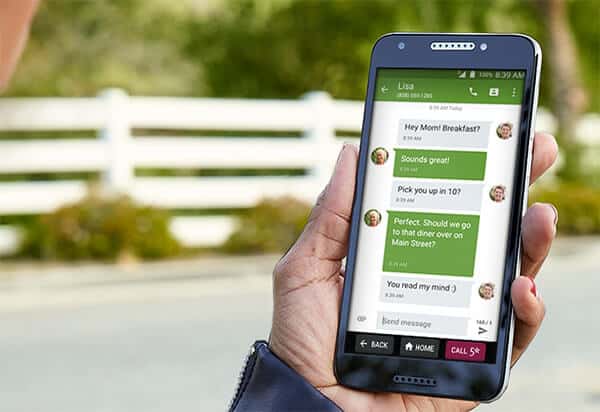 The Jitterbug Smartphone is, at its core, a simplified Android smartphone. It's designated as a "phablet" by some – that's a relatively new term coined as smartphones and tablet computers grow closer together in size and functions. On the Jitterbug Smartphone, this means it's sized up in overall dimensions and also includes a large screen that takes up the vast majority of its top surface. It's a flat, black, thin rectangle that contains all its phone functions within that screen, plus a metallic physical power and volume buttons on the right side. The casing is pebbled to make it easier to grip without adding bulk, and the back is designed to open in case you need to change the SIM card.
The Jitterbug Smartphone also has both backward and front-facing cameras, a built-in speaker, and a jack for headphones. These are all standard smartphone features designed to enhance your user experience and help you navigate the rest of the features.
Tech Specs for the Jitterbug Smartphone
| | |
| --- | --- |
| Size | 6 in x 3.1 in x 0.4 in |
| Weight | 6.1 oz |
| Display | 1,280 pixels x 720 pixels |
| Processor | Snapdragon 210 at 1.1 GHz |
| RAM | 1 GB |
| Battery life | 4 hours 16 minutes |
| Camera | 5 megapixels |
| Software | Android 5.1 Lollipop |
| Emergency service | 5Star Urgent Response |
| Price | $103 on Amazon – $149.99 from Jitterbug directly |
| Cell phone plan | Great Call with Verizon |
How do I use the Jitterbug Smartphone?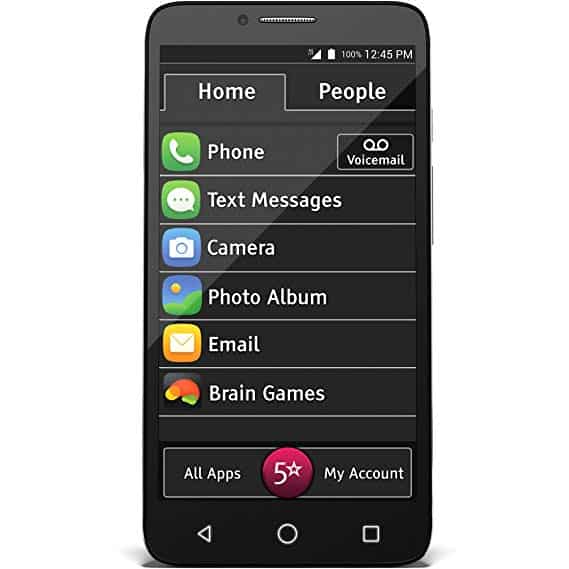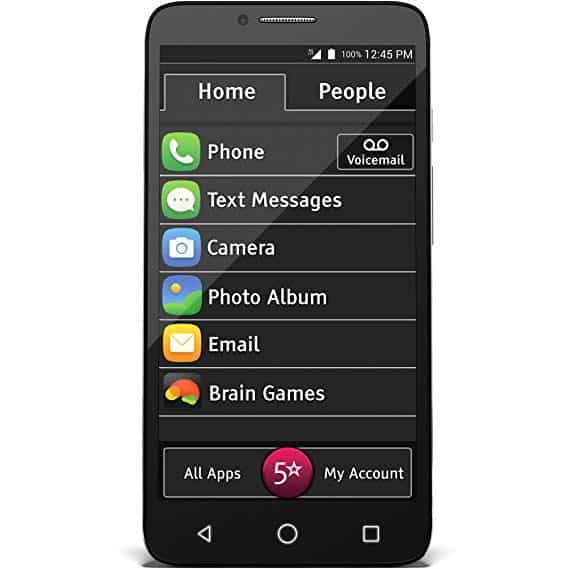 If you've ever used another smartphone, you're in luck – the Jitterbug Smartphone works in the standard way, with its side power button, lock screen, and visual icons that map out your available apps.
If you haven't used a smartphone before or you have limited experience with them, don't despair. The Jitterbug Smartphone takes traditional aspects of a smartphone and simplifies them.
First, you press the power button on the side to turn it on. You'll know it's turned on when you feel it vibrate and you see its logo come onto the screen.
Then you'll see a screen that asks you for the password and has a keypad with numbers. This is called the lock screen – it keeps your cell phone private from anyone who doesn't have the password. The Jitterbug Smartphone just requires you to press the numbers 1, 2, and 3 on the bottom of the screen. And it also displays its emergency contact button on this lock screen so you can contact safety officials without worrying about unlocking the phone.
After you press 1, 2, and 3, your screen will have a list of icons that tell you what applications you have on your phone. The Jitterbug Smartphone automatically comes with phone, text, and camera options, as well as access to your email and a selection of brain teaser games. These are all on the tab marked Home.
The other tab at the top of the screen is marked, People. This is your contact list. You touch it to see a list of phone numbers you have saved in your phone; touching any name on your contact list calls that person.
What are the cell phone plan options with Jitterbug Smartphone?
The Jitterbug Smartphone runs on Great Call, which is a cell phone connectivity service that uses the Verizon network. There isn't an option to change networks, so if you're on another cell phone plan, you will have to change. But the good news is your Great Call plan starts at $16 a month for the simplest option, which still gives you both data and telephone usage.
What are the advantages of using a Jitterbug Smartphone?
Emergency contact access.
Jitterbug Smartphone keeps an emergency contact button on every screen you go to so you never have to waste valuable seconds or minutes paging through your contacts or navigating to a new screen when you need it most. The emergency contact button also stays in the same place on each screen, so no matter what you're doing when danger strikes, you'll always be able to find it and use it instantly.
Hearing aid compatible
In addition to the headphone jack and Bluetooth compatibility that most other cell phones offer, the Jitterbug Smartphone can also be synced with your hearing aid. This adds whatever clarity and volume you need beyond the capacity of the phone itself, and you don't even have to use a separate device from the one you use in the rest of your everyday life.
Speakers
The Jitterbug Smartphone knows that becoming a senior citizen means you're going to have to ask people to speak up more, and so it's built its speakers with that in mind. Phone conversation tests by PC Magazine found them loud and clear inside and out, in crowds and isolation. So whatever your hearing needs, the Jitterbug Smartphone has you covered.
Medication reminder
GreatCall knows that as you grow older, you tend to need both more medication and more reminders about when and how to take it. That's why they introduced their Medication Reminder app that is pre-loaded onto every Jitterbug Smartphone. It's an application that does exactly what its name implies – every time you need to take medication, it reminds you to do so. You can add up to 16 reminders per day, and those are automatically entered as recurring. Plus, you can adjust your medication schedule as often as you need to by either going to Great Call's website or calling their service line. Either way, your information privacy is covered by HIPPA, and the representatives you work with our trained professionals.
Customer service
Every Jitterbug Smartphone interaction takes you through what you need to know at your own speed. Their service representatives are all trained to both handle your medical information and assess your smartphone needs, plus troubleshoot anything that may go wrong. You won't be getting any annoying or aggressive sales push but instead a great experience that will help you get to know the product well before you commit.
Apps for senior citizens
One of the biggest draws for the Jitterbug Smartphone is its simplicity, and it carries that elegance into its pre-loaded apps. You can leisurely discover its brain teaser options as you explore the rest of your phone, and you'll be exercising your brain without even realizing it.
Clear icons
Even folks with perfect closeup eyesight need help to decipher the icons on smartphones – many use ambiguous pictures or logos that don't hint at what they are unless you memorize them. But the Jitterbug Smartphone solves that by labeling their icons in accessibility-friendly ways, meaning they use font and size standards that are proven as helpful to folks with vision issues. This way everyone who wants to use their phones can do so with ease.
Easy lock screen
A lock screen is standard for smartphones – it keeps whatever information you have on there private, which is increasingly important as more and more of our lives are stored on our phones. But if you have trouble remembering a code, or if your fingers are not as nimble as the screen sensor needs them to be, lock screens can be the ultimate frustration. Luckily, the Jitterbug Smartphone has a very simple way to get past its lock screen, and while that may sacrifice a small bit of data security, it's a good compromise between the privacy and access of your phone.
Size
Smartphones have always had to walk a fine line in regards to the size. Bigger is better for screen clarity and readability, but too big stunts the usefulness of portability and the phone function itself. The Jitterbug Smartphone has found the sweet spot between these as well. It does being big enough for easy viewing, but at the same time, its dimensions remain small enough to operate with one hand if necessary in an emergency.
Price
You can buy a new Jitterbug Smartphone at about a tenth of the price of a brand-new iPhone. That means the phone itself comes in on average at around $120, depending on whether you buy it on Amazon or another third-party seller, or from the company itself. We'll give you the rundown on exact prices below, but just know that a major perk of the Jitterbug Smartphone is the savings you'll get right upfront.
SIM card access
The SIM card is the brain of your smartphone. It's what stores your contacts, your media like photos and videos, and remembers what your own number is. It's also removable in most cell phones, but a lot of phone companies make it difficult to get to. The Jitterbug Smartphone has an easy-access backplate that comes off to directly access the SIM card. This may not mean a whole lot to you now, but it will make all the difference when your phone needs maintenance and whoever is repairing it doesn't have to break it to get to what they need.
Choice of the operating system
If you're already smartphone savvy, or if you become that way after extended usage, you don't have to stay on the Jitterbug Smartphone's default simplified operating system. It also stores the standard Android OS within it if you ever want to switch over to the more robust option.
What are the disadvantages of using a Jitterbug Smartphone?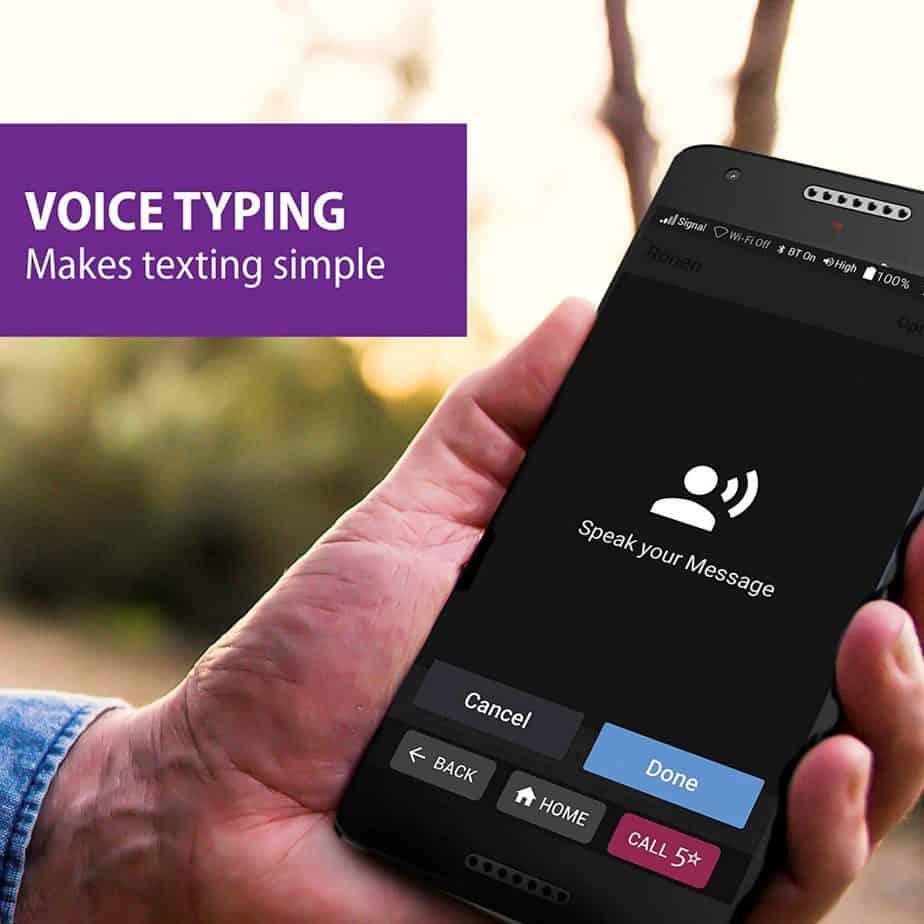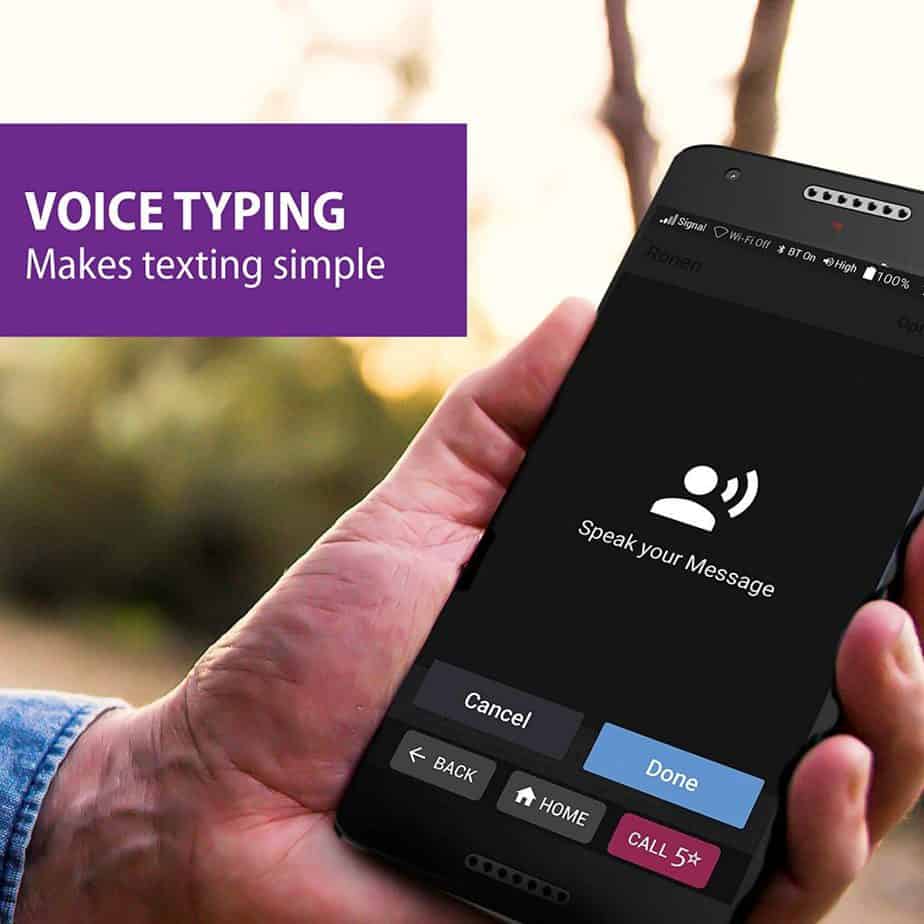 Camera
We'll be blunt here: the camera on the Jitterbug Smartphone is terrible. Even in tests that use plenty of natural lighting, its focus remained shaky and any video taken was muddy. So if you're shopping for smartphones to take more photos of your grandkids, your travel adventures, or that new DIY hobby of yours, look elsewhere.
Battery life
The website for the Jitterbug Smartphone claims a battery life of 12 hours, which is not bad. However, PC Magazine tested it running "full power," which means continuously streaming video, and they went four hours and 16 minutes on one charge. Unless you, too, stay glued to YouTube, the "real life" battery run will be somewhere in the middle, depending on how much data versus how much phone function you use. All of this is pretty standard for smartphones in general, but it's disappointing for the Jitterbug Smartphone when it's so attentive to other details that make it great for seniors. You'll have to remember to charge this daily at the very least, probably more often, or else risk jeopardizing its usefulness in an emergency. Either way is kind of a pain.
Network options
The problem with this is that you don't have any. The Jitterbug Smartphone only goes through the Great Call system, which only offers Verizon. If you've used Verizon as your carrier before and are looking to change for whatever reason, you won't be able to with the Jitterbug.
Settings menu
The Jitterbug Smartphone has great visibility for navigating its screens – unfortunately, this ends when you get to the settings menu. It reverts to standard Android viewing and options, and unless you are already versed in those before you start using a Jitterbug Smartphone, you may be out of luck. If you don't think you'll have to worry about adjusting your settings, this will be a trivial quip – but you may want to keep in touch with someone who can help just in case.
Extra costs
The startup costs for the Jitterbug Smartphone are budget-friendly, but they don't necessarily stay that way as you get a few months into your phone usage. One charge that stands out is the almost $4 you have to pay for each 5Star Emergency Contact call you make – it's not expensive individually, certainly worth it for life-saving help. But if you're on a budget and also have any sort of living situation that means you'll have a lot of close calls, health scares, or regular potential for injury, those emergency calls can add up without you realizing it until you get the bill.
What's the final verdict on the Jitterbug Smartphone?
Although the Jitterbug Smartphone is lackluster in a few areas, its core functionality remains strong. If you're looking for a way to introduce yourself or a senior loved one of how a smartphone can enhance their lives and safety, the Jitterbug Smartphone is a good choice. Its simplicity and clarity of functions – especially its detail of having the emergency contact button on all screens – makes it easy to operate even for those who have fine motor limitations and less than perfect eyesight. Its camera doesn't take photos worth writing home about, and its settings menu will more than likely require outside help to navigate, but if you think of those as extra features that you won't want to use a lot, you'll get a great deal on a solid way to keep your peace of mind in your pocket.
Where can I buy a Jitterbug Smartphone?
If you're ready to take the plunge with the Jitterbug Smartphone, you can buy them from several places:
Jitterbug's website. This is the official branded website, partnered with Great Call so you only need to go to one place to buy and activate your phone. It's also got a great frequently asked questions section and a helpline to call if you need further assistance.
Amazon. You'll be able to find the Jitterbug Smartphone itself here for a few bucks cheaper, but you'll still have to go to Great Call to get your service set up. Make sure you buy from authorized sellers only so you know you're getting the full quality of Jitterbug.