Latest posts by Melanie Griffin
(see all)
The world of medical alert devices is a large one, containing a wide variety of features and prices. It's easy to get overwhelmed by the sheer number of decisions you have to make before you can find your best fit, so we're here to guide you through that with a closer look at two of the most popular medical safety alert systems of 2019.
Medical Guardian and Bay Alarm Medical have both received rave reviews from numerous senior-centric publications. But how do they compare to each other, and which one will give you the most for your money? Read on to find out!
Main Differences Between Medical Guardian vs Bay Alarm Medical
The Main Differences Between Medical Guardian vs Bay Alarm Medical are:
Medical Guardian has a wider range of mobility, whereas Bay Alarm Medical has longer battery life.
Medical Guardian is a very reputable company, whereas Bay Alarm Medical offers less expensive service plans.
Medical Guardian has a call center based in the US, whereas Bay Alarm Medical call center is run by certified emergency technicians.
What are Medical Guardian and Bay Alarm Medical?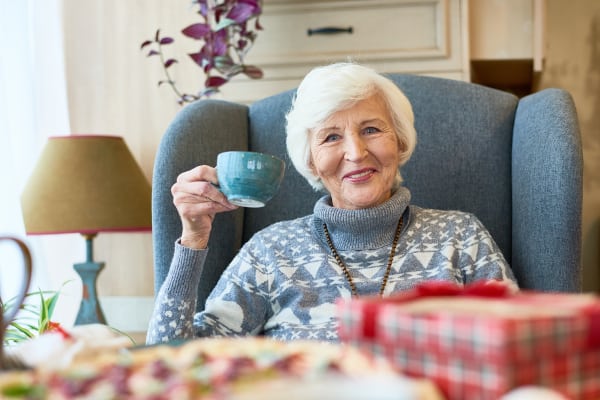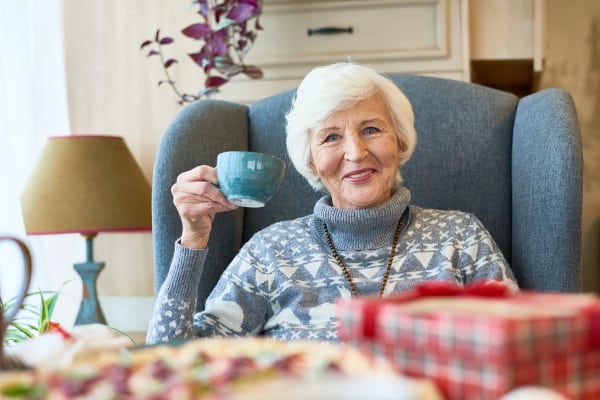 Both of these devices are medical alert systems, which means they're a way to call emergency personnel with a single push of a button. This concept is especially useful for seniors who live on their own because of their increased risk of an accident. Medical Guardian and Bay Alarm Medical both allow you to go about your daily tasks with an extra layer of security.
Medical Guardian is a company that was established in 2005 and is headquartered in Philadelphia. It was one of Inc. Magazine's 5000 fastest growing businesses from 2013 to 2016, and its Classic Guardian medical alert system is the core of its products.
Bay Alarm Medical is based in Concord, California. It's been around since 1946, so they have over seventy years of experience with home alert systems. Their medical alert system is one of PC Magazine's top-rated devices for 2019, and it's set a high standard for the industry.
What are the technical specifications of the Medical Guardian and Bay Alarm Medical systems?
Here we compare technical specifications of the two systems so you get a good idea of size, weight, and price, as well as a few other details.
Note: these are the in-home options for both companies because those are presented as the starting devices that can be built upon for extensive customization. Although home-based systems may be what automatically comes to mind when you think of medical alert systems, they've developed sophisticated mobile options as cellular technology has progressed, so we'll go into those options when we discuss the pros and cons of each system in our next section.
| | | |
| --- | --- | --- |
| | Medical Guardian Classic | Bay Alarm Medical In-Home |
| Size of device | 6 inches x 6 inches | 2 inches x 7.9 inches |
| Weight of device | 1.23 lbs | Not given |
| Price | $29.95 – $79.95 per month (depends on plan) | $19.95 – $59.95 per month (depends on plan) |
| Mobile or landline based? | Landline (with additional mobile options) | Landline (with additional mobile options) |
| Range of mobility | 1300 feet from the device (additional reach with mobile options) | 1000 feet from the device (additional reach with mobile options) |
| Battery life | 24 hours | 72 hours |
| Waterproof wearable? | Yes | Yes |
| Available extras | Options for mobile GPS-based devices, family plans, and fall detection | Options for mobile GPS-based devices, combination home/mobile, an extra button for a spouse, wearable accessories, wall buttons, phone call function, fall detection |
| Contract terms | No service contract needed | No service contract needed |
What are the advantages of the Medical Guardian Classic device?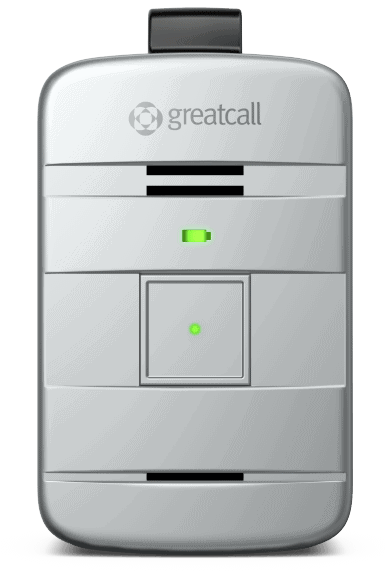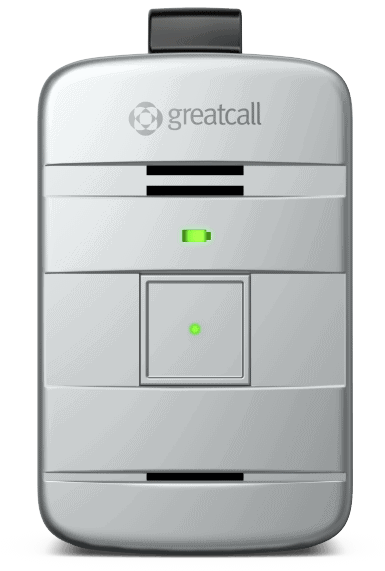 The Medical Guardian Classic has a lot of great features you'll want in a medical alert system. We'll also talk about the company's mobile device options, which are expansive and can help you bring your safety on the road.
Simple but thorough starter pack.
Even if you don't add any frills to your medical alert system, Medical Guardian has you covered. The Classic home-based system comes with a square alarm box that has a large red help button covering most of its top, and there's a phone jack on one side to plug it in. Installed! You also get two options for wearables at no extra cost: a necklace lanyard and a wristwatch-style strap. And they're both waterproof so you can choose whichever feels more comfortable or even switch it up whenever you feel like it. Medical Guardian gets you started with basics that cover a lot of ground.
If you stick with the home-based unit, you can wander up to 1300 feet from your base device and still receive full coverage. That's a few hundred feet more than what you'll get with Bay Alarm home coverage, and if you change floors in your housing a lot, that extra coverage can make a major difference.
No adverse interactions with pacemakers.
If you have any qualms about an electronic device hovering near your pacemaker, Medical Guardian has your back. Their alert button is rated as safe to wear near them and will not interfere with their use, which is a major plus for those who have to be careful about this. It's also a good consideration if you know or think you may need a pacemaker in the future, so if you have a heart condition that requires a pacemaker, Medical Guardian is safe to use.
Lots of plan and mobile options.
Medical Guardian's Classic model is a good place to start, but they also offer a wide variety of system add-ons and mobile plans that take their medical alert business to the next level. If you still want to use your landline but need a more robust system, you can add on fall detection for an extra layer of physical security, and if you have more than one person who would benefit from a medical alert system, you can upgrade to the family plan. Need another emergency button in case you forget your wearable? Get a wall help button, which you can put in areas that need more coverage such as your stairs or bathroom. Want reminders, activity tracking, weather, and messaging capabilities as well as emergency alerts? Check out the Freedom Guardian, one of Medical Guardian's mobile options. That and their others give you unlimited coverage based on cellular networks, giving you the chance to stay safe wherever your life takes you. Medical Guardian truly offers a plan for every kind of lifestyle, and that's their biggest asset.
What are the disadvantages of the Medical Guardian Classic device?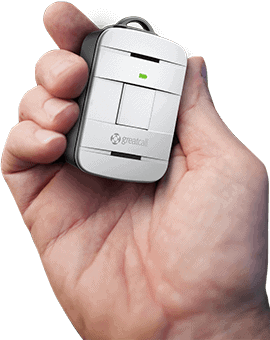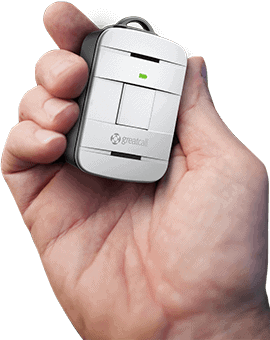 Although it's often held up as an aspirational standard in the industry, Medical Guardian is not without its flaws. Here are some drawbacks that you need to know before choosing which system is right for you.
Medical Guardian plans start at $29.95 a month for the basic home plan, and goes up to $79.95 for a family plan, with pricing varying between those two endpoints depending on the type of plan you want. This is consistently about $10 – $20 more expensive than Bay Alarm Medical's system, which can add up when you consider these are recurring costs. Medical Guardian is definitely not the cheapest option out there, so if you're on a budget, it might not be the one for you.
Fewer updates are relative to other systems.
While Medical Guardian comes as a fairly complete package, it doesn't offer as many automatic upgrades to its system as Bay Alarm Medical. This means that any quirks or bugs take longer to work out, which is a major consideration for a safety device.
Fall detection is not standard.
You can add fall detection to any plan you get with Medical Guardian – but the key word here is "add." It doesn't automatically come with any plan you may order, and it costs an extra $10 a month to activate. This is not unique to Medical Guardian – a lot of medical alert systems make you pay extra for fall detection. But if you're dealing with medical conditions that render you unsteady on your feet, you can find a few other systems that offer it standard.
What are the advantages of the Bay Alarm Medical device?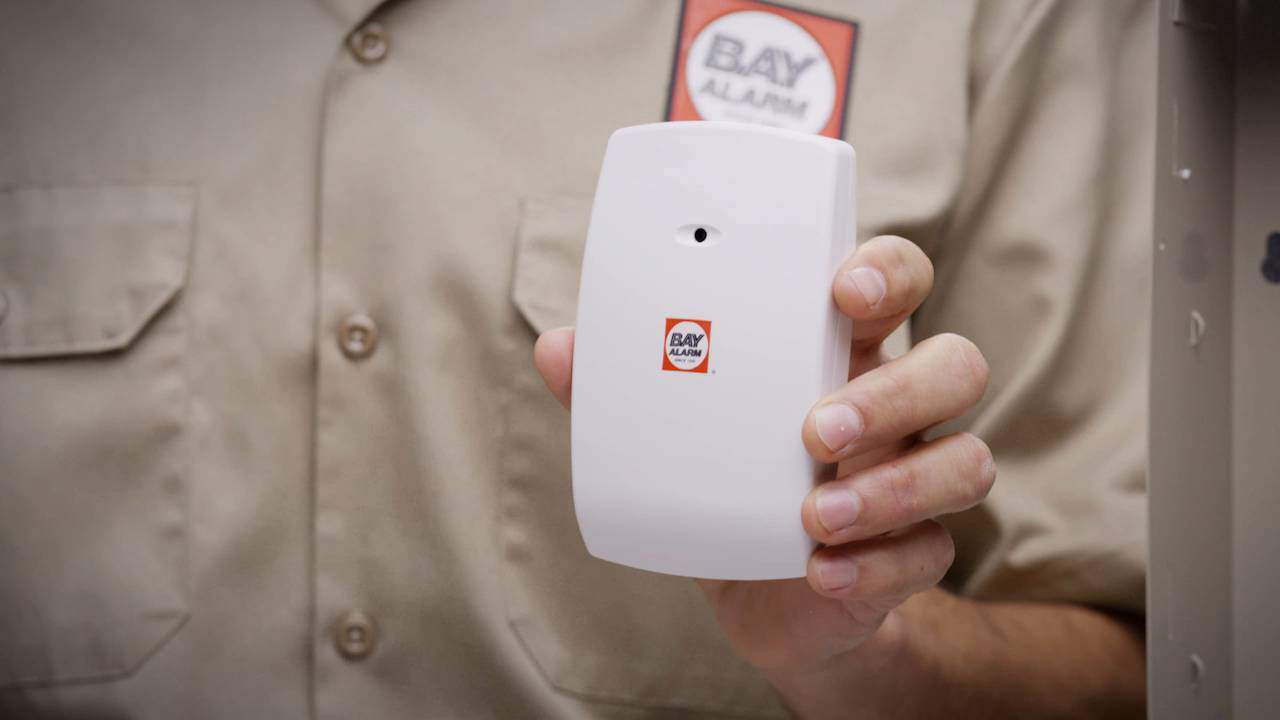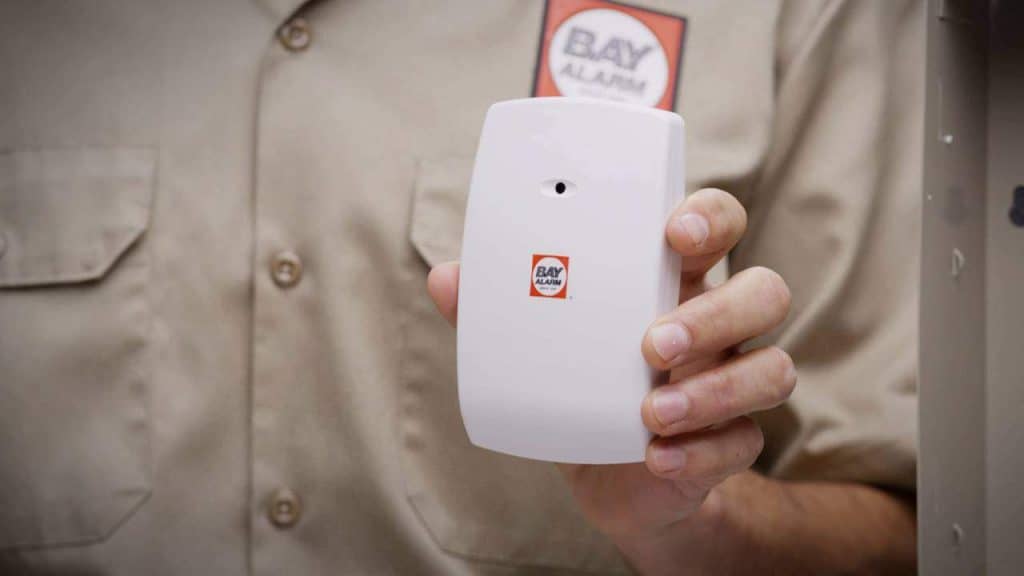 Bay Alarm Medical is certainly one of the oldest companies in the business, and they bring those decades of experience to their medical alert systems.
Free monitoring for a spouse or another person.
Bay Alarm Medical realizes that medical alert systems are useful even if you don't live alone. If your spouse or another person who lives with you would also benefit from being connected to a virtual safety net, Bay Alarm Medical lets you add them to your system for free (although you do have to buy another pendant). Stay safe as a family for much less than Medical Guardian charges.
At $19.95 a month, Bay Alarm Medical lands on the budget-friendly side without compromising its coverage. Upgrading to different system tiers does mean more cost, but it goes up proportionally to itself and therefore stays about $10 – $20 under what Medical Guardian offers.
Like Medical Guardian, Bay Alarm Medical offers a range of mobile systems that you can use for coverage beyond your home. You can choose to go solely onto cellular, which means you don't have to worry about where you are or switching from one system to the other when you change locations. Your safety stays a priority wherever you go.
Bay Alarm Medical realizes that accidents don't take breaks, and you can't tell them to lay off for a couple of hours while you charge your medical alert system batteries. So it's developed a 72-hour life for its power sources, which means more freedom for you without worrying about a break in service. You also get warning lights when the device is winding down so you'll know exactly when to recharge without having to set up outside reminders.
As an incentive, Bay Alarm Medical sends you a lock box with your starter kit without any additional charge. That way you can store your valuables and keep your important papers all in one area – it's an easy way to keep everything safe and remember where it is when you need to retrieve them. The lockbox is also portable, so in case of a house emergency like a fire, those aspects of your life won't need replacing. Medical Guardian understands a holistic approach to personal accident preparedness.
If you struggle with glaucoma or other vision issues, finding details that indicate where things are can make using things like medical alert devices harder than they're worth. But Bay Alarm Medical's device has a high contrast large size red button that is easy to spot from far away so you don't have to search for it in case of emergency. It's also nestled in a grooved border in the middle of the device so if your vision is impaired, you will be able to feel it distinctly.
What are the disadvantages of the Bay Alarm Medical device?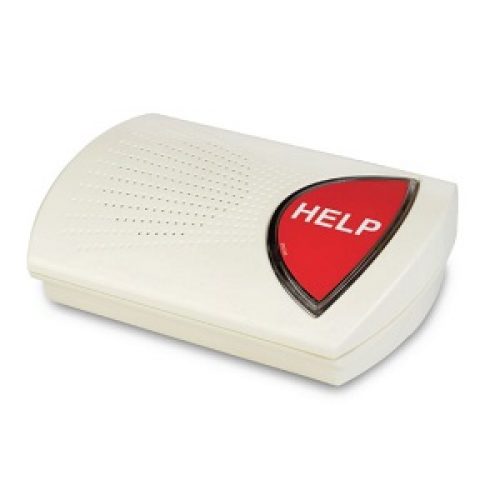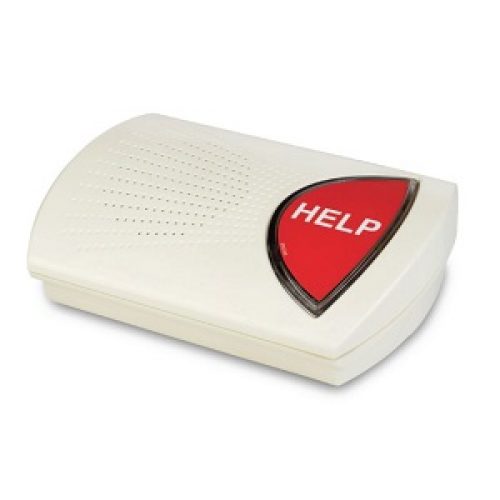 Reset button not conveniently located.
Bay Alarm Medical realizes people make mistakes, so they offer a reset button that will cancel any emergency call put out to their system – but only if it's pressed within fifteen seconds of the original call. They don't make it easy to beat the clock by making the button hide on the back of your wearable device, which could also cancel any real emergency call if the wearer accidentally hits it during an unexpected body contortion. We appreciate this feature but would love it in a better place.
Cellular coverage limited to AT&T or T-Mobile.
Although it's nice to have two options for the network you want to use on your mobile medical alert systems, these two do not offer full coverage of the US. If you're not in an area covered by AT&T or T-Mobile, you're out of luck with Bay Alarm Medical's mobile options, and that severely limits your traveling choices.
At 1000 feet, Bay Alarm Medical doesn't reach as far as Medical Guardian, and that could make a major difference. Large homes and those with no convenient central area could suffer coverage issues that reduce the effectiveness of having a medical alarm system in general. On the bright side, Bay Alarm Medical's range is good for the industry, so if you like the rest of its features, you may not need to look anywhere else.
What is the final verdict?
With its lower prices and flexibility, Bay Alarm Medical wins this round. Medical Guardian is an excellent company, but it doesn't quite live up to Bay Alarm's more extensive perks. We recommend starting with the basic package and seeing what you can add on to make the system the perfect addition to your life.