Latest posts by Melanie Griffin
(see all)
As a senior citizen in the twenty-first century, you have more options than ever for how you live and take care of yourself. That's a good thing, but it can become overwhelming very quickly. Technology can be especially difficult to navigate and find exactly what you need because it changes and updates itself so quickly.
Medical alert systems are no different. They've come a long way since their beginnings in the 1980s, which means they constantly add to their arrays of ways to keep you safe at home and as you travel. But how do you know which one is best for you?
Lifefone is emerging as a company that wants to be your only stop for all your home safety needs. Their medical alert offerings encompass a variety of ways to stay connected with them, as well as flexible plan options and choices of coverage. We'll let you know all the details about their set up, staying safe with them, and adjusting their offerings to your lifestyle. We'll also deliver our final verdict and overall recommendation, so read on to see if Lifefone is right for you!


What is Lifefone?
Lifefone is a medical alert system designed to help you contact emergency services when you've had an accident that renders you otherwise unable to get to or use the phone – in other words when you most need it.
Lifefone offers a series of emergency receivers and portable broadcasters, which are devices with buttons specifically designed to put you in direct touch with emergency personnel without you having to dial or even remember where your phone is located. You can choose from a variety of ways to wear your broadcast button, such as around your neck on a pendant or around your wrist like a watch, which increases your mobility without compromising your safety.
How does Lifefone work?
Like all medical alert systems, Lifefone strives to make the process of contacting emergency personnel easy, thorough, and speedy. We'll walk you through the basics of the process here, and we'll go into more detail about the variations you can choose to personalize your service in the next section.
First, you will need to either plug in your Lifefone base to your landline or sync it with your cell phone number. Whatever wearable you choose – either the pendant or wrist strap – will automatically and wirelessly sync with the base.
When you experience an emergency, simply press the button on your wearable, and within one minute, you'll be connected to one of Lifefone's trained emergency responders.
They will get as much information about your situation as possible, and as soon as they know they will relay that to your local emergency personnel, who will come to you as soon as possible.
How does Lifefone fit the senior citizen lifestyle?
You can use Lifefone at any point in your life, but there are a few features that can especially enhance or detract the experience for senior citizens. Here's a look at those measure up in the Lifefone system.
Medication reminder option. Lifefone has a lot of options for personalization, including being able to detail your medication information in your specific caller profile. This lets you add beeping alerts to your home base to help you remember your medication on the schedule you need to time your health exactly.
Speakers. Because the Lifefone device is operational for an extended amount of floor space, its speaker and microphone have been calibrated for maximum sensitivity. Whatever wearable option you choose will also have its own set of speakers and microphone, so you'll be able to take that excellent sound quality with you and take advantage of it wherever you need help.
Customer service. When you get in touch with Lifefone to see what your options are, or to tell them about any issues you may have, you'll find a knowledgeable, patient customer service representative willing to walk you through everything. You won't get a hard sales pitch, you won't get any pressure to stay on if you want to end your service, and you won't get put on hold for half an hour or passed around to seven different people until you finally get someone who can help. Also, Lifefone's customer service line is open 24/7, so someone's always there to answer your questions.
Apps for senior citizens. Lifefone also offers a long list of cell phone applications that go hand in hand with their basic emergency alert system. They're not just available for their direct users, either – professional caretakers, family members, or anyone else responsible for keeping an eye on a senior citizen's safety can opt-in as well. You can choose from medication reminders, activity checks, daily check-in calls, and GPS location services. You can even set up personalized reminders to alert you about events that cover your own specific situations. For example, if you know your elderly mother goes to a specific address at the same time every week, you can set up a GPS alert to tell you if she missed her usual time over there, prompting you to check on her when her schedule veers from her normal.
How much does Lifefone cost?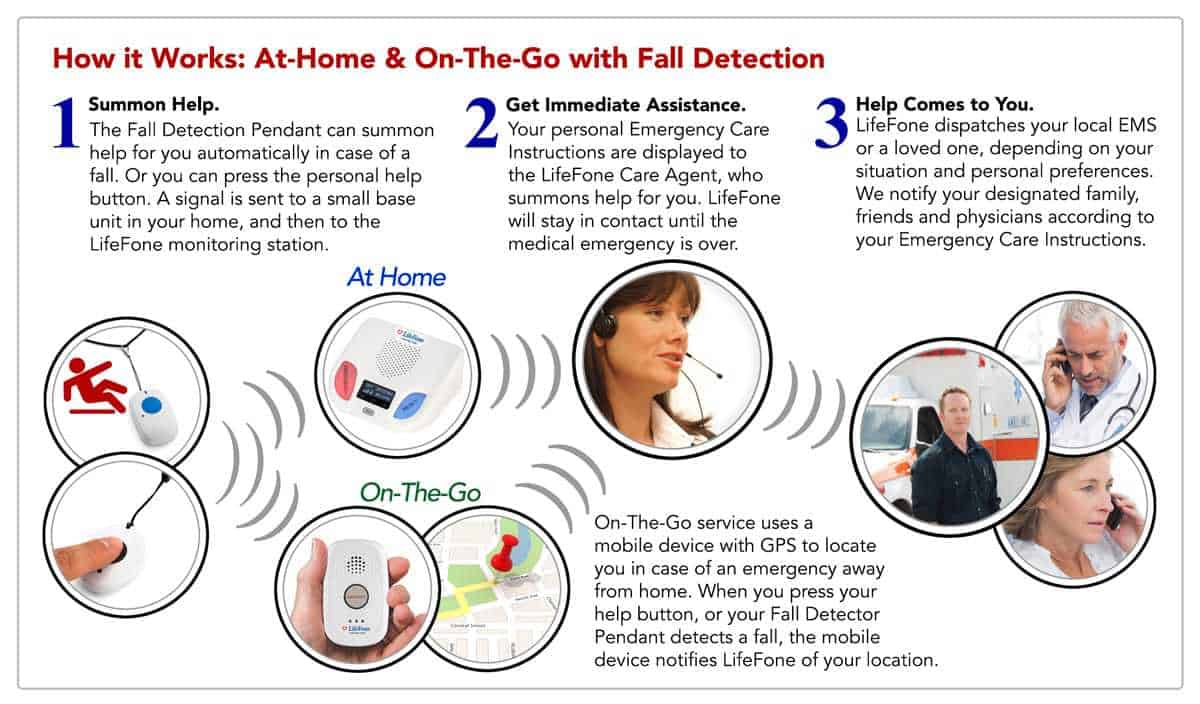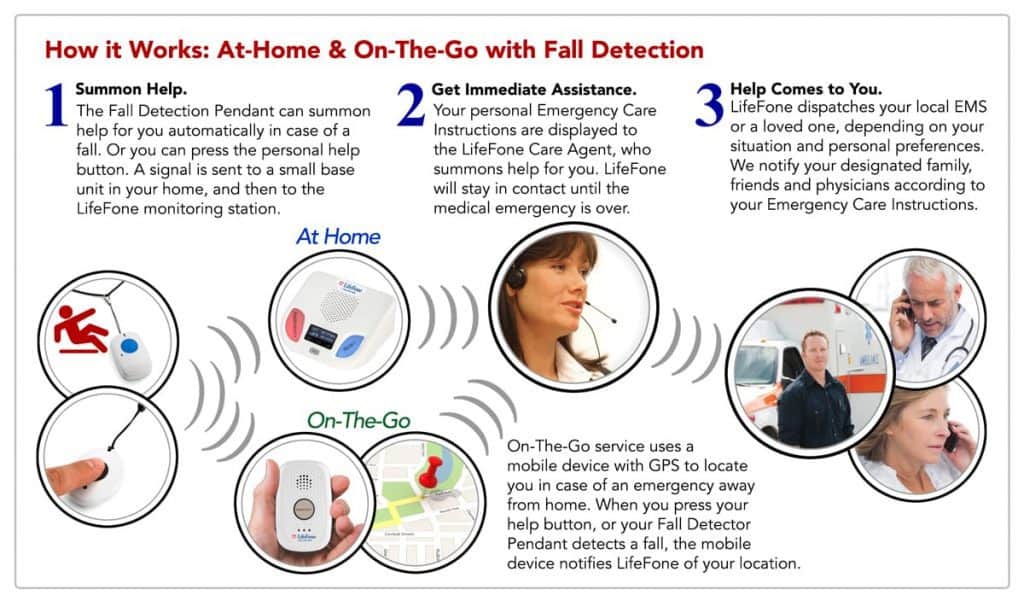 The ultimate cost of Lifefone per month will vary depending on what options you choose from its myriad of possibilities. Here's how they are listed:
Extra help button: $39.95 one time fee
Cost for basic service: $29.95 per month
Activity Assurance: $6.00 per month
Senior fall detection: $5 – $10 per month
Mobile Alert: $5.95 – $7.95 per month
Smoke or carbon dioxide alert: $42.95 per month
What are the advantages of Lifefone?
Discounts if you pay per quarter or annually. Service charges that seem reasonable per month can add up when you calculate them out for the entire year. Fortunately, Lifefone shaves off dollars per month when you pay for a longer-term upfront. You have the option to pay per quarter (every three months) for about $5 off the per-month price, and if you pay annually, you save even more. Even better, you don't have to sign a contract or commit to using Lifefone for any specific time frame even when you do decide to pay for longer than a month at a time. And the price you pay is locked at whatever the rate was when you began service. That's the definition of win-win.
30-day money-back guarantee. Lifefone knows your first month with them is critical – it's when you put them to the test in your real life to see if they live up to their hype. If they don't end up fitting your needs in the way you were hoping, they'll give you all your money back, no questions asked, as long as it's within 30 days of your initial activation. That signifies confidence in their own product, as well as the willingness to acknowledge when it's just not working for you.
Cancel any time. Another great customer service aspect of Lifefone is that they let you cancel your service any time you want without charging you extra fees or making you jump through any paperwork hoops. That can make a significant difference when you or your loved one experience sudden life changes that require your full attention, like an unexpected long-term hospitalization – Lifefone makes it as easy as possible to change your circumstances with them so you have one less thing to worry about.
Lots of options. Lifefone's thought of everything, and then some. We've gone into details about all you can get with Lifefone, but we want to reiterate how awesome it is to have as much choice in the first place. Whether you're active or sedative, a homebody or a traveler, worried about falls, gas, or slipping in your shower, Lifefone has you covered. Its fall detector and smoke and carbon monoxide detector add-ons are crucial for those who live alone and are worried about solitary accidents.
Reach of service. Your basic Lifefone in-home service base has a working radius of 1300 feet. That's over half the area of the average newly built home in 2010, according to the Census, and if your home was built in earlier decades, that reach gives you even more coverage. It's also 500 more feet than some of Lifefone's main competitors like Life Alert. Plus, you can add Lifefone mobile options to take with you on the go, so that you're always within coverage reach as long as you have your cell phone nearby.
No equipment or set-up charges. Lifefone doesn't charge you an initial setup fee or equipment costs – you just pay what it will cost you for your first month, plug in your equipment yourself, and you're good to go. Whatever equipment you decide on will also have a lifetime warranty, which Lifefone enforces by replacing the equipment at no cost whenever it breaks. They're confident it won't under normal circumstances, but they get that life happens, and they're prepared.
Personalized medical profiles. If you don't want to add any extras to your equipment but still want Lifefone's personal treatment, you can add details to your personal medical profile. This is a profile Lifefone sends to whatever responder takes your emergency calls so they can instantly be familiar with important health information that will determine the best next course of action. If you're diabetic, for instance, they'll know to look for symptoms of hypoglycemia. All your information is protected by the Health Insurance Portability and Accountability Act, which covers the privacy of your medical details.
What are the disadvantages of Lifefone?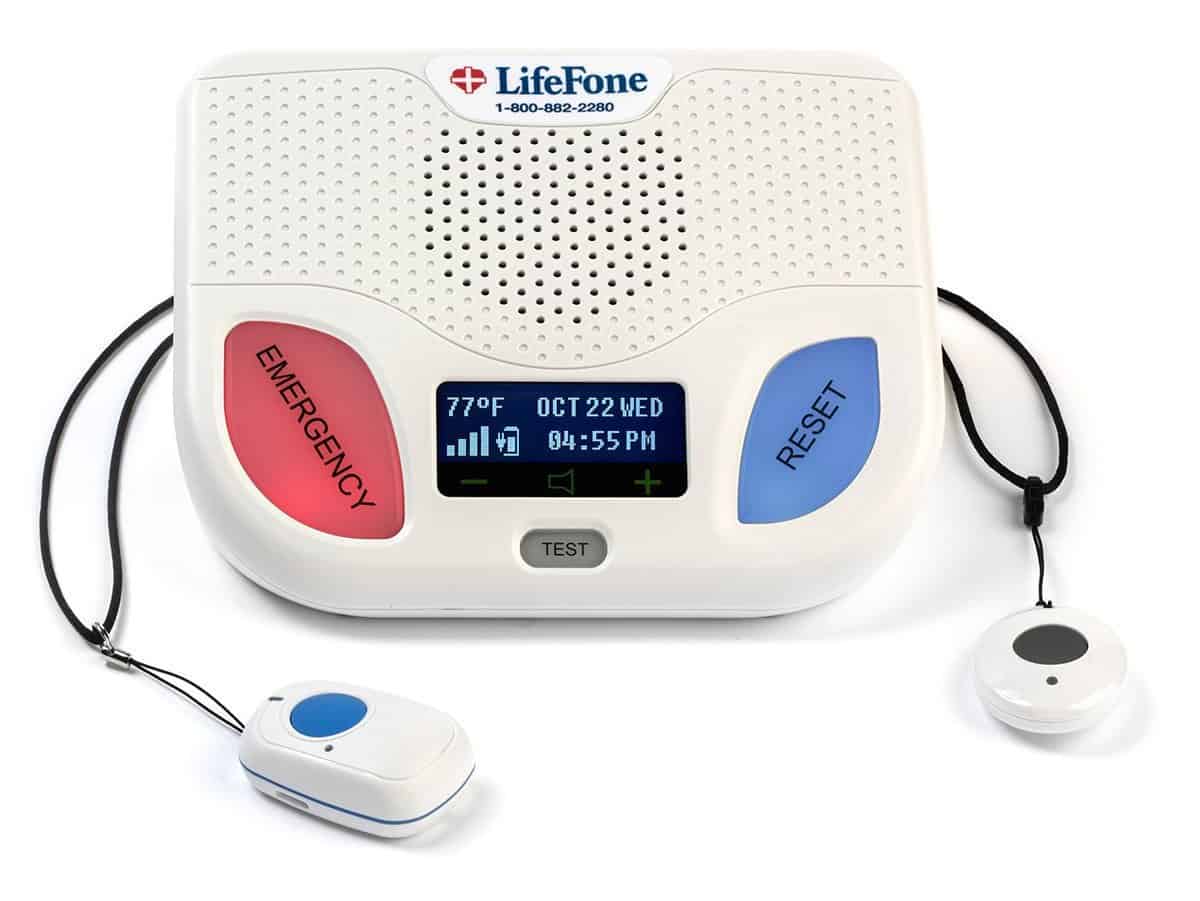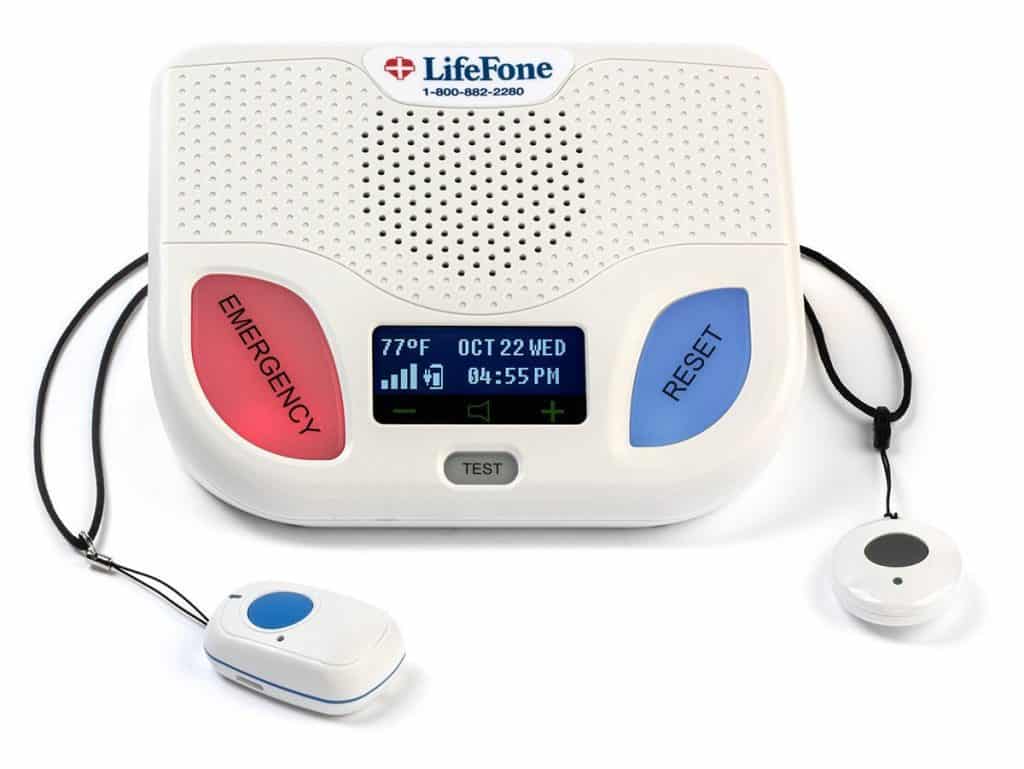 Lack of call center certification. The most glaring weakness of Lifefone is that its call center is not CSAA Five Diamond certified. This is the most common way that a regulating body shows that a medical response call center is staffed by personnel certified to answer in emergency situations. However, that does not automatically mean Lifefone's call center workers are subpar – they get great reviews from users, so keep both of these in mind as you're deciding on whether Lifefone is for you or not.
Additional cost for each new option. Lifefone's list of options is long and varied. That's great if you're looking to personalize your safety as closely as possible – but not so great if you haven't budgeted in more than the basic monthly service fee. Lifefone does offer some deals within their add-ons, such as the ability to add spousal coverage for no extra service charge (although you will have to pay extra for another alert wearable), but just make sure you remember the monthly fee is a starting point, not the bottom line.
DIY setup. The good news is, Lifefone is easy to install. The bad news is, you'll have to figure that out for yourself. Unlike other emergency alert systems like Life Alert, Lifefone does not offer professional installation services. It lets you save more money as a customer, but it also leaves you without expertise when you're setting up. But if you do have any questions, just remember their customer service phone line is open 24/7/365. That includes if you can't figure out where to the plugin.
What are Lifefone's FAQs?
Does Lifefone work in rural areas? Yes. Lifefone uses AT&T for its cell phone-based services only, so if you do not get AT&T coverage in your area, you still have several options. If you have a landline, you can use that for your Lifefone services. You can also use Lifefone's apps on any Android or Apple smartphone data plans.
How do I know when Lifefone is calling me for a scheduled check-in, reminder, or emergency clarification? When Lifefone calls you, it will be from an area code where our call centers are based. That will be 315 (Syracuse, NY), 914 (White Plains, NY), 951 (Corona, CA), or 800-940-0262. "Response Center" will be the name that comes up if you have caller ID.
What percentage of falls does Lifefone's fall detection system catch? If you opt into Lifefone's fall detection services, it will catch approximately 95% of your falls. Some falls are too slow or otherwise too subtle to be detected, so Lifefone encourages you to use your emergency button in any fall situation to make sure you get the help you need every time.
How long does it take to receive my Lifefone system? If you order before 3 pm Eastern time and live within the continental U.S., you'll get your Lifefone system within 3 – 5 business days. If you order after 3 pm, it will take an extra business day, and if you live in Alaska or Hawaii, it will take 7 – 10 business days total. You can also pay extra for more expedited shipping no matter where you are!
What are good alternatives to Lifefone?


Mobile Help. These guys are the best value per month you can get, with their basic services costing $19.95 with the option of adding fall detection for $10. Which we highly recommend, since their fall detection surpasses the industry standard.
Medical Guardian. Rated as top tier for ease of use, Medical Guardian makes switching between home and travel a breeze with its mobile options.
QMedic. Coming from MIT, QMedic gives you all its proactive, precision-based features as part of its standard package, no need to add extras. Unfortunately, that doesn't include fall detection, but the rest of QMedic's package of activity alerts and other data-driven services are great for those who have more complete emergency needs.
What is the final verdict on Lifefone?
With its low bar of commitment and its vast array of options, Lifefone is a great deal for seniors who want an emergency alert system that can change and evolve with their own life situations. It may seem too overwhelming to get into at first, but with a little bit of thought about your own needs and the assistance of their ever-present and helpful customer service representatives, Lifefone is one of the best emergency alert system choices available.
Head on over to the Lifefone website to build your own plan today and get started as soon as tomorrow!