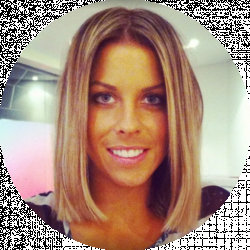 Latest posts by Jodie Chiffey
(see all)
If you're suffering from Chronic Obstructive Pulmonary Disease (or COPD for short), then it's very likely you'll need a portable oxygen concentrator to help you breathe. COPD is a medical term used to describe progressive lung diseases, including emphysema, chronic bronchitis, and refractory (non-reversible) asthma. All of these can be difficult conditions to manage, but portable oxygen concentrators are designed to help make life a bit easier and allow you to live life to the full.
You might already have your eye on one or you might be new to the concept entirely, but what exactly is a portable oxygen concentrator? They're basically medical devices that provide oxygen to people who have low blood oxygen levels. They can be either battery powered or plugged into a socket, but most machines will allow you to do both.
There are essentially five steps to the concentrator process. First, air from the surroundings you're in entering the portable oxygen concentrator. The oxygen is then compressed and nitrogen is taken out from the air. The air is then adjusted so it can be safely delivered to the person using the machine – you. When the air has passed through the concentrator, you're left with oxygen that is around 90-95% pure. This is the oxygen that will help you to breathe, eliminating that breathlessness feeling.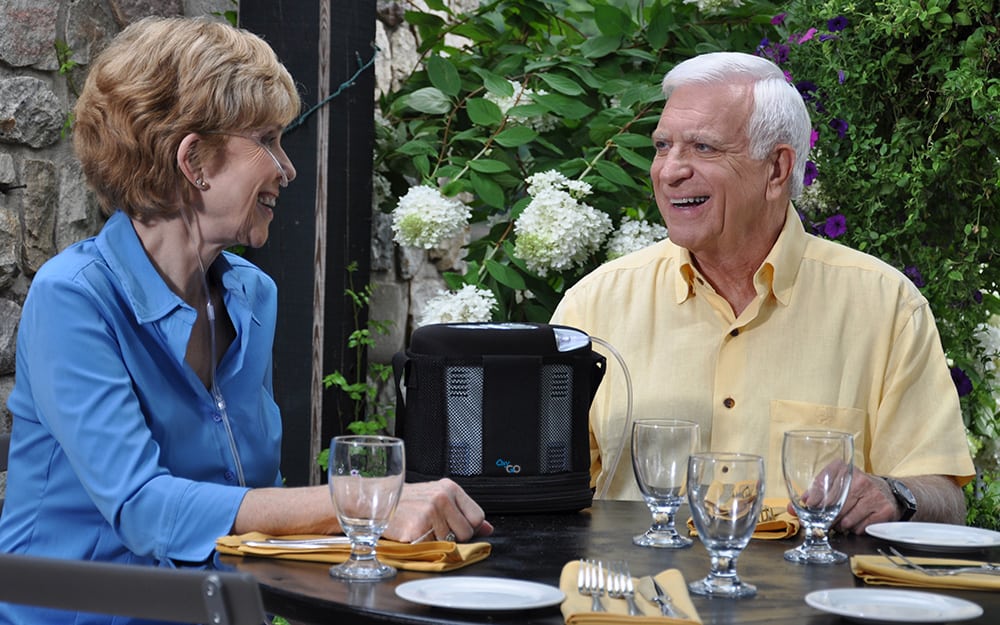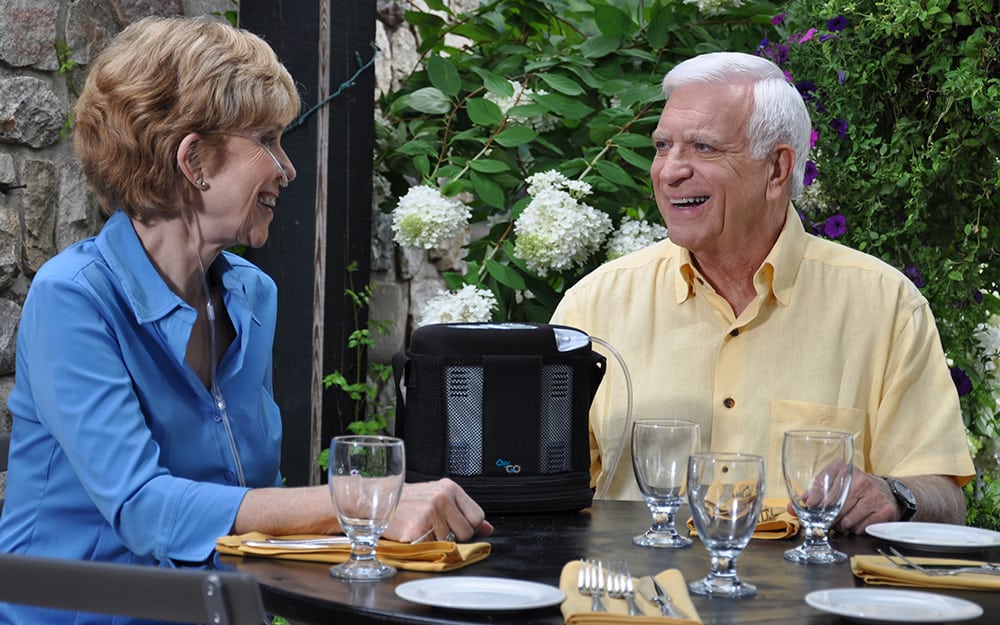 We understand that if you're looking for a portable oxygen concentrator, you might be feeling a little bit overwhelmed right now. Where do you begin? But don't worry – this guide is dedicated to helping you discover the basics so you're left with more information to find the device that's right for you. There are four concentrators that we think are worth a mention right now, so we're about to go into detail with a bit more about them. But first…
Things to keep in mind when choosing a portable oxygen concentrator?
The battery life of your machine
It's really important that if you need a constant flow of oxygen throughout the day, or require a higher flow rate at certain periods (like when you're exercising), you choose a portable oxygen concentrator with enough battery life for your needs. It's a great idea to grab a spare battery at the same time you purchase your oxygen concentrator so that you can keep swapping between the fully charged battery and a dead one. This is a great idea if you're out and about or travel a lot.
Do you travel frequently?
If so, you'll need a machine that's Federal Aviation Administration (FAA) approved. But there's good news – the FAA has ruled that passengers who need oxygen must be allowed to travel with an FAA-approved portable oxygen concentrator. This is for planes with 19 or more seats. Find an FAA approved machine and you shouldn't have any problems with taking it on an aircraft at all.
Flying regularly will impact the type of portable oxygen concentrator you buy too. Look for one that's easy to move around, especially in a busy airport, and one that's compact. You don't want anything bulky as you'll find it really difficult to travel with.
Your location
This might not have been something you've considered before, but where in the world do you live? It might seem obvious but your location will have a huge bearing on which portable oxygen concentrator is right for you. If you live by the sea where it's often humid, it's more likely you'll need less oxygen than if you live at a higher altitude. If you live somewhere that's higher up, the oxygen levels will be way lower and you'll need more to maintain a better quality of life.
Price
When you've thought everything through and have some sort of idea about the finer details of your chosen machine, it's likely that price will be an incredibly important factor. Want to know our top tip? When you need to rely on a machine to preserve your quality of life, don't go for the cheapest option (if you can help it). A portable oxygen concentrator could be the single most important thing you'll ever purchase, so make it an investment. Your life will be better for it.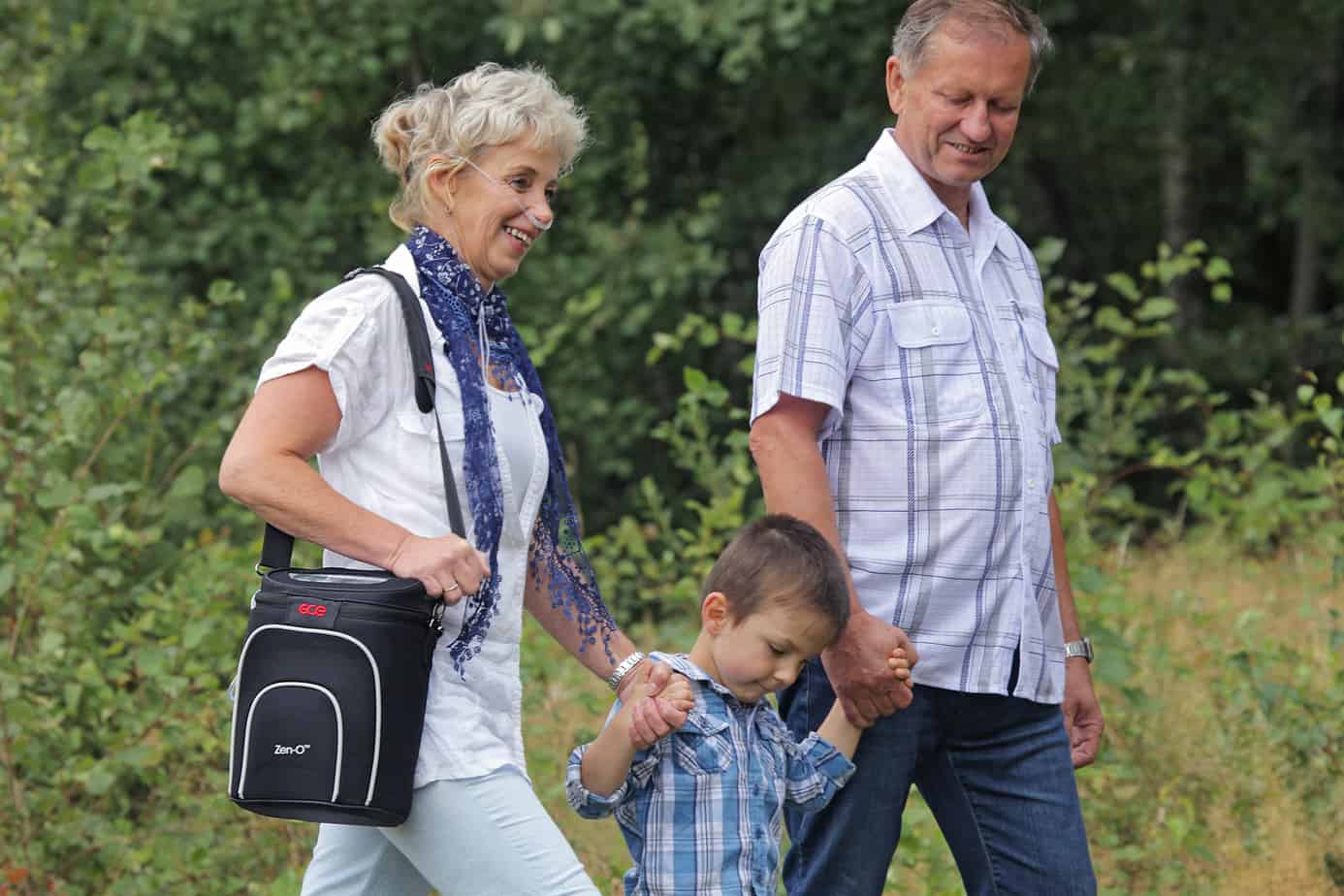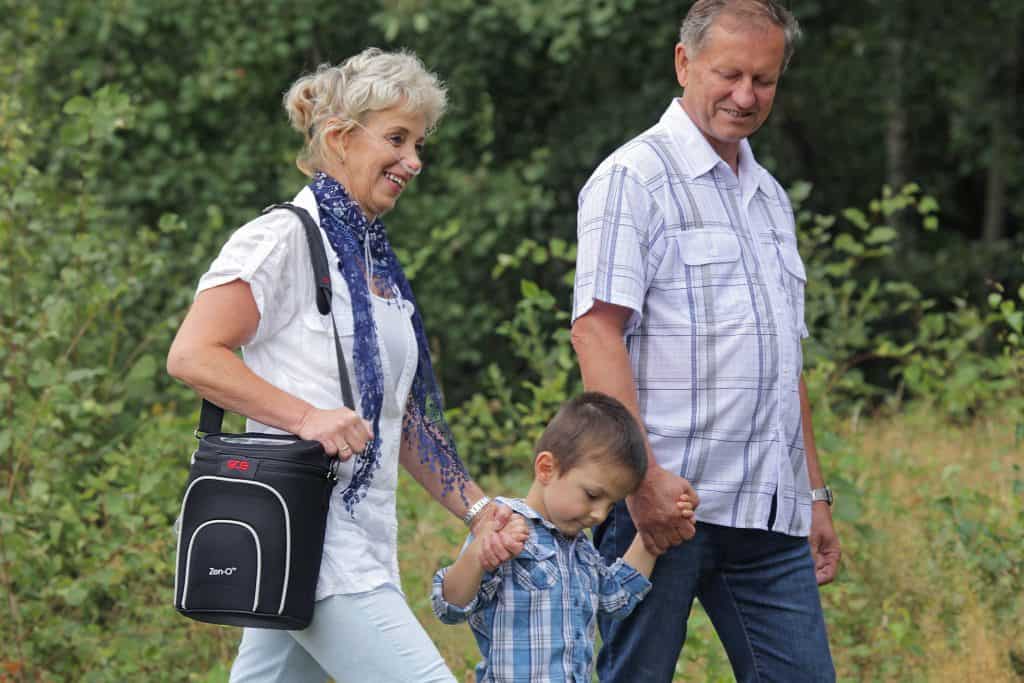 Top FAQs about portable oxygen concentrators
"How much are portable oxygen concentrators?"
Generally speaking, if you're buying a new portable oxygen concentrator then expect to pay anywhere from $1495 to $3495. While not exactly cheap, they are an investment – one that could seriously benefit your health. Buying a used oxygen concentrator will ultimately be cheaper. They usually start at $800, but this depends on the condition and warranty of the product. You can even rent them. Our advice is to shop around before you commit to anything and make sure your chosen model is the right one for you.
"Do I need a prescription to buy a portable oxygen concentrator"
Yes – this is really important. The U.S. Food & Drug Administration (FDA) is responsible for setting the rules about prescription sales and at this time, you need one to be able to purchase an oxygen concentrator. It's really important that you get a prescription from your doctor as they'll be able to prescribe the exact amount of oxygen you need.
You may only need to use an oxygen concentrator while exercising or sleeping, or you may need one for every aspect of your life, so make sure you seek expert advice before buying anything as no two COPD sufferers are the same.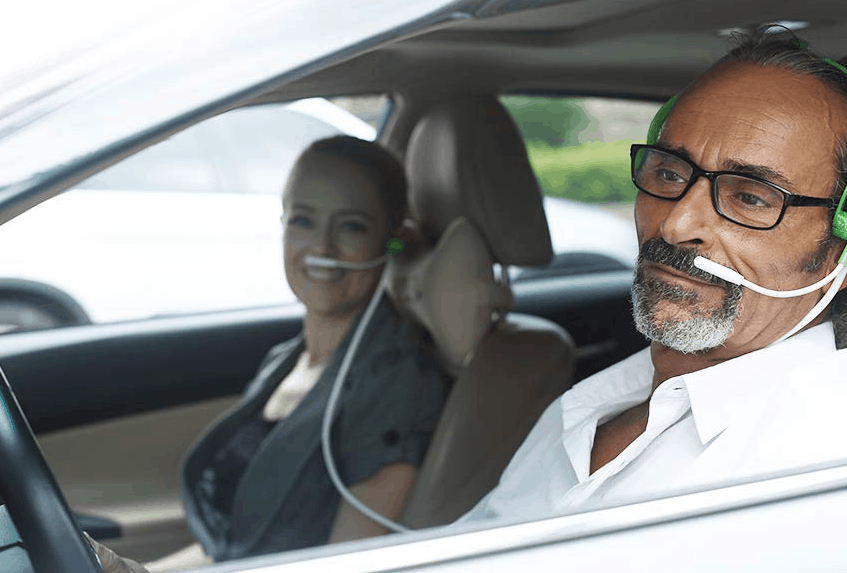 "What makes a portable oxygen concentrator 'portable'?"
To put it simply, a portable oxygen concentrator should be light enough that you can carry it without too much trouble. When looking for an oxygen concentrator, it's a good idea to bear in mind the extra weight the batteries and accessories might add, so that it remains easy for you to carry.
"Can you sleep with a portable oxygen concentrator?"
Only if your doctor says it's safe to do so. Many people with COPD find they have trouble sleeping at night. This is because your breathing gets shallower as you relax and take in less air. It may be very beneficial for you to use an oxygen concentrator as you sleep, but we cannot stress enough the importance of getting professional medical advice first.
Our top 4 portable oxygen concentrators
Now that you know a bit more about portable oxygen concentrators, we'd like to show you the four that we think are leading the way right now when it comes to portability, price, effectiveness and battery life. We've rounded up the pros and cons of each machine so that by the end of this guide you'll have a better understanding of the different types of model that's available to buy. Remember – your doctor is best placed to help you find the best one, but this review will help with your knowledge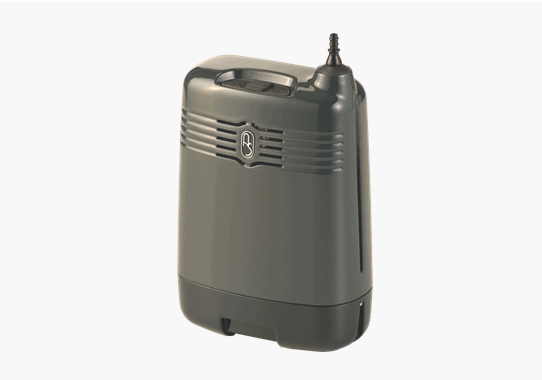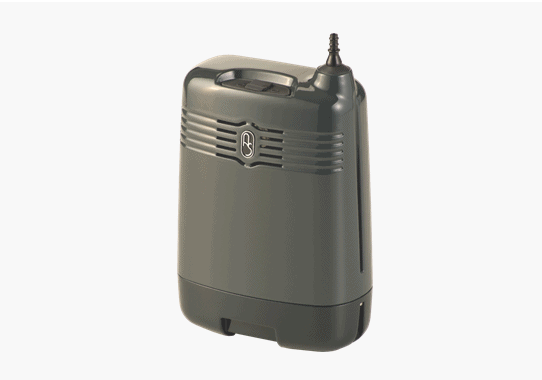 General specifications:
| | |
| --- | --- |
| Product weight | 0.9kg |
| Product dimensions | 6.4 x 4.8 x 2.5 inches |
| FAA approved for travel? | Yes |
| Noise level | 41 decibels |
| Rating | 4 / 5 |
Includes:
2 batteries
AC/DC universal power supply and cords
Carry bag with battery pockets
Battery charging and operation coiled cords
Carry-all accessory bag
Shoulder strap
Battery case
Features:
Flow rate pulse 2
Sound level 45 dB(A) at setting 2
3 hours battery life (1.5 hours for each battery included)
Battery recharge takes 4 hours
The portable oxygen concentrator comes with a 3-year Focus™ warranty
The batteries and power supplies come with a 1-year warranty
Product review:
The Focus™ portable oxygen concentrator is incredibly light and compact – it weighs only 0.9kg and fits into the palm of your hand. This is perfect for people with an active lifestyle, or who simply don't want to be weighed down by a bulky, heavy device. This gives COPD sufferers complete freedom to do the things they normally would.
Another great feature is that it comes with a carry case with an adjustable shoulder strap, which ensures a comfortable fit. This also keeps the device looking a bit more discreet, which is perfect if you'd prefer to keep the oxygen concentrator covered up.
Like everything, there are a few (potential) downsides. It operates on a pulse flow system, which gives short bursts of oxygen to keep you going. While great for those who need this type of oxygen concentrator, it won't provide enough oxygen for those who need a continuous flow. The battery life is also a bit limited – each one lasts for three hours, so if you're going out for prolonged periods then you'll need to take both. You may also need to buy a spare, just in case.
Overall, if you're more active then it's an ideal portable concentrator that's light and compact enough to go anywhere and everywhere. Just keep an eye on the battery life.
Pros and cons:
| | |
| --- | --- |
| Pros | Cons |
| Incredibly light and compact | Limited battery life |
| Comes with a shoulder strap so it's easy to carry | Having two batteries is essential at all times in case one runs out |
| Very quiet at only 41 decibels, which is equal to a whisper | |
| FAA approved for travel, so you can take it on a plane | |
| | |
| | |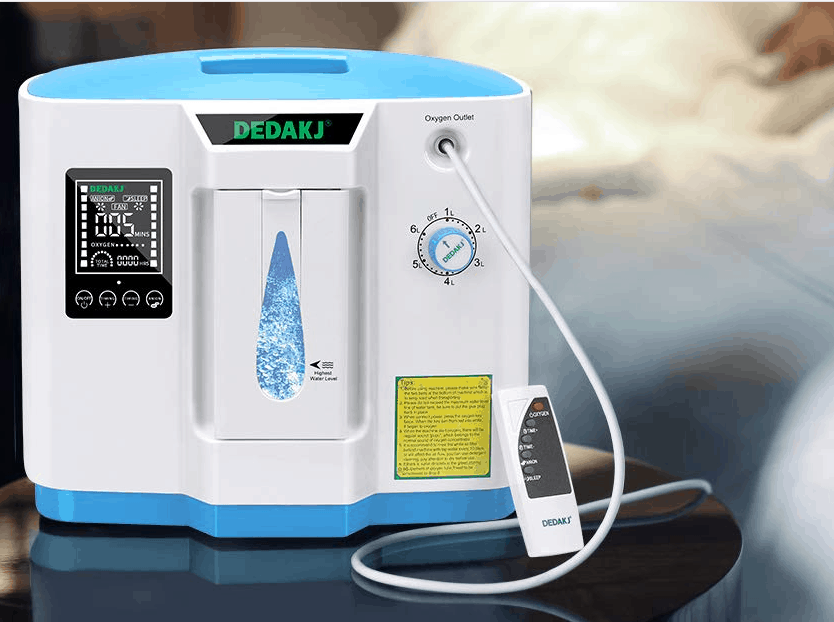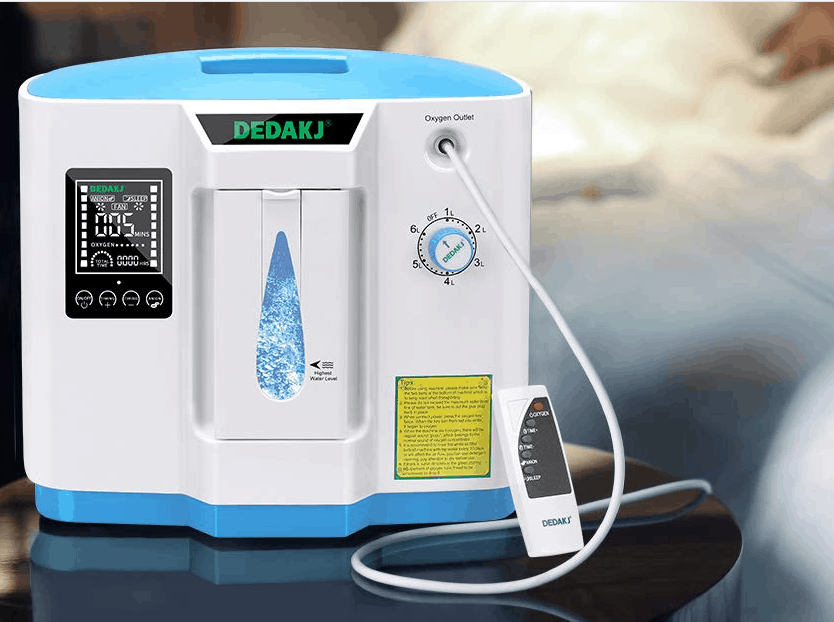 General specifications:
| | |
| --- | --- |
| Product weight | 6.5kg |
| Product dimensions | 13 x 7 x 12 inches |
| FAA approved for travel? | No |
| Noise level | 45 decibels |
| Rating | 3.9 / 5 |
Includes:
DDT-1B oxygen concentrator
3 meter (including water storing equipment)
Ear-hook inhaler
Nasal suction tube
Remote
Power cable
Nasal suction outlet
Air filter & plastic cap
Outlet & fuse
User manual & certificate
Aftersale card
Features:
Oxygen concentration can be adjusted
Continuous oxygen supply flow: 1-6L/min adjustable
Provides a stable 90% (1L) pure oxygen flow
Portable and lightweight: can be used in the car and sea
LED touch screen and infrared remote control function within 20m
Double oxygen absorption function: suitable for travel and home use.
Oxygen tube can be purchased separately here:
Comes with a 1-year warranty
Product review:
The Dedakj Portable Oxygen Concentrator is cheaper than most. It's a supplemental machine, which means it's not intended for people with serious lung diseases or who rely on an oxygen machine to stay alive. The oxygen purity goes up to around 90%, so again it's not suitable for anyone who needs a purer oxygen amount. However, if you need some extra help with your breathing then it can be a reliable, affordable option.
The Dedakj runs on a continuous flow oxygen supply, which is ideal if you're constantly short of breath or need oxygen while you're sleeping. It's very quiet at only 45 decibels too. This level of sound shouldn't disturb you as you rest. Another added benefit is that it can be used by two people are once. This again makes it an affordable option if you're sharing the machine within the same household.
It is slightly heavier and bulkier than other designs, but you can move it around and use it in the car with relative ease. If you need an oxygen boost, then it's a highly recommended portable oxygen concentrator.
Pros and cons:
| | |
| --- | --- |
| Pros | Cons |
| Very quiet at only 45 decibels | It's a slightly heavier device than some |
| An affordable option | The oxygen level may not be pure enough for some people |
| Can be used by two people at once | Some reviewers mention having trouble with the remote |
| Oxygen purity around 90% | |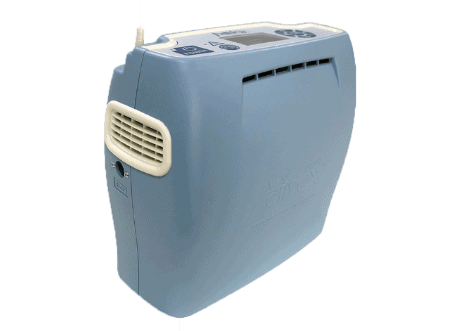 General specifications:
| | |
| --- | --- |
| Product weight | 2.2kg |
| Product dimensions | 9 x 7.8 x 4.4 inches |
| FAA approved for travel? | Yes |
| Noise level | 41-48 decibels |
| Rating | 4.5 / 5 |
Includes:
Internal battery
AC power supply
DC power supply
4-way custom carrying case
Strap system
Accessory bag
Tubing
Manual
Features:
Pulse flow settings 1-4
Under 5 pounds
Powerful internal battery
Customizable
Comes with a 3-year limited warranty
Product review:
Let's start with the biggest plus point on the LifeChoice™ Activox™ 4L – the battery. Unlike competitor devices, you get a whopping 10 hours of battery life on a single charge alone. This is great news for people who like to travel or head out of the house for extended periods of time. There are so many technological advances to this machine too, from the advanced settings to the auto mode feature. This automatically adjusts to your breathing to give you the correct amount of oxygen. You might need short, sharp bursts or more prolonged periods of oxygen, but this device will give you exactly what you require.
The biggest downside? There's no carry handle. This may seem like a small factor but actually, it makes carrying the oxygen concentrator really awkward without the carry bag. Luckily this comes as standard, so we suggest it's a good idea to make this a permanent part of the oxygen concentrator's setup.
Pros and cons:
| | |
| --- | --- |
| Pros | Cons |
| Fully portable – wear it anywhere | No built-in handle so can be tricky to hold |
| Seriously long battery life, with up to 10 hours on a single charge | |
| Lightweight design | |
| Comes with an easy-to-carry bag | |
| Oxygen purity around 90% | |
| | |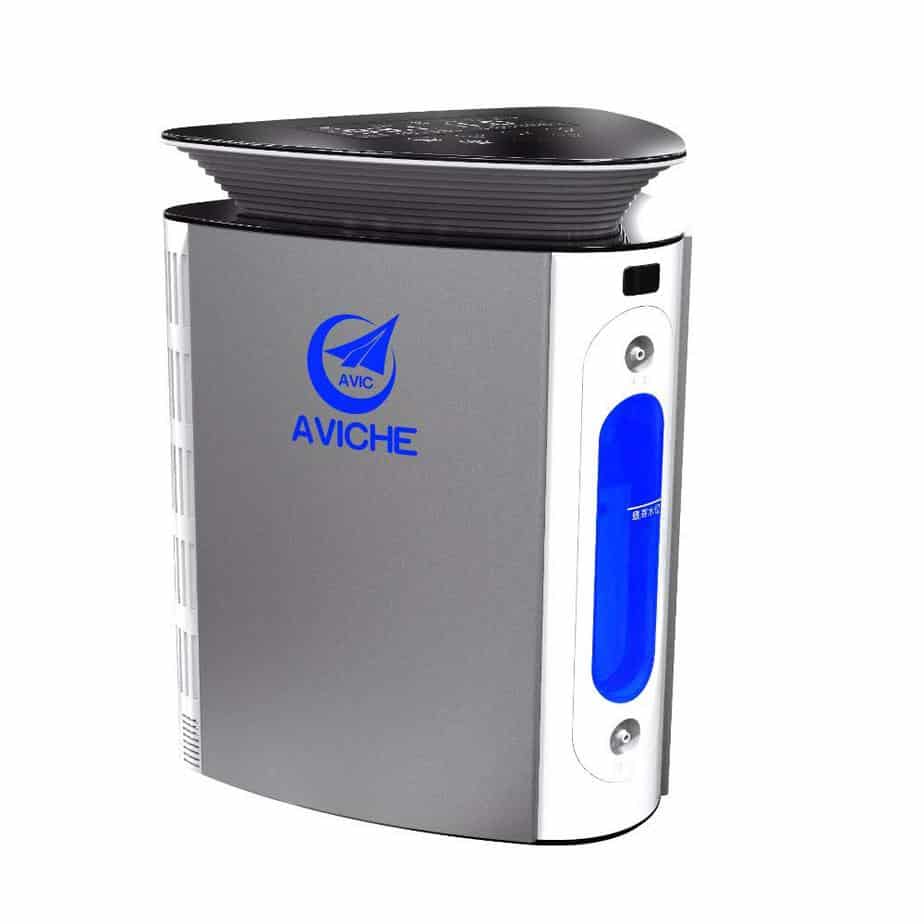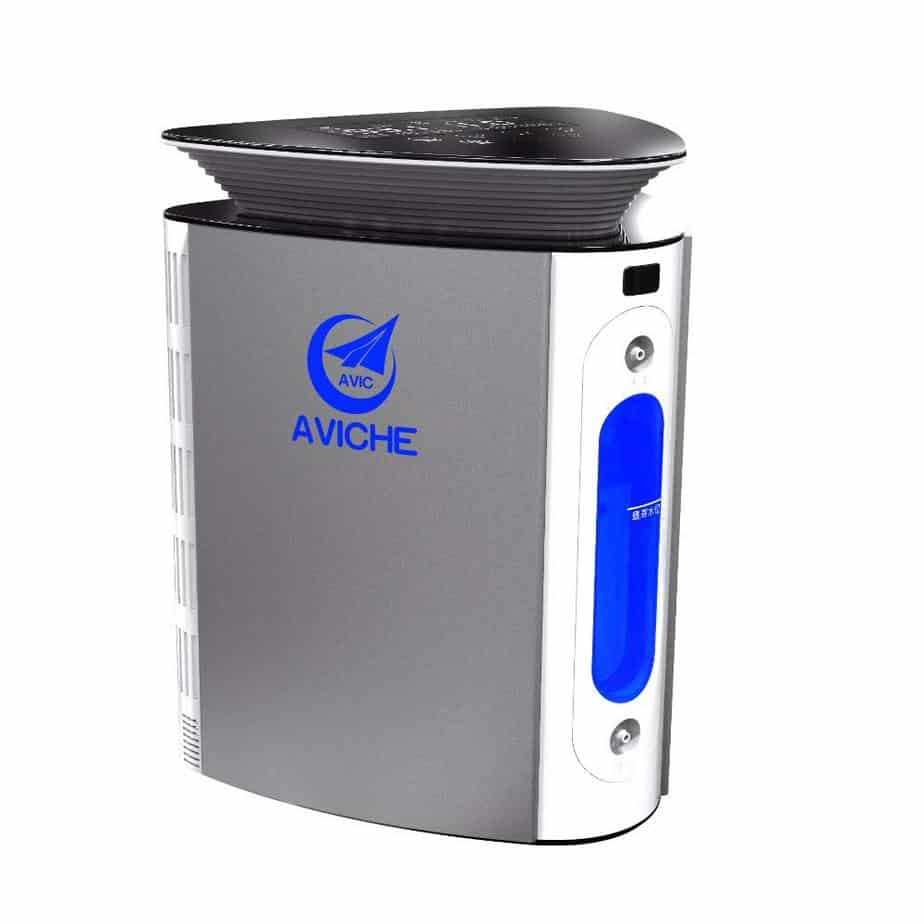 General specifications:
| | |
| --- | --- |
| Product weight | 9.1 kgs |
| Product dimensions | 11.9 x 10.9 x 14.8 inches |
| FAA approved for travel? | No |
| Noise level | 40 decibels |
| Rating | 3.5 / 5 |
Includes:
Oxygen machine
Ear-hook inhaler
2 air inlet filters
Remote controller
Power cable
User manual
Features:
Sleeping mode with white noise activation
LCD display screen
Touch control panel
Infrared remote control within 6m
Removable humidifiers
Oxygen and atomization outlet
Product review:
The Aviche Portable Oxygen Concentrator is a sleek, stylish design that's completely modern and up to date. It's got a great LCD touchscreen interface that's bright and easy to read. This tells you everything, from the current oxygen purity percentage to the total running time and the SOS button – which you can use in an emergency. Aviche has aimed the interface at elderly people, with a clear display that makes using the machine and seeing the buttons easy.
If you need to use the portable oxygen concentrator while sleeping, it's really quiet. It operates a sleeping mode too, which only makes white noise so you're not disturbed as you rest. It also comes with an infrared remote which can be used within 6 meters. This is handy if you're struggling to move about.
As it's slightly larger and bulkier, it's probably not the best machine to use while traveling. There's no real easy way to carry it either – there's no built-in the handle or carry case, so it's probably best for around the house or car journeys. Overall, it's a solid oxygen concentrator that's not too expensive and should help live a happier lifestyle if you're suffering from COPD.
Pros and cons:
| | |
| --- | --- |
| Pros | Cons |
| Sleek design | No built-in carry handle |
| Great LED display system | Not so easy to travel around with |
| It's lightweight | |
| Has a sleep mode, which activates white noise so you're not disturbed | |
| Comes with a handy remote | |
| | |
Final thoughts on the best oxygen concentrators
All four portable oxygen concentrators are so different – and all have their benefits – but our favorite has to be the LifeChoice™ Activox™ 4L. Whilst the Caire Medical Airsep Focus™ machine is a very close second thanks to how lightweight it is, the LifeChoice™ has far superior battery life. This just gives that extra peace of mind you need to live your life without having to worry about when your battery might run out. The case is also top quality too and will help you carry it around with ease.
We hope this guide gives you some idea on the kinds of features that you should expect to find on a portable oxygen concentrator. No two are the same and there's a wide range of choice, but if in doubt have a chat to your doctor about which one might work for you. They'll be able to give you the best advice on which is best for your health needs.
Further read: