Latest posts by Melanie Griffin
(see all)
Exercise is vital for all stages of life, but when you or a loved one gets up past retirement age, your body needs and abilities change no matter how fit it is. Many seniors don't get the daily movement they should because they don't have access to equipment that can help them work around their limitations. Going to the gym is something that many younger people take for granted, but seniors can have severe restrictions on their personal travel, whether because they are no longer able to drive themselves and are dependent on others to take them places, or because of they in a wheelchair or on bed restriction because of chronic illness. Any number of factors can keep seniors from going to a separate location to work out, so exercise equipment that fits into your own home is a great way to overcome those kinds of obstacles.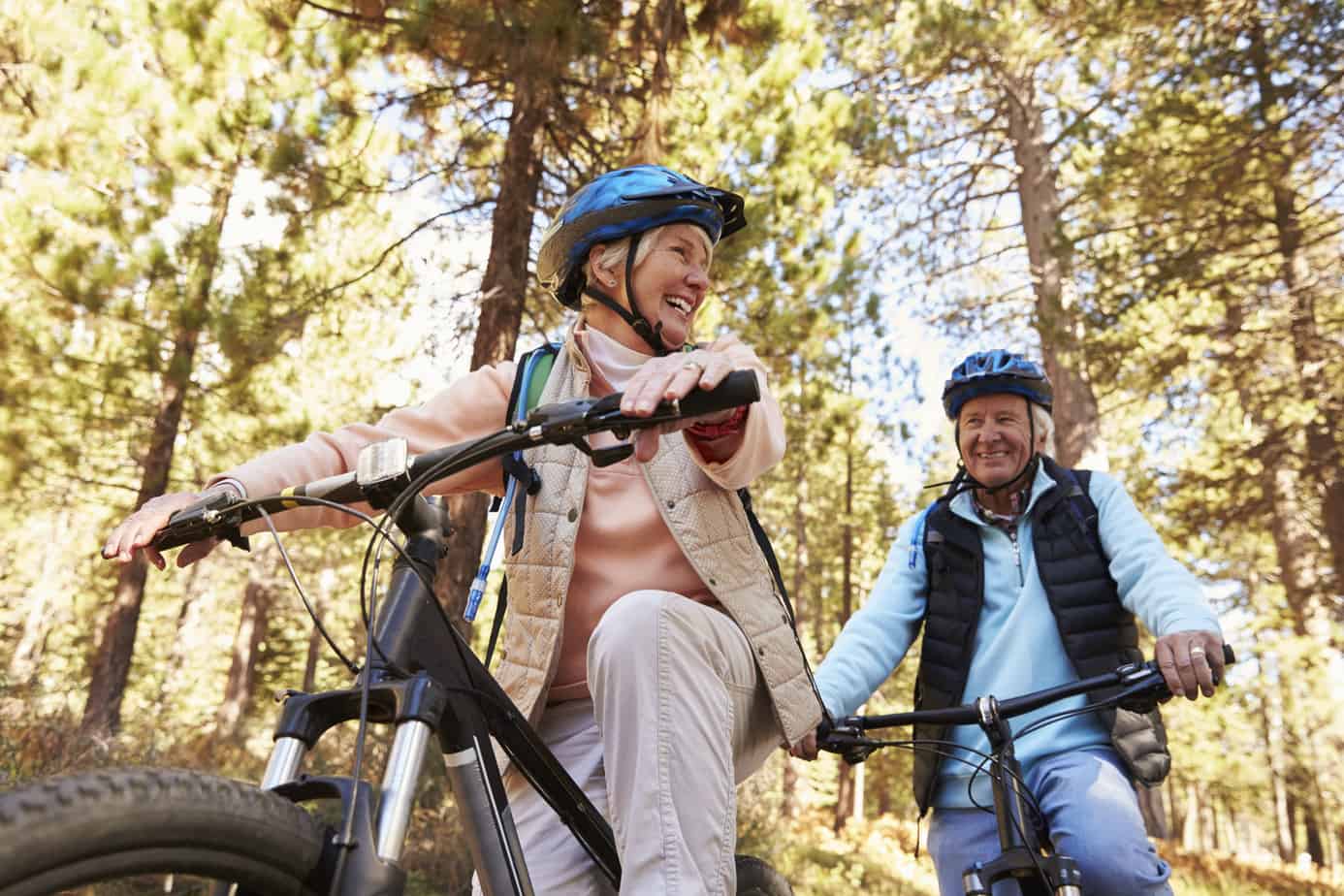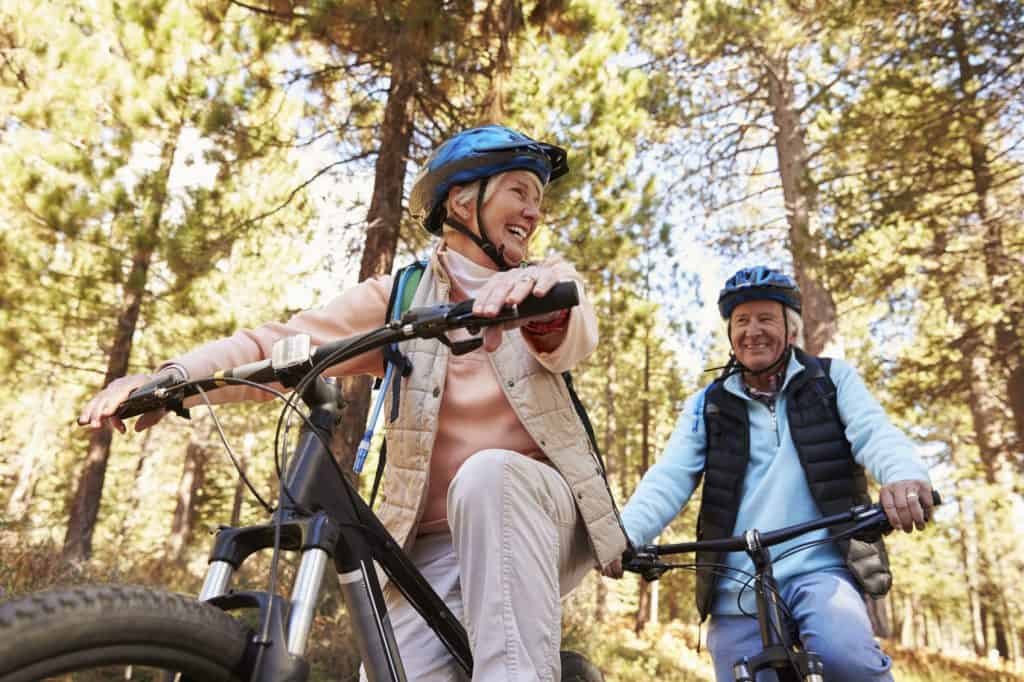 Recumbent exercise bikes are the perfect solution to these issues. They're compact enough to share a living space with you, whether that's in a room of your house or your room in a retirement home, yet they're robust enough to get your muscles moving for a true workout that will keep you strong. Here we'll tell you about the best ones we've come across so you can take advantage of this convenient way to stay fit.
Why is exercise important for seniors?
First, let's talk about the specific advantages of working out for people over 65. At this point in life, you more than likely have physical aches and pains that make it easier to stay sedentary; but trust us when we say you'll get so much more out of life if you keep moving.
Boosts your immune system.
When you get older, your immune system stands a much higher chance of being compromised from previous or current disease, which can let in viruses and other bugs that make it easier to get even sicker. Exercise helps combat that, and your gut will thank you.
Prevents diseases overall.
There are other, more obvious ways exercise helps prevent disease – you become more susceptible to conditions like heart disease and diabetes as you grow older, and exercise helps stave those off by keeping your muscles strong and resisting obesity. Keeping your systems moving keeps them from going bad, and regular movement is key to helping their activity stay strong.
Helps boost mental health.
Exercising floods your brain with dopamine, which is a chemical that makes you feel happy. It's a hormone that offers stress relief and satisfaction, so when you work out, you get a feeling of euphoria that acts as an incentive for you to do it more. It's a nice feedback loop to get into. Plus, working out does make you tired, but in a good way; it helps you sleep better, which ties directly to your mental health. If you've been plagued with insomnia or other sleeping issues, exercise may help both your body and your mind quiet down enough to get better rest.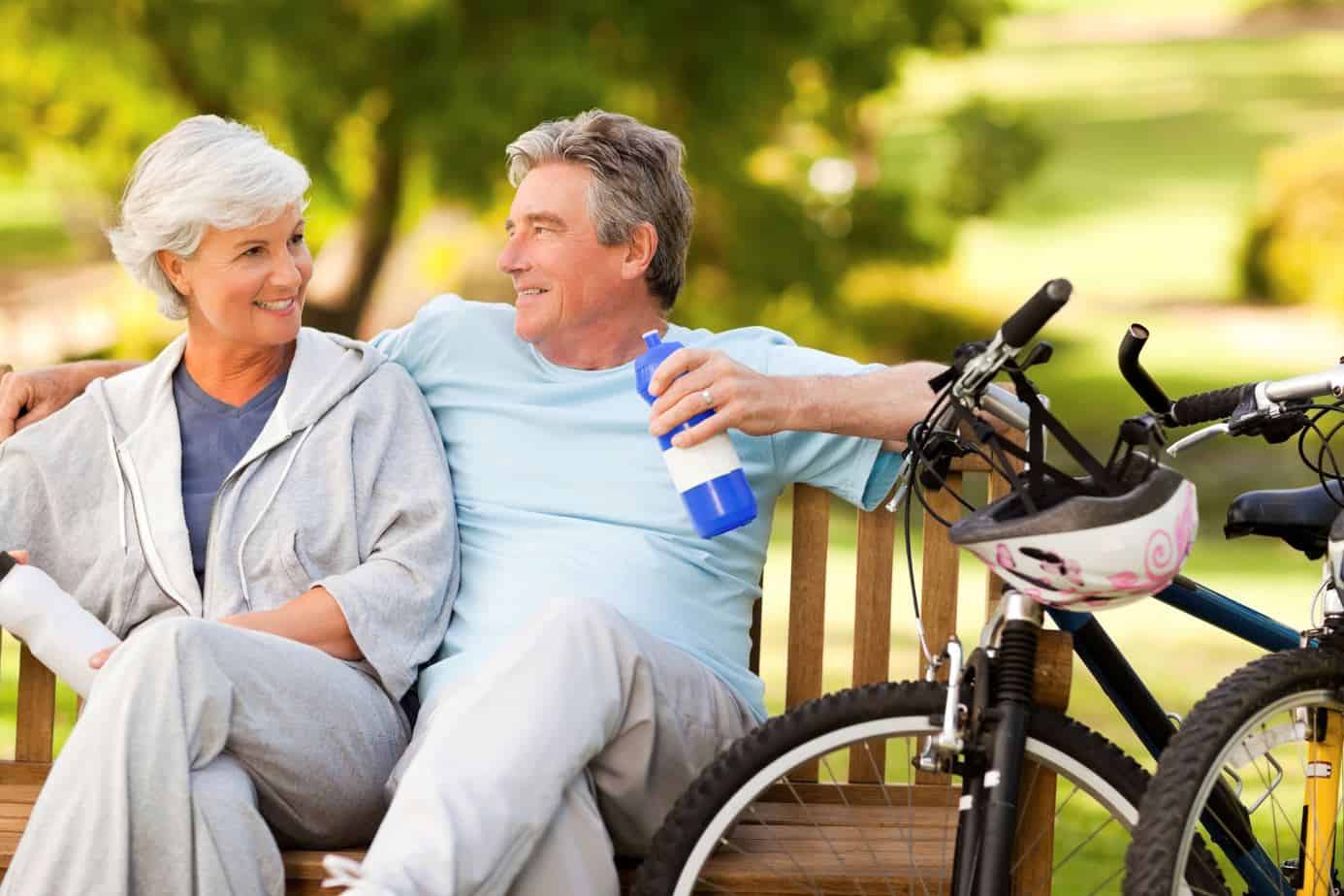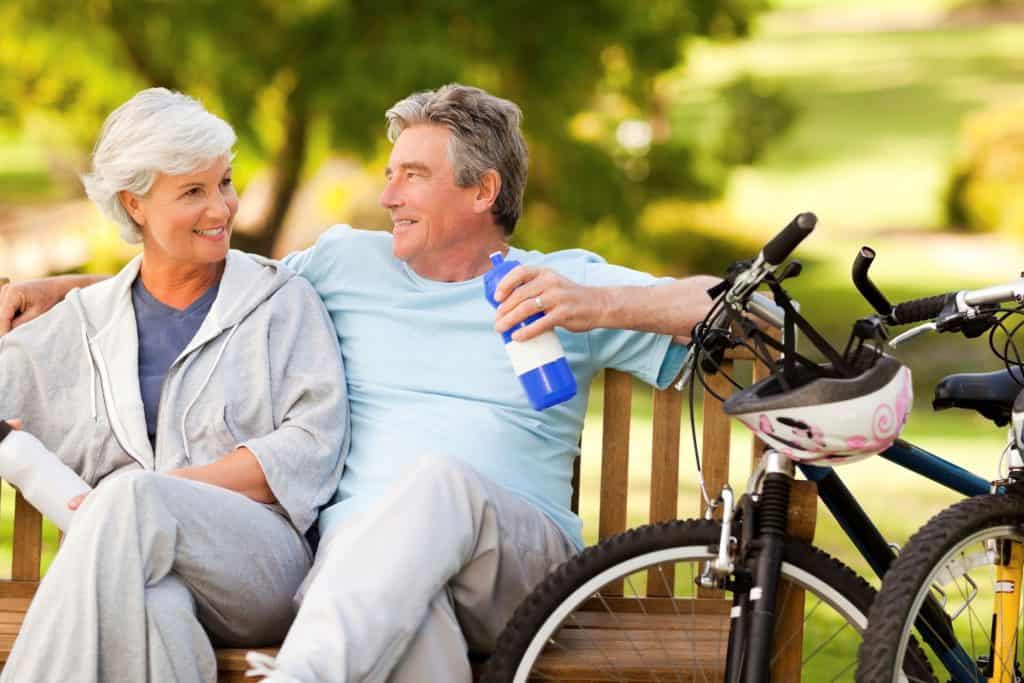 Decrease your risk of falls.
As you age, it becomes more perilous and at the same time easier for you to lose your balance. Exercise can help with both of those issues by getting you to practice finding and keeping your center of gravity while strengthening areas that may be affected if you do fall so you can bounce back better.
Improve your cognitive function.
Exercise gets your blood flowing, and that has an especially noticeable effect on your brain. More blood flowing to your brain means the neurons you depend on for everything from motor skills to deep philosophizing stay active and able to do their jobs at their top level. Cognitive function can keep the rest of you active and happy well into your senior years, so working out your body works out well for your brain.
What are the advantages of using a recumbent exercise bike?
Gym equipment is specially made to let people work out in ways that wouldn't be possible using the body's strength and resistance alone. That's great news for folks who have specific physical challenges they need to overcome so they can exercise. Here's how recumbent stationary bikes specifically can help you better than other equipment.
Constructed for easy impact.
A recumbent bike is a stationary exercise bicycle that has a low, full-support seat that lets you sit as if in a chair instead of the typical perch seat without a back that regular bicycles offer. This unique sitting position takes the pressure off your backside and spreads it so all of your torsi is cradled, complete with back support. It's great for those who have balance issues and can't ride a bike with a saddle style seat because of it – you don't spend precious energy trying to stay on. You also don't run the risk of stooping over the handlebars and further aggravating any back injury you might have. If you want to improve your posture while exercising, a recumbent exercise bike will definitely help you with that.
Easy to use.
Recumbent exercise bikes take advantage of a simple, familiar motion that is intuitive to do. You don't have to read instructions or have a trainer help you through how to use it like other health machines, and you don't have to worry about hurting or straining anything because you did something wrong. If you can move your legs, you can ride a recumbent exercise bike without needing any help. This independence can help you keep it up since you can use the bike whenever you want instead of needing to depend on someone else's schedule.
Easy on your joints.
Because of its laying back design, a recumbent exercise bike takes the pressure off of your knees, ankles, and feet while working them at the same time. Your body weight is not pressed into them, so you don't have to worry about making joint soreness like arthritis worse while you're trying to get healthier. Recumbent exercise bikes are great for those who want to stay active but are worried about incidental injuries keeping them from doing so.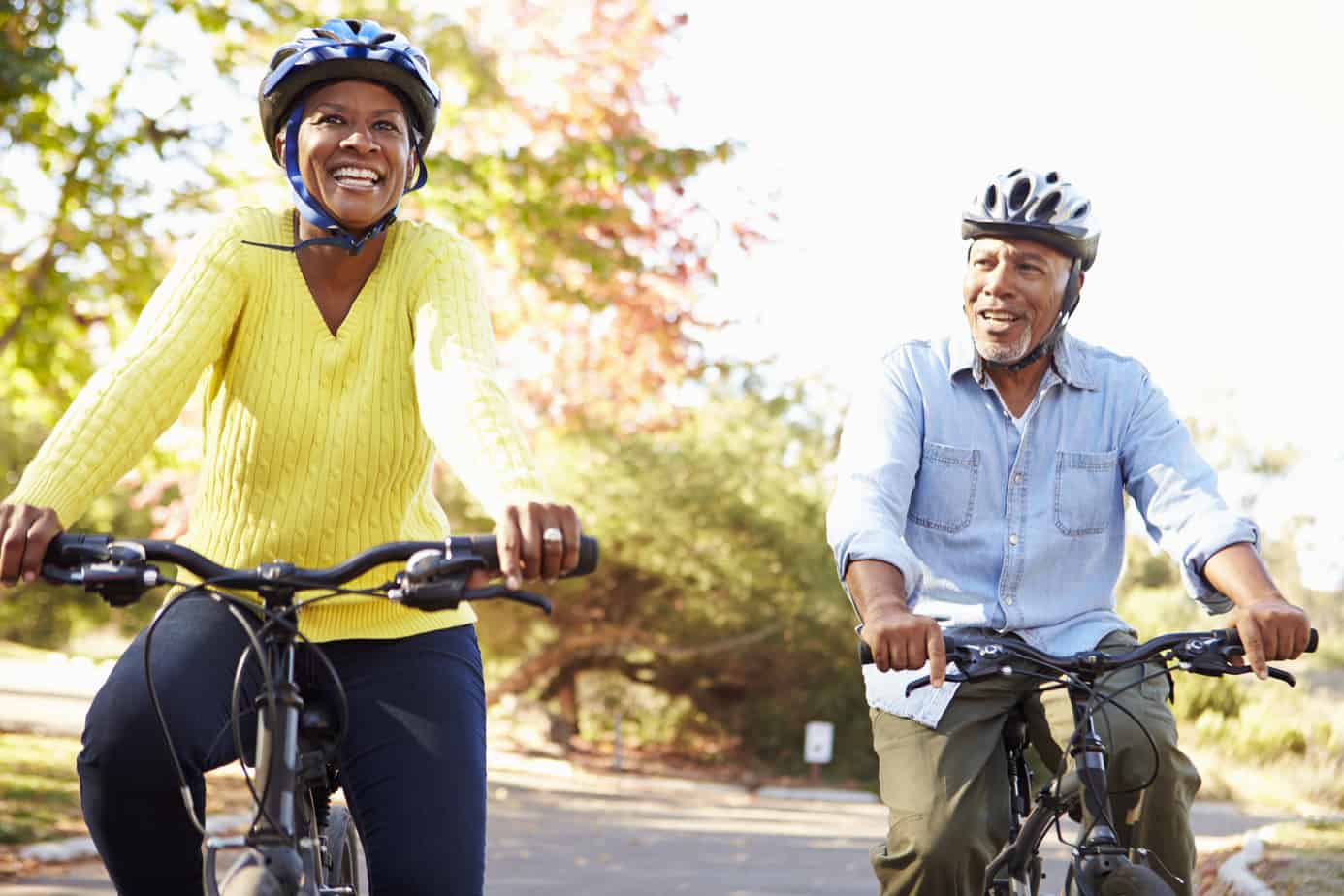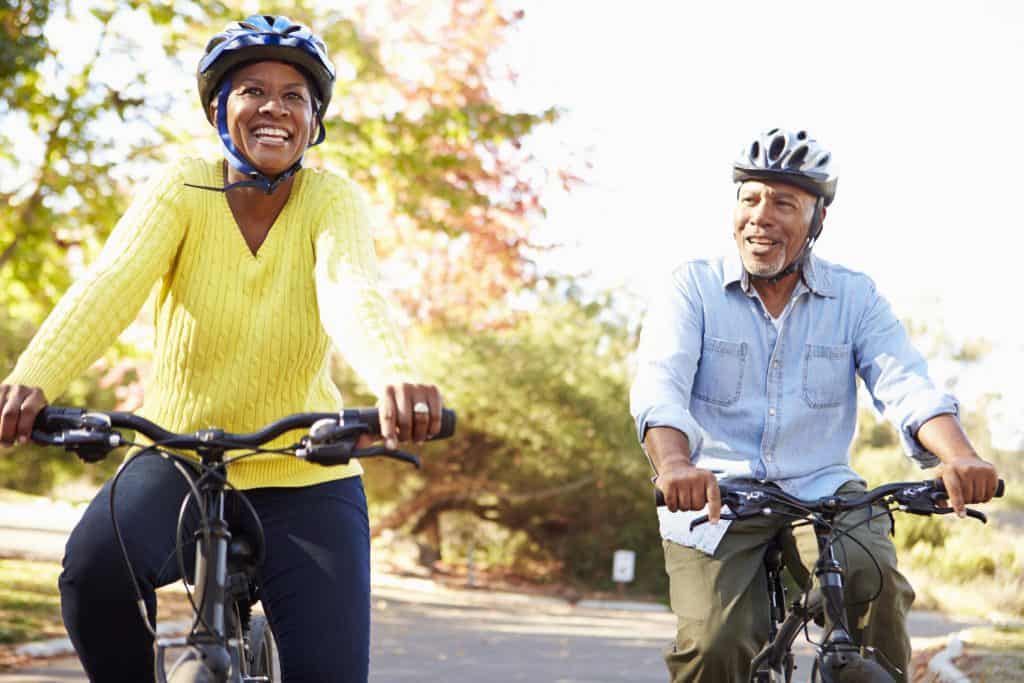 Helps you concentrate on your lower body strength.
All exercise bikes are great at moving your legs, and recumbent models help you concentrate on that without worrying about other aspects as we talk about above. Seniors especially benefit from having excellent leg strength – that keeps you mobile, keeps you balanced, and keeps you able to do what you love longer, so finding a machine that helps you stay on your feet without tiring you out itself is a wonderful find.
Lets you work out at home.
Whether you're growing older in the mansion that's been passed down through your family or you're headed towards downsizing since your kids have left for college, a recumbent exercise bike can fit into whatever area you can spare for it. This makes it accessible to you regardless of your ability to get to a gym. Being able to work out at home has been proven to help exercisers stay on their routine and keep it going as a regular habit since you don't have to worry about finding transportation to another site, or paying a monthly membership fee for a place you may or may not be able to get to enough to reap the benefits.
What are the disadvantages of using a recumbent exercise bike?
Although they strive for inclusivity, recumbent exercise bikes aren't for every single senior who wants to stay active. Here are a few things to keep in mind to see if you'll benefit from them or not.
Low impact workout.
Because you're basically sitting down while you work out with a recumbent exercise bike, you won't get as thorough an exercise as when you use equipment in an upright position. That can be a good thing, especially for seniors, as we mentioned above in the pros section, but if you are looking for a more complete workout, recumbent exercise bikes may not be the best for you.
Relatively high startup cost.
Being able to work out in your living space is super convenient, but be aware you will have to pay more up front than if you join a gym. However, being able to work out whenever you want will probably help you eventually make your per-use cost go lower than that of a recurring gym membership payment. If you're able to afford a few hundred dollars at once, a recumbent exercise bike can help you get to that level in a few months.
More difficult to get in and out of.
Once you get into the seat of a recumbent exercise bike, you're set for however long you want to be there. But getting to that point does still require about the same amount of dexterity as getting into the seat of a car. The same issue can come up when you're ready to get out, especially since you've been exerting energy right before. Be careful in your maneuvering, and we recommend resting to get your heart rate down to normal before you stand up from your recumbent exercise bike so you can retain your balance. If you have mobility issues that mean you need a wheelchair, you can still use a recumbent exercise bike – but make sure you've got a spotter who can help you practice the motions of getting in and out before you try it on your own.
What are the best recumbent exercise bikes for seniors?
Recumbent exercise bikes come in a range of prices and sizes, so check out our descriptions to find your perfect fit.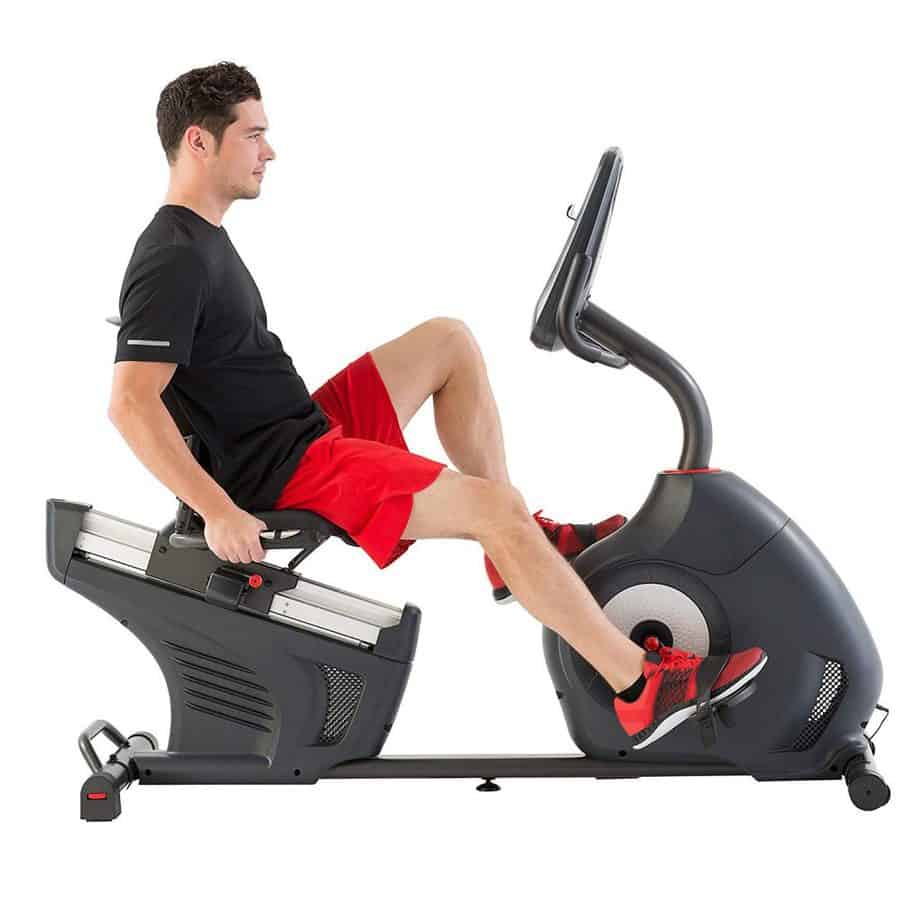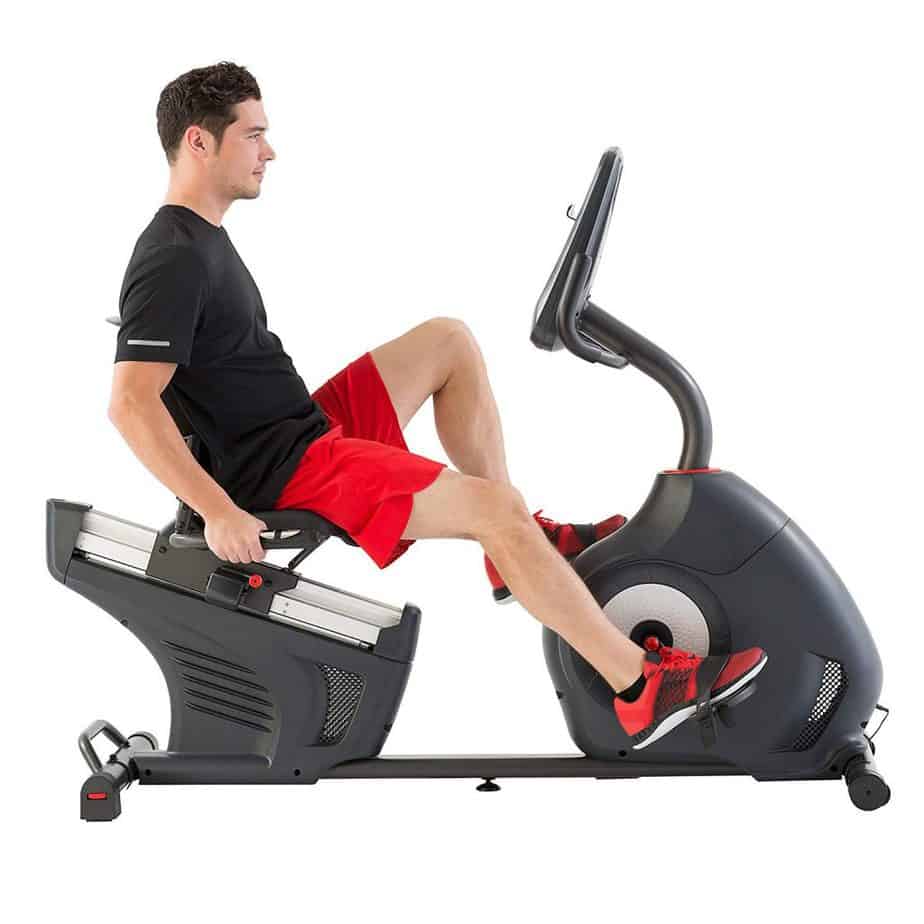 From the OG of bicycle manufacturer, Schwinn comes a fully loaded model that senior users rate highest for comfort. Its seat is large, cushioned, and broadly contoured to fit a wide range of body types, supporting up to 300 pounds. The back is not only supportive of your lumbar region but also has vents that will help you from getting overheated without compromising on stability. Which leads us to the next best thing about this Schwinn – it absolutely will not wobble on you. It takes the general sturdiness of a recumbent exercise bike to the next level. Its technology is also top-notch while being simple enough to follow without confusion. Simply follow the LED screens and you'll be rocking out to your favorite tunes, tracking your progress, and bragging to your friends on Facebook without even thinking about it. It also comes with three built-in fans and a 10-year warranty – Schwinn's got you covered.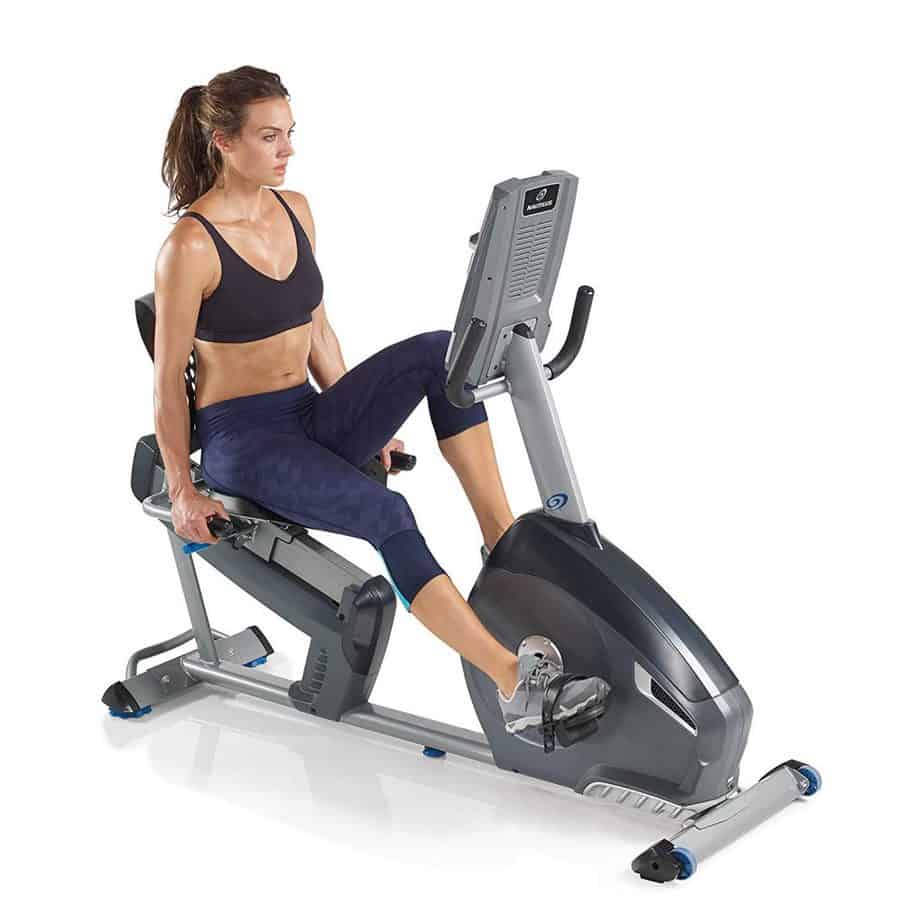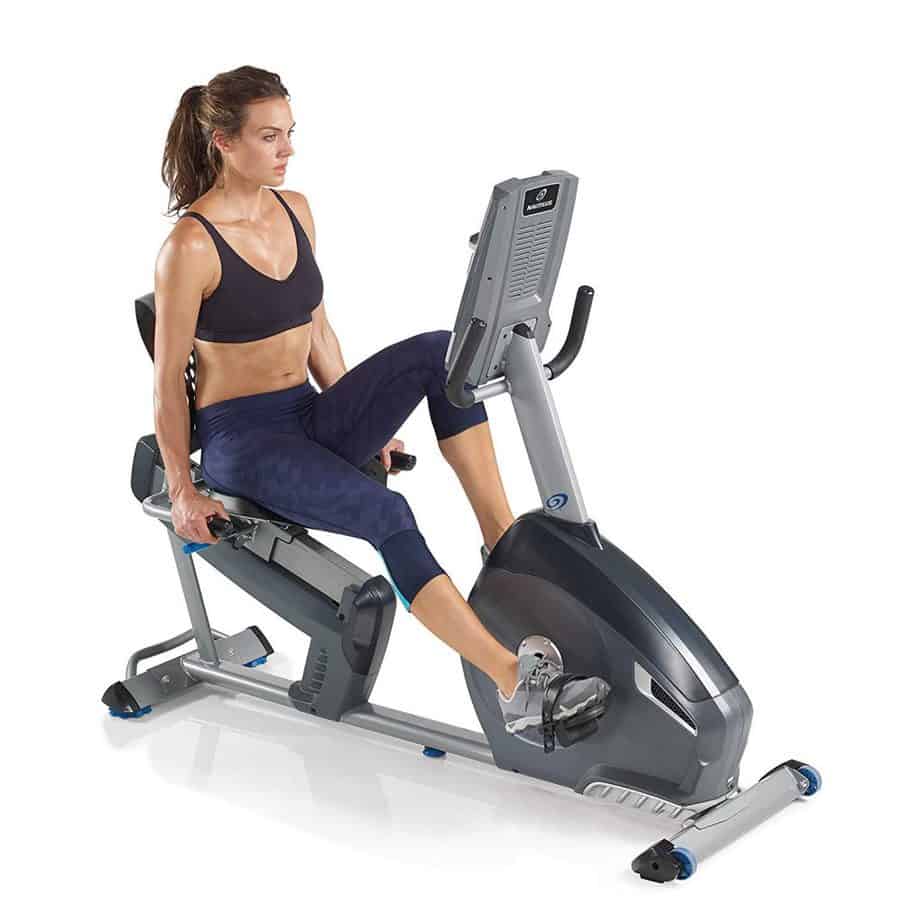 If you're looking for a more basic model that's still top-notch quality, this Nautilus model can help you get to your fitness goals in no time. It doesn't have the padding or all of the technological connection features that the Schwinn does, but its seat is contoured for comfort, and its sliding seat rail gives you more control over your movements to get in and out. This also lets you adjust the seat for a better-personalized fit for your size, and although the screen doesn't offer as many overall options as the Schwinn's, it does offer 22 prerecorded exercise programs for you to follow.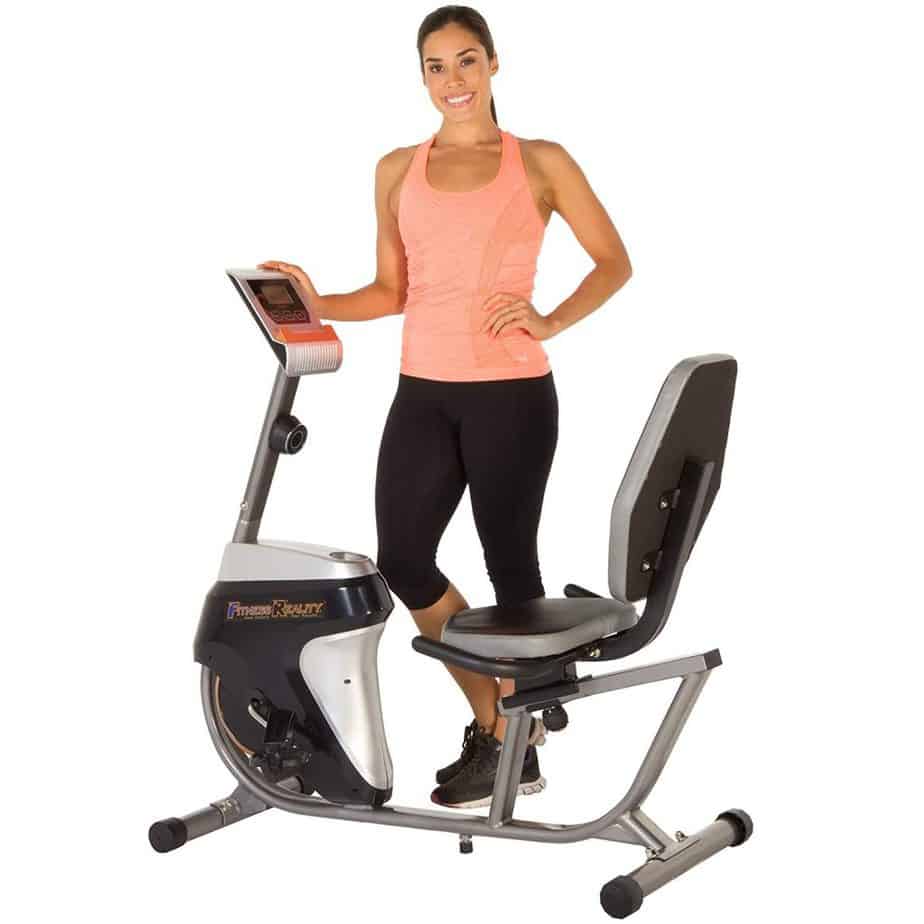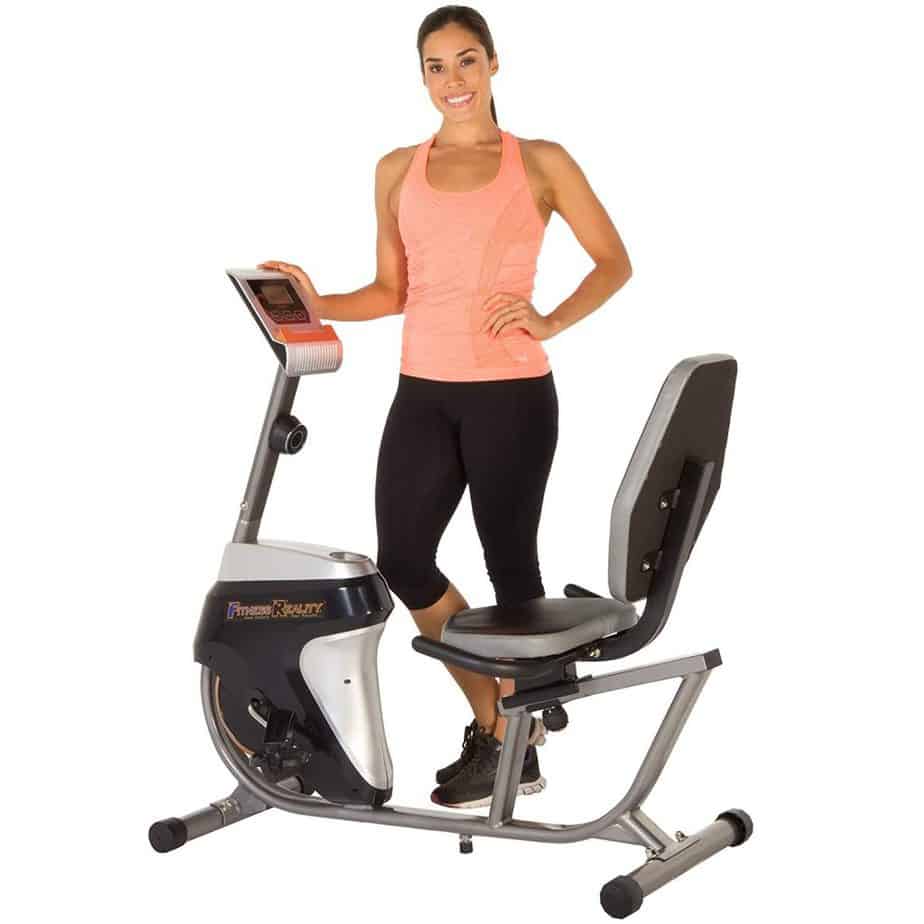 You'll save money and space without compromising your workout needs with this bike. It's a basic construction – chair attached to pedals and a screen to help you keep track of your stats, but not much else. However, what's there is exercise equipment perfection. If you're into a minimalist design that gives you maximum output, this is your bike. It's made of steel, so it stays way more solid than its slender design would suggest. It also uses magnetic resistance in its belt, so it's an extremely quiet and smooth ride. We recommend this for seniors who are in a living situation with close neighbors and limited room to themselves because that's where the Fitness Reality bike really shines.

Overall, recumbent exercise bikes are a great way for seniors to stay active. They're easy to use, easy to store, and easy to help you get in shape whatever your mobility situation. Check out our favorites and start your journey towards healthy twilight years!
Further read: