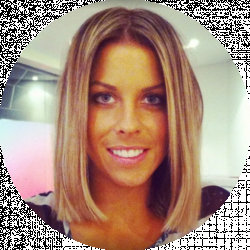 Latest posts by Jodie Chiffey
(see all)
As a person advances in age, I can't help but wonder exactly what kind of mobility support they're going to invest in when they need it. It's no secret that we're all going to be old and frail one day – it's something I approach with mixed emotions. However, regardless of how gracefully we may choose to age, we'll probably wind up with some form of walking support during our lives. If I were in the position of needing a walker, you can bet I'd look through all the different options to find one that was going to work out for me.
So you might be able to understand why choosing the right kind of walker for someone is something we put a high degree of emphasis on. It's a task which has to be gotten right, and I would make sure in an instant that anyone elderly had the best resources for mobility possible. It's as much consideration for the current aging population as it is for the one who comes after them – and so on until it's my turn.
Picking out the best walker for seniors takes time and consideration. We know that when a senior in your life needs support for their mobility, it's an important task. I'm well aware of the sense of obligation that can emerge, and a pressing need to get this right. It's easy to convince yourself that you'll do it properly and then wind up not knowing exactly what to go for and what to pick for someone. There's a whole spectrum in terms of quality, cost, extras – the list goes on.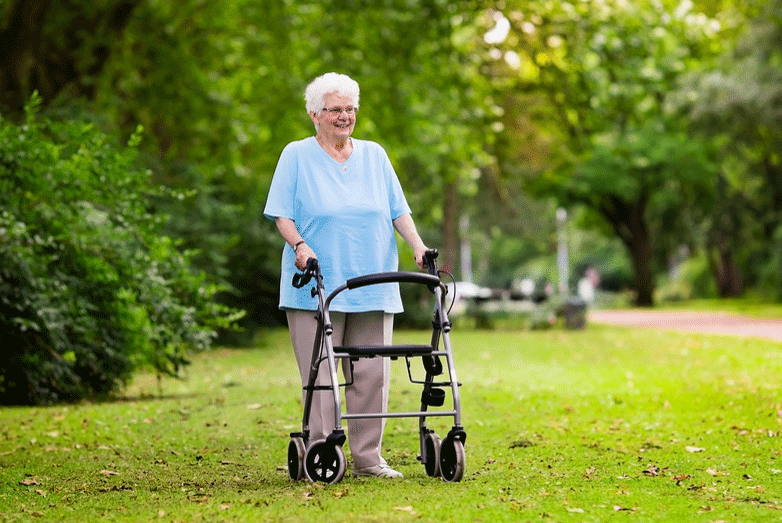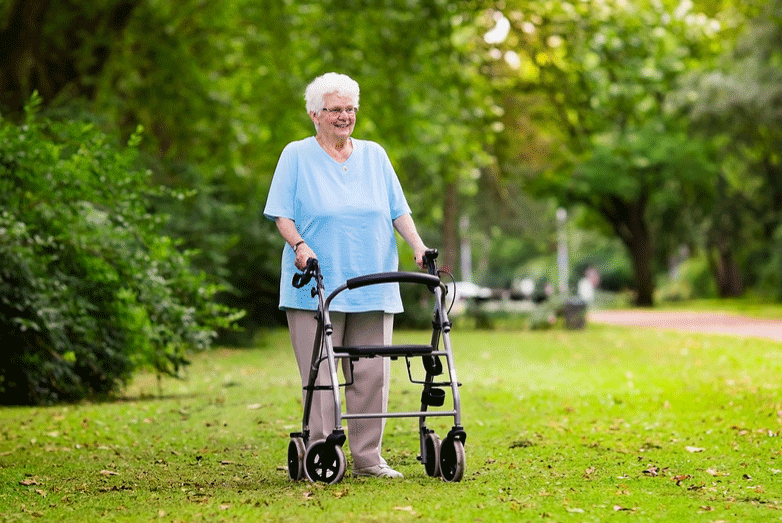 So, to try and make sure that everything goes according to plan, I've put together this guide. We hope that by reading this, you'll get more of an understanding of what needs to be done, and the kinds of things which will be expected of you when it comes to choosing a walker for a senior individual. It's a big responsibility, so hopefully, this will help. Whether you're someone who's getting one for a senior, or you're a member of our older population, read on.
What Should Be Kept in Mind When Choosing a Walker?
What's The Cost?
The cost can be a big part of the entire decision-making process. I know that when you're looking for the right option for someone, you may find yourself wondering exactly how much should be spent. With walkers, as with everything, there's a distinct element of 'you get what you pay for'. Try and find something in the medium to upper price range if you're looking for a more permanent solution. Can't bankrupt yourself spending hundreds of dollars when there's no need after all.
Is it Practical?
A walker can be a costly investment, but if it is not worth the time and money to invest in, then you need to find another option. When we talk about something being practical, we are referring as to whether or not it possesses adjustable height, a comfortable grip, or a full selection of other options which make the walker practical. It's all about figuring out what your situation is, and how you may need to find a walker that works out for you.
Does it Suit The Need?
When it comes to walkers, you have to assess the needs of the senior before you can make a call. Are they someone who wants to get out of the house and explore the world while they still can? Or is it a person who's just looking to get from one room in their house to the next and needs something more practical and simple? This type of thinking really helps you to make smart choices.
Walkers – An FAQ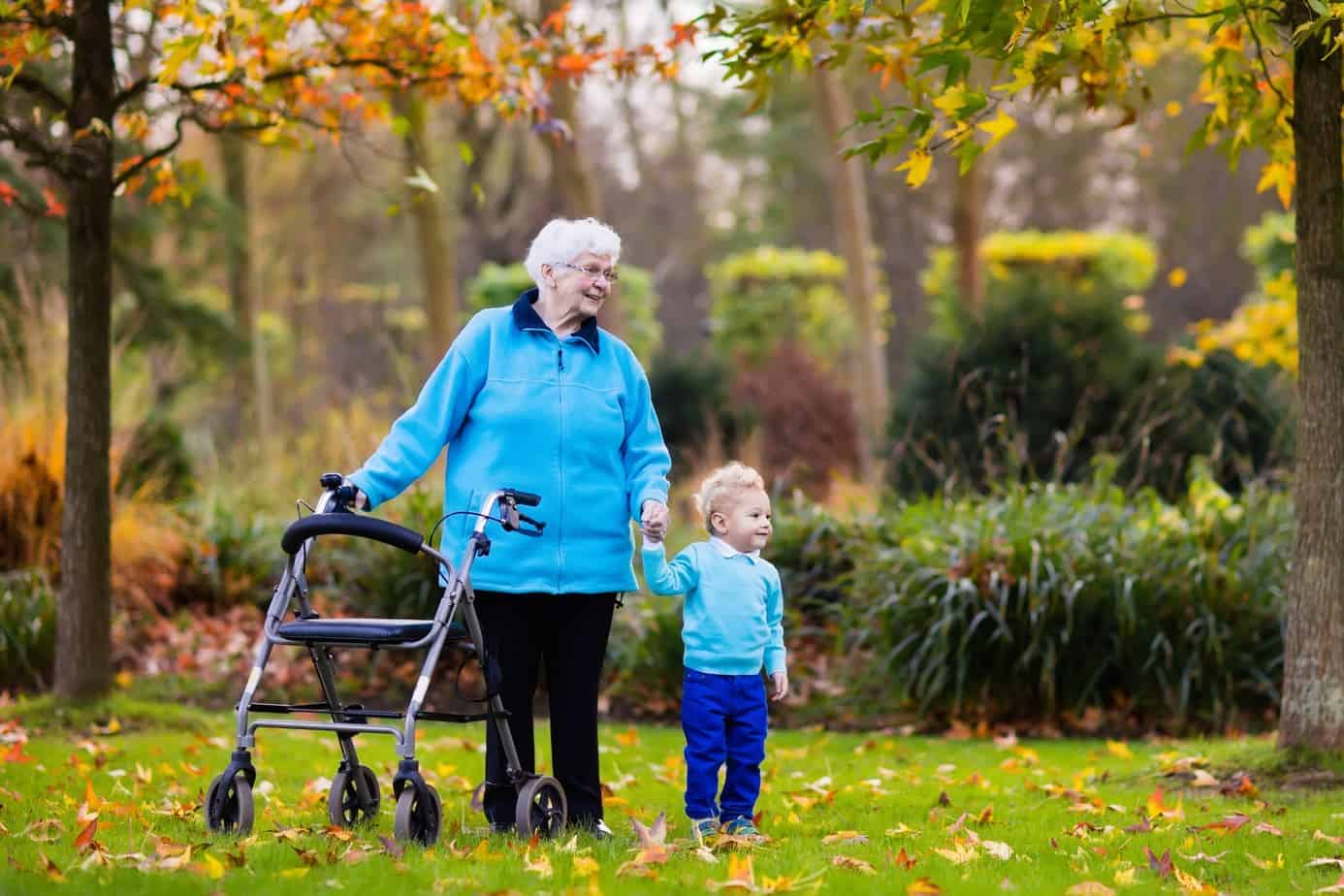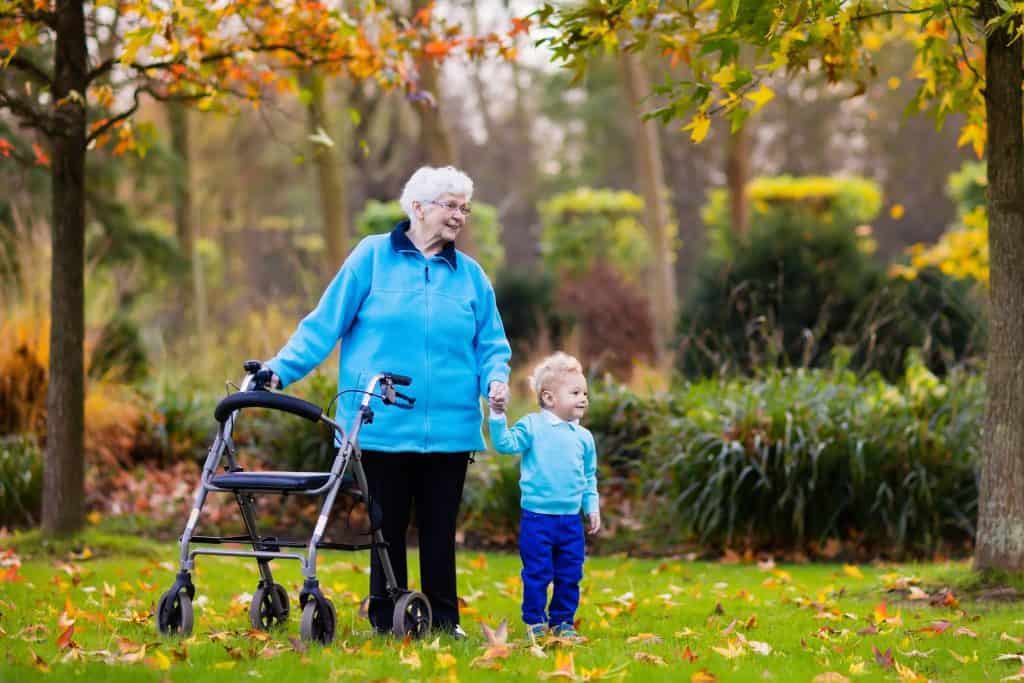 Q: "What is a walker?"
A: The walker is a device which was made for people who need support. It's been built to provide them with a frame to lean on, typically comprised of four legs and can sometimes come with wheels or rubber tips. Regardless of the variant, the walker is invaluable for seniors, who can find moving around a challenging task. Some walkers can have extra features, like a seat or even space for goods to be stored. 
Q: "Are they just for seniors?"
A: When looking at the walker as a practical tool for everyday life, you can't see that it's not limited to just seniors. Technically the walker can be used by anyone who has problems with mobility, whether this is the result of an accident or a degenerative condition. However, typically you will find these apparatuses most used by seniors, many of whom are on willing to surrender their freedom and still wish to move around.
Q: ''Do they help?''
A: There's no doubt that when it comes to a walker, the benefits for seniors are abundant. There's so much to do that requires mobility in this world and to surrender that can often seem like the end for many seniors. Naturally, we try and reassure them that this won't be the case with a walker, so they can get the most from life even after they can't move around in quite the same way.
The Top 5 Walkers Worth Buying For Seniors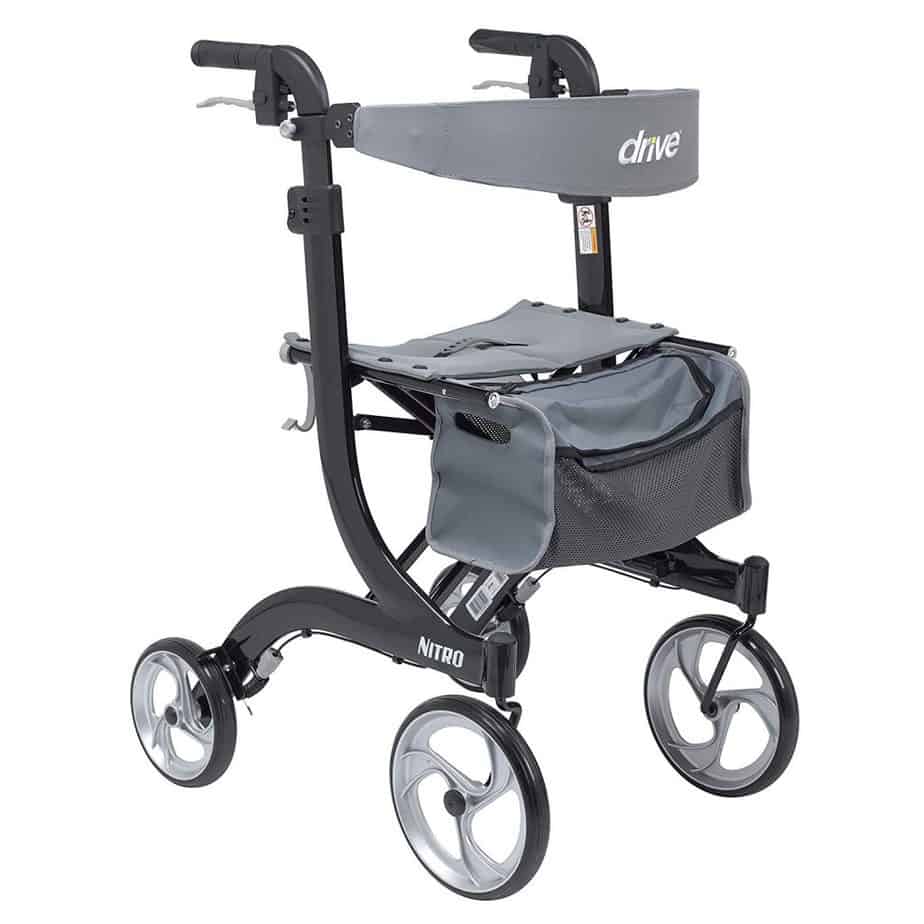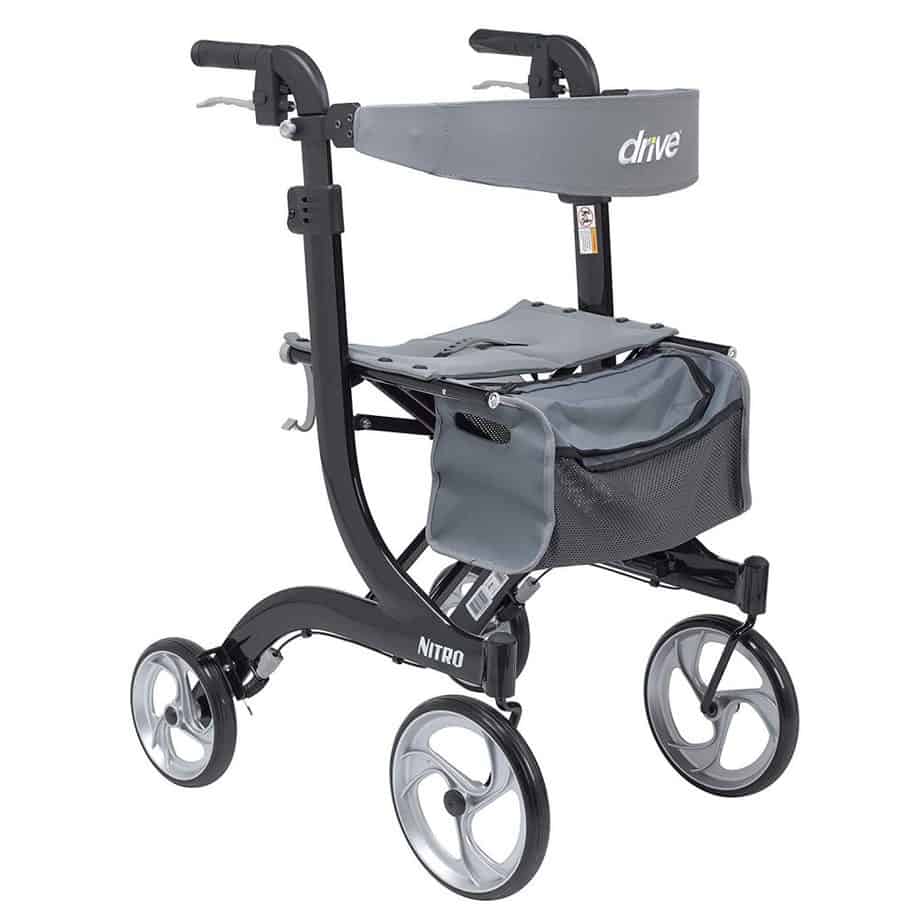 General Specifications:

| | |
| --- | --- |
| Product Weight | 17.5 pounds |
| Product Dimensions | 27.8 x 23 x 36.3 inches |
| Composition | Metal, Fabric |
| Model Number | RTL10266BK-T |
| Avg. Customer Review | 4.8 |
Product Review:
This is one of the most popular walkers on the market, being a logical choice due to excellent, robust materials and a design which proves functional and stylish all at once. The handle height is easily adjustable for those people who need to be able to compensate for smaller or taller stature. The model is collapsible and can fold with one hand for secure storage. There's also a whole selection of other features like:
Wheels specially designed for movement over all kinds of terrain

A seat for people who need to be able to sit down and rest on occasion

A frame which evenly distributes weight to ensure a smooth ride and no broken parts
The frame is made of lightweight aluminum, and this affords it a high degree of strength without being too heavy. There are also ergonomic handles at work, so we can assure you that there's no worry of getting calluses on the fingers or the hands from an uncomfortable grip. The wheels are sturdy too and can turn in whatever direction you need them also, so getting around isn't a massively challenging experience, which is just perfect for a senior on the go.
How You Use It:
Firmly grasp the walker with both hands and push in the direction you want to go, and remember that the walker can only go as fast as you can.
| | |
| --- | --- |
| Pros: | Cons: |
| Strong Materials | Can be Inflexible |
| Ergonomic Handle | Heavy for some seniors |
| Easily Collapses | Can be expensive |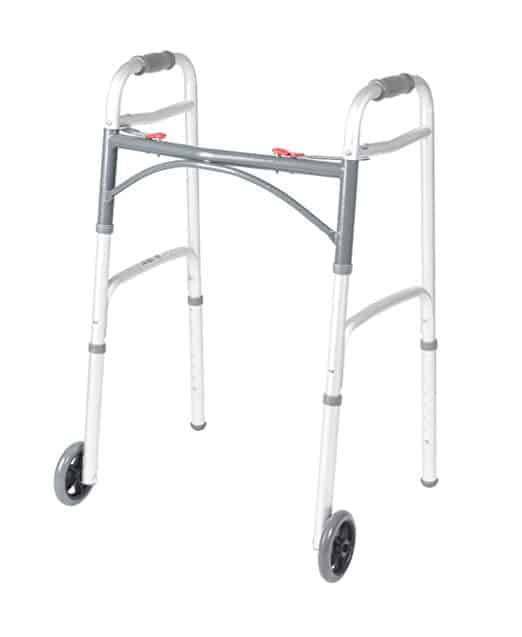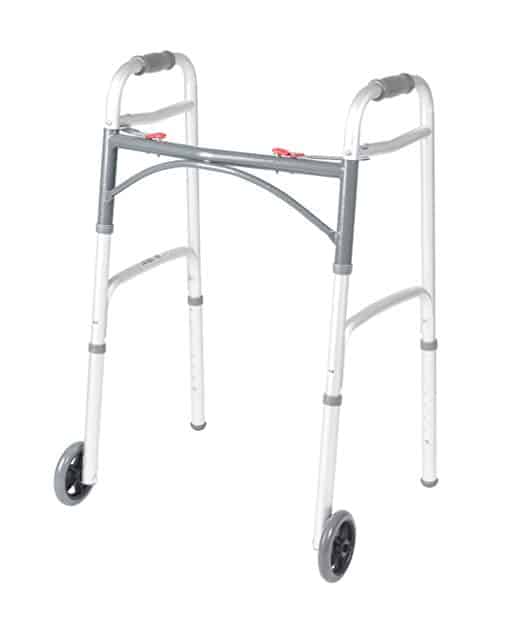 | | |
| --- | --- |
| Product Weight: | 7.5 pounds |
| Product Dimensions: | 17.5 x 24 x 32 inches |
| Composition: | Aluminium |
| Model Number: | 10210-1 |
| Avg. Customer Review: | 4.5 |
Product Review:
Don't let the inexpensive design fool you – this is still a highly reliable walker that is comprised of aluminum, which as we all know is a solid material for people to walk around on. The simple design means that you don't have to worry about complicated features, and has an easy to use the button which allows you to push it to collapse the walker when not in use.
With 5'' wheels and specially designed rear caps, this is a walker which will be good for any terrain and offers much more versatility in what's on offer. Plus, this is a good option for anyone who's on a budget. Not everyone can get access to the level of quality which comes from spending hundreds, which makes this a good alternative. Other features of this option include:
U shaped frame for the best clearance possible

Contoured hand grip for ergonomic benefits, designed for long use in mind

Independently operating sides to help with mobility and control over the direction
How To Use It:
Grasp the walker with both hands. Firmly push in the direction you want to go and begin to walk. Push buttons to collapse when not in use.
| | |
| --- | --- |
| Pros: | Cons: |
| Inexpensive yet high quality | You get what you pay for |
| Simple Design | No bags/extra features |
| Aluminium Structure | Very simple design |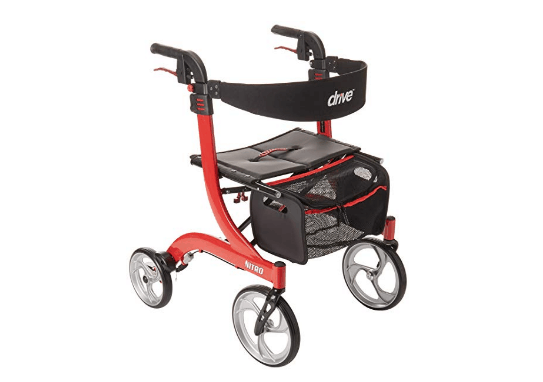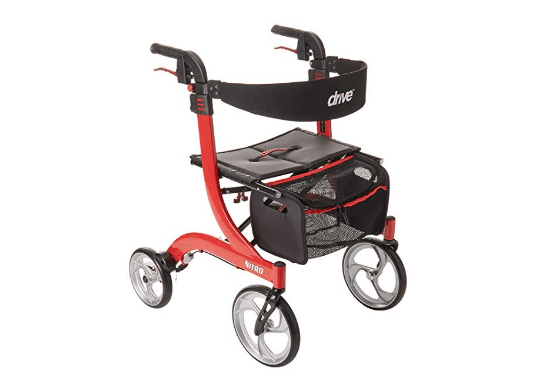 | | |
| --- | --- |
| Product Weight | 17.5 pounds |
| Product Dimensions | 23 x 27.8 x 33.5 inches |
| Composition | Aluminium, Fabrics |
| Model Number | RTL10266 |
| Avg. Customer Review | 4.7 |
Product Review:
Sleek, stylish and practical, this has been custom made for people who struggle with mobility in their advanced age. It's made of aluminum, which, as many know, is a solid material that doesn't weigh much, and also has pockets and bags built into the frame for carrying groceries or everyday items. Practicality and aesthetic value have blended perfectly here. It's also a very decent price for people who want something high-quality but don't want to break the bank. With other features available such as the following, you're in good hands:
Brakes located on handles for safety
Frame designed in such a way that provides even weight distribution

10-inch front casters provide even more control when you need it
What we're looking at here is something which has been made for one specific purpose – to allow people to get around with ease. There's a built-in seat for people who need to be able to sit down from time to time, and there's also a brake cable to ensure that you're protecting yourself from harm and can stop whenever you want. It also folds up with one hand for storage and convenience.
How To Use It:
Make sure to keep a good grip on the walker at all times. When pushing, remember that it will only go at your speed, and you can break when you need to.
| | |
| --- | --- |
| Pros: | Cons: |
| Seat for convenience | Can be quite bulky |
| Well built | Somewhat expensive |
| High quality materials | Increased weight could be a problem for some |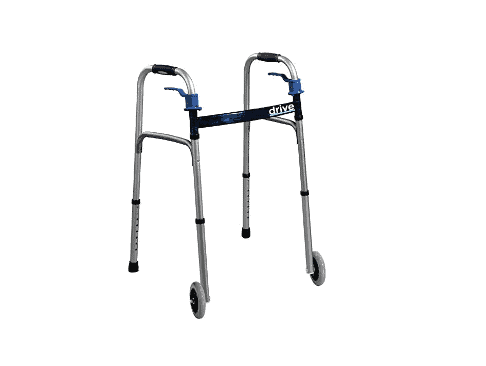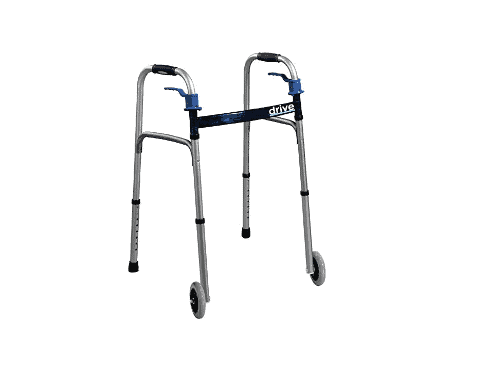 | | |
| --- | --- |
| Product Weight | 7 pounds |
| Product Dimensions | 33.5 x 24 x 5 inches |
| Composition | Aluminium |
| Model Number | 10226-1 |
| Avg. Customer Review | 4.5 |
Product Review:
Smart, flexible and a good price, this walker has been designed for the sole purpose of giving users a lightweight and sleek option for moving around. The frame is comprised of aluminum, which many people know is a durable material that doesn't weigh a lot. Plus, the frame is effortlessly simple as stylised, so there's no need for any excess weight to push around.
One of the things that make this an excellent choice is also the budget. People do not often want to spend a fortune on their walker, but you won't have to with this particular model – it is easy to use and inexpensive. It also collapsed for ease of use, so there's nothing at all to worry about. There's also features such as:
A simple design that stops you from having to worry about the right spaces
Brakes located in easy reach of handles for when you want to be able to stop

Powerful and capable wheels that can navigate a wide selection of different terrain
How To Use It:
Make sure that you are pushing firmly in the direction that you want to go in, and distribute weight evenly on both sides for the best success.
| | |
| --- | --- |
| Pros: | Cons: |
| Inexpensive to buy | No protection from elements |
| Lightweight | Simplistic Design |
| Still Reliable | |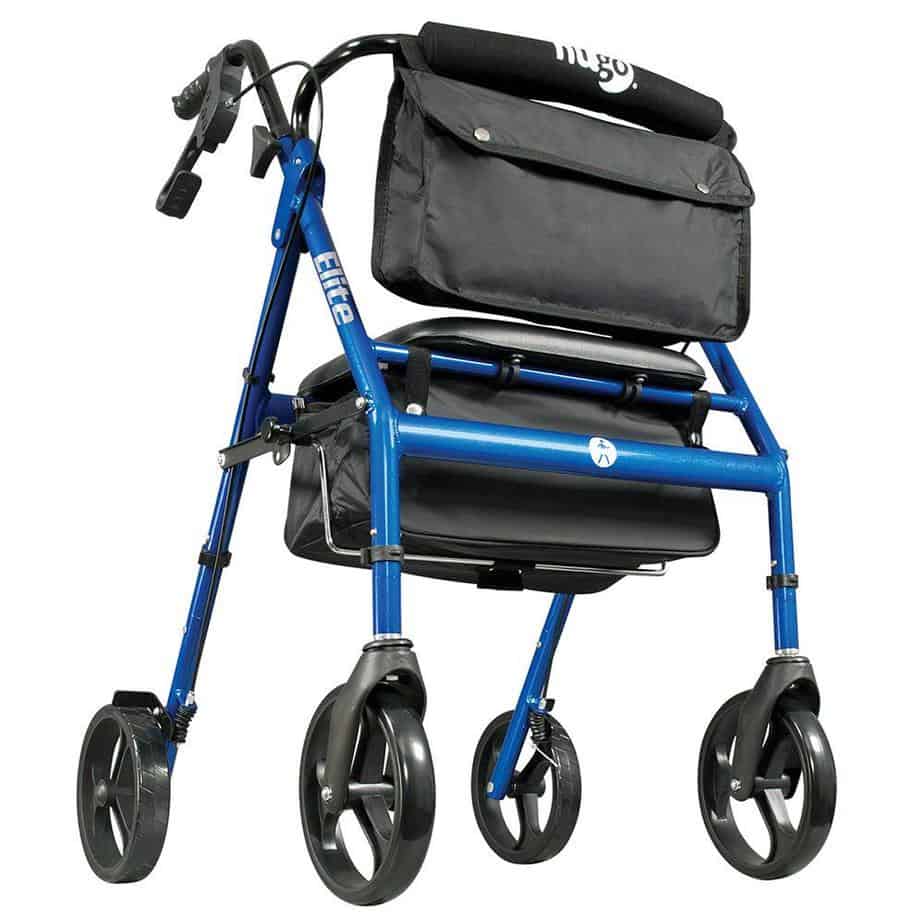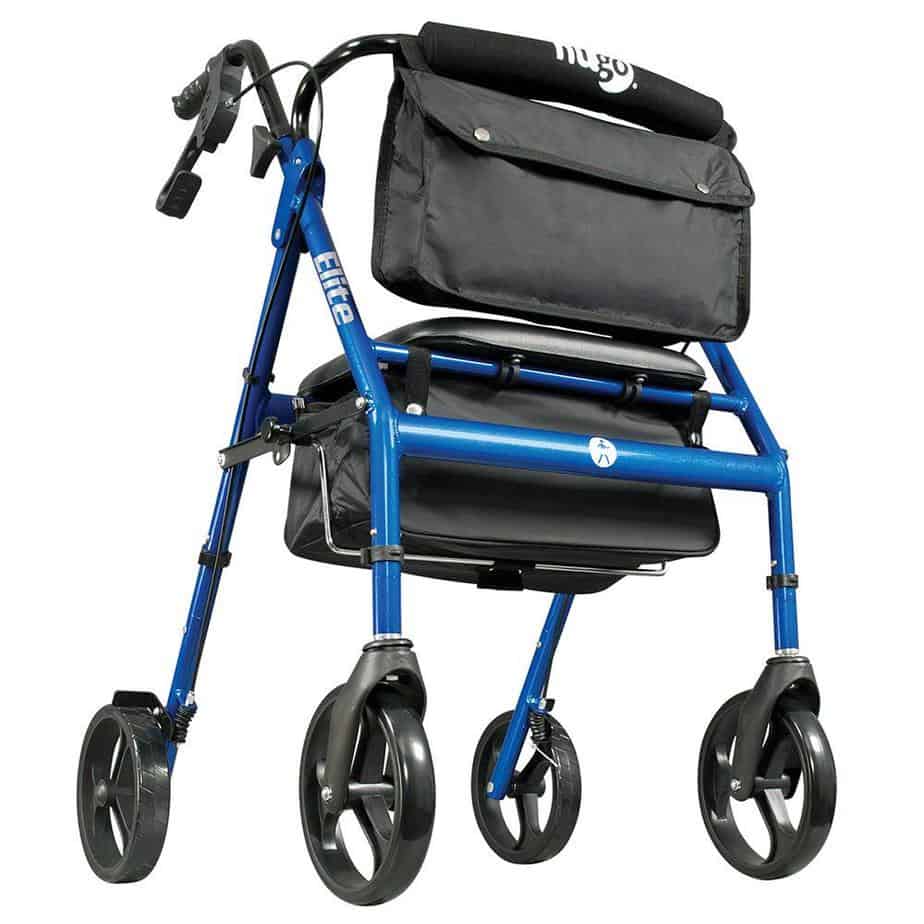 | | |
| --- | --- |
| Product Weight | 20.4 pounds |
| Product Dimensions | 27.5 x 24 x 30 inches |
| Composition | Aluminium, Fabric |
| Model Number | 700-959E |
| Avg. Customer Review | 4.4 |
Product Review:
Strong and durable, this is a walker which is going to serve any senior well. There's so much to appreciate here that we're impressed more people haven't invested in it for themselves. There's a lot to enjoy here, and the aluminum design compliments it all perfectly.
Designed to be secure and reliable, this walker has an easily collapsible structure which makes it ideal for anyone who wants to take it around on their day to day life. There's also a seat for people who want to sit down which is a lovely touch. Furthermore, there is plenty of space for people to store their belongings. For those who weren't entirely convinced, there's also exceptionally features like:
Brakes located in safe places to ensure that stopping is quick and functional

Durable and long-lasting bags for storing goods like groceries or personal items in

Big wheels to make sure that most types of terrain are traversable
How to Use It:
Distribute weight evenly on both sides of the Walker and push forward. Make sure not to go too fast.
| | |
| --- | --- |
| Pros: | Cons: |
| Seat for the ability to sit and rest | Bulky due to fabric |
| Strong and reliable | Even when collapsed, could be cumbersome |
| Reasonably priced | Potentially very heavy |
Final Thoughts On The Best Walkers for Seniors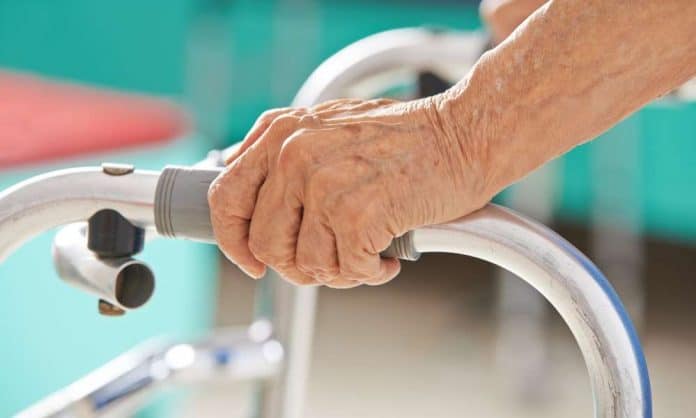 From all of the walkers we've found and the options we've looked at, it's safe to say that there's a walker for almost anyone to enjoy. We know that when someone needs to get from one place to the next, it's important to have the freedom required to do so. If I were approaching life as a senior, I'd make finding a walker my top priority.
But which of these do we think is the best? Well, it depends on what the need is. The last walker in the lineup has a seat and grocery bags, so you can see how it would be useful from the perspective of someone who wants to go out and enjoy themselves. But this might not always be the main focus. That's why the second option on the list might be better suited for someone who just wants to stay at home and needs something thin and compact. It's all pretty down to circumstances.
But there's no doubt that all of these options are spot on when it comes to their composition. Take a look at what's gone into making each one of the – aluminum. A lightweight material, that's still really tough and doesn't weather easily. When you're just trying to get from point A to point B, these are good characteristics for a walker. After all, it would be a shame to get stuck or have your mobility hindered because a part broke off.
The weight of the item can be a big part of your decision making. Seniors aren't always the strongest people, especially if old age has robbed them of their prowess. So having a big, heavy walker to push around isn't going to help them at all. They've got to have something that's easy to push around, especially if they're going to then wander around with a lot of possessions or groceries. It's all about finding the best balance for your needs.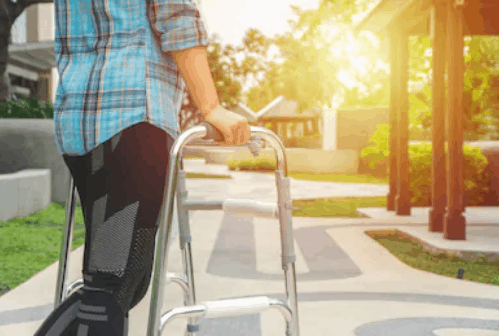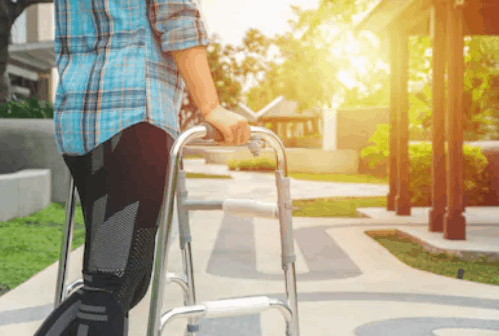 You've also got to think a lot about the cost. Spending hundreds of dollars on a walker may seem like a sensible idea, but if there's one that's cheaper and does the same job, you're wasting your money. Playing it smart when it comes to how much you throw around in terms of cash will help you to save those precious dollars for something else, whether it be a holiday or putting something away for the family to enjoy. It's all down to you to make sure that you're doing what's sensible and enjoying your retirement.
Above all else, you have to think about context. What situation is this walker needed for? If someone isn't going to be going anywhere, then something more simple and free from baggage and seats can be a good idea. On a similar vein, someone who is gonna get up and explore the world needs to have something that's a little more purpose-built. You need to keep the context in mind when choosing a walker for yourself or someone you know.
Like many good sites, we know that there's something to be taken away from any guide. So, if we had to condense down everything we've talked about into a few key points, we'd say that you need to think about cost, practicality, and context. We hope that this guide has been useful for anyone who wants to be able to find a walker for a senior in their life, and wish them all the best when it comes to searching.
Further read: