Latest posts by Sarah Dixon
(see all)
If you find it difficult to stand when you've been sitting for a while, or if you have limited mobility, you might be considering making some pretty big purchases, such as a wheelchair or a lift chair. Lift chairs can be stylish, comfortable, and very useful. So how do you find the best lift chairs?
What are Electric Lift Chairs?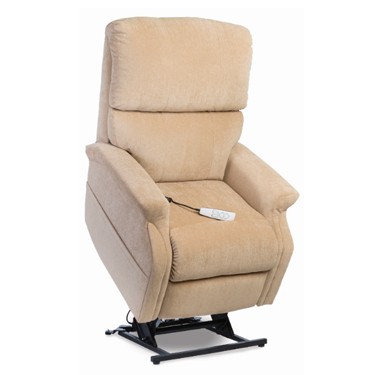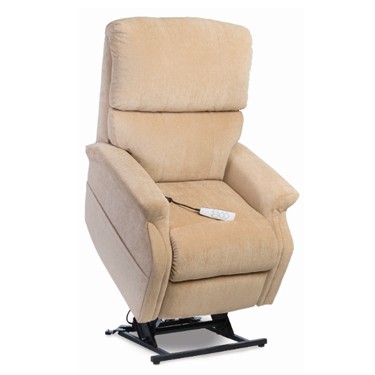 Electric lift chairs are reclining chairs with an internal power recliner mechanism that gently raises you from a sitting position to a standing position. They are controlled by a remote control which is usually stored in a pocket on the side of the chair. They need to be plugged into an electrical outlet, but some have back-up batteries in case of a power outage. They can really help to ease stresses and strains on your joints, lessening the impact of standing up, which could be an asset to you, especially if you have chronic pain or injuries. Some lift chair recliners go all the way back, allowing you to sleep in the chair; others come with extra features, like a built-in back massager or even built-in USB charging sockets.
We'll look at the different types of a lift chair, and what to look for when you're buying one. We'll also take an in-depth look at the top-selling lift chairs in each category, looking at their price and features, so you can find the perfect chair for you. Finally, we'll consult lift chair reviews, so you can see what real people think of each model.
Is a Lift Chair Right for You?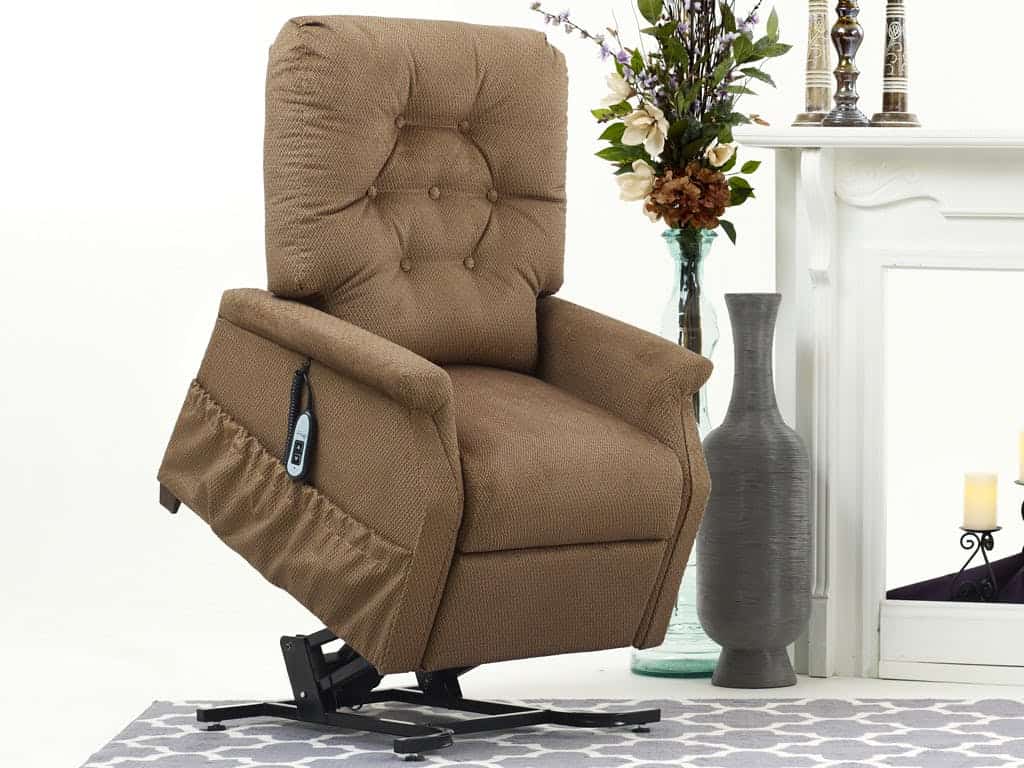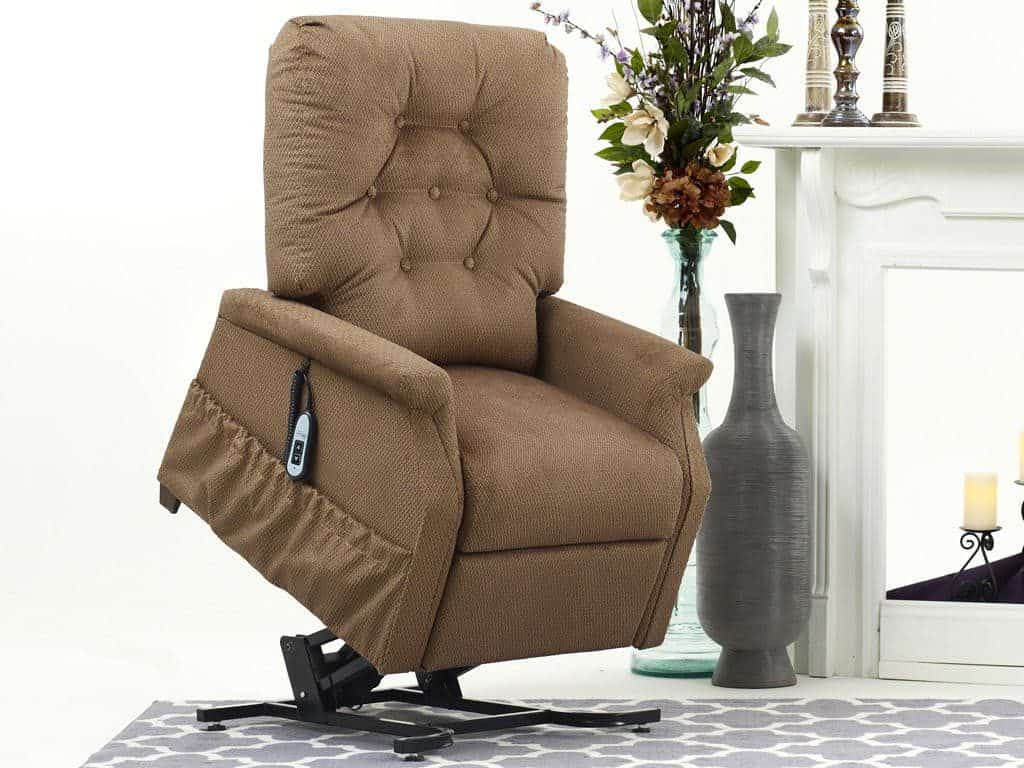 Many types of people use electric lift chairs:
If you have short-term injuries, you may find a lift chair recliner is great for helping you to rest and recover.
They're helpful for elderly people with long term back pain or injuries. Having a chair that you can recline to the perfect position can help you with day to day pain management.
People with neuromuscular disorders may find a lift chair useful. If you have limited mobility, it may help you gain a bit of control in finding the most comfortable position for you when you are reclining in your chair.
They can also help people with obesity – being able to get comfortable and adjust your position may help take some of the pressure off your joints when moving into a standing position.
They're perfect for muscle weakness and joint pain, as they can lessen the impact of changing positions, smoothly transitioning you into standing without sudden movements.
Types of Lift Chair
There are a few different kinds of lift chair that offer different benefits, depending on what you need:
Two-position lift chair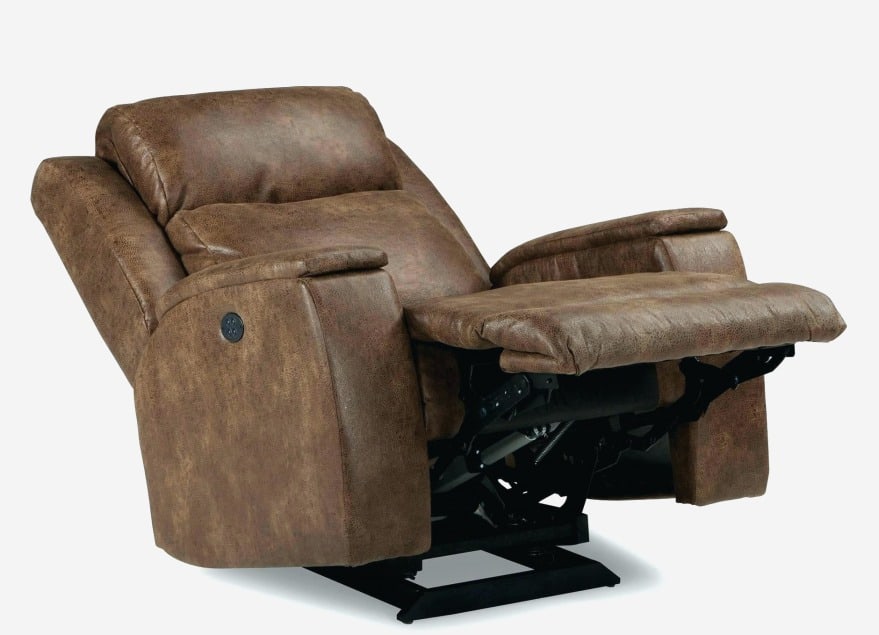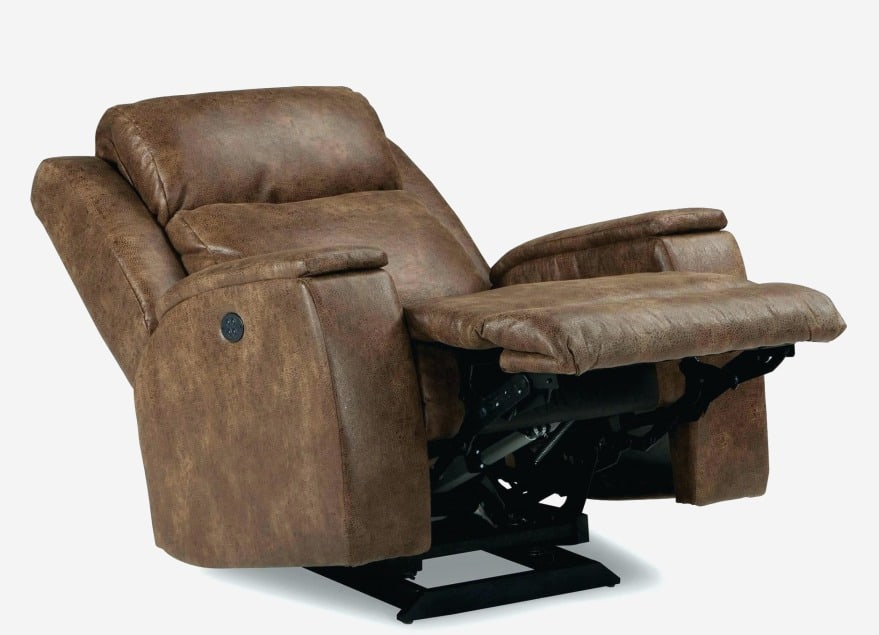 This chair will lift you from a sitting to standing. It has two positions – upright and TV recline, allowing you to get comfortable. This could be a good option for you if you're on a budget, as they tend to be lower priced than some of the others, so you might consider this if you have a temporary injury.
Three-position lift chair
The three positions are upright, 45-degree back-tilt, and nearly-full recline (and any position in between). Normally, the footrest goes up as the back goes down. This could be a good choice if you would like to recline a little more, but you're not ready to invest in an infinite-position lift chair.
Infinite position lift chair
An infinite position lift chair allows you to lay in any position you like – from upright to completely flat. You can usually control the headrest and the footrest separately. Some models allow for the Trendelenburg position (lying down with the feet higher than the head by 15-30 degrees) – this is great for people with circulation issues, swelling, and varicose veins.
Some models also allow for the anti-gravity position (half-seated, with feet raised to the same level as the heart). This is considered to be a very comfortable, almost weightless position.
Normally, infinite position lift chairs have dual motors to allow for the movement of the chair and the head and footrests. Some models come with massage or heat options, too. They are usually pretty pricey, but they'd be worth it if you will be spending a lot of time in your lift chair, or if you find it difficult to get comfortable and would like more flexibility in the position you can sit in. They're also perfect if you plan to use them as a sleep chair.
Questions to Ask Before You Buy

When shopping for a lift chair, there are a few questions to consider before you decide:
What's your budget? This is a big consideration. Lift chairs can vary from a few hundred dollars to over a thousand dollars. If you've only going to use your lift chair occasionally, you may consider a cheaper model, but if you're going to use it every day, it might be worth springing for a more expensive one – but make sure it includes everything you need for your circumstances.
What positions do you need? If you just need a little help when you transition from sitting to standing, a two-position lift chair could work well for you. If you need to sit for long periods of time and need to change position often, you might be better with an infinite-position lift chair.
Which room is your chair going to be in? Check the dimensions, and consider how far back it reclines – this will impact where you put the chair, as you will need space behind it to let it recline fully. Does the chair match your décor? There are some attractive options available – you may be able to find one that matches your existing furniture. You may want a leather chair or a softer material – just make sure the fabric is durable, so it will last you a long time.
Would you like any extras? If you feel the cold, a heated chair could be a great option for you to keep you warm. Or, if you have back pain, a massage chair could be a really useful extra.
What is the weight capacity? Lift chairs usually have a weight capacity – it's worth checking this before you buy, as it can vary with different models. Models labeled 'heavy duty' can usually bear more weight than a standard chair.
Does it move smoothly? If you suffer from chronic pain or an injury, smooth movement is very important. This is where testing out a chair before you commit to buying it may come in handy, or even having a loved one check it for you-you want to make sure the mechanism is nice and smooth for an easy transition into standing.
Is it comfortable? What is the padding like? Some people prefer softer cushioning in their recliner chairs – others like the cushioning to be a little firmer. Are the arms comfortable for you?
Is it the right size for you? Some models of lift chair offer different sizes depending on your needs, from petite all the way through to tall.
Trusted Lift Chair Brands
There are a couple of well-known brands that produce lift chairs. We've had a look at a couple of them here:
Pride Mobility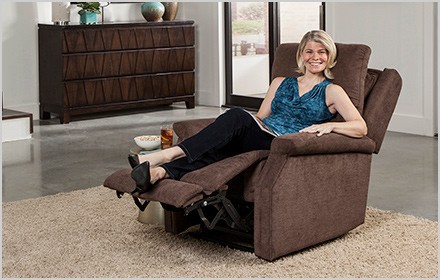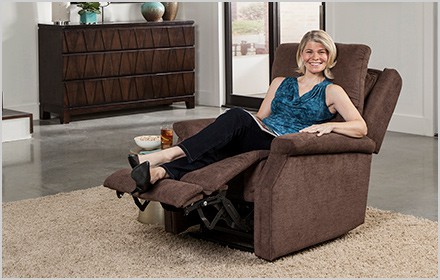 Pride Mobility specializes in wheelchairs and mobility-related products. The Meuser family took over the company in 1986, and it has grown since then, becoming a trusted, reliable and popular brand.
Golden Technologies
Golden Technologies is a brand carried by Sherman Oaks Medical Supplies, and they produce power wheelchairs, scooters, and electric lift chairs. They're specialists in mobility products, and their lift chairs are amongst the best sellers on Amazon – we have looked at a couple of their models in our list of best-selling power chairs below.
Top 5 Best Selling Lift Chairs
We've had a look at five of the most popular models, check out lift chair reviews for real people's opinions, their features, and their specifications.
For a pretty low price, the Merax Power Lift Chair has a lot to offer. It allows you to adjust to any customized position, from fully standing to lay completely flat – ideal if you want to take a nap. The remote control allows you to move the footrest separately, and it has a side pocket for the remote control as well as a snack or other things you need to keep at hand. Some users report having issues with the motor after a while, but the chair comes with a two-year warranty, which may reassure you if you're thinking of giving it a go. The faux leather upholstery will look simple and stylish in your living room, too.
Specifications for the Merax Power Recliner and Lift Chair
| | |
| --- | --- |
| Overall Dimensions | 31" x 36.5" x 42" |
| Weight capacity | 330lbs |
| Positions | Infinite |
| Upholstery | Black PU leather |
| Price | Retail at $355.99 |
| Star rating on Amazon | 3.7 out of 5 stars |
| Seat Dimensions | 19" W x 23" D x 19" H |
What Customers Say About the Merax Power Recliner and Lift Chair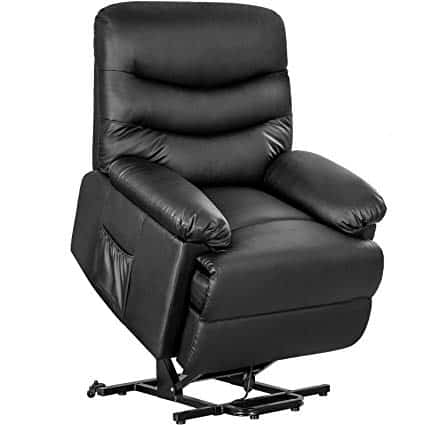 We had a look at the pros and cons according to user reviews.
Pros:
Very quiet
Works well
Feels sturdy
Easy to set up
Cons:
Could do with more cushioning
Lifting action is a little slow
A few users had issues with the motor after a while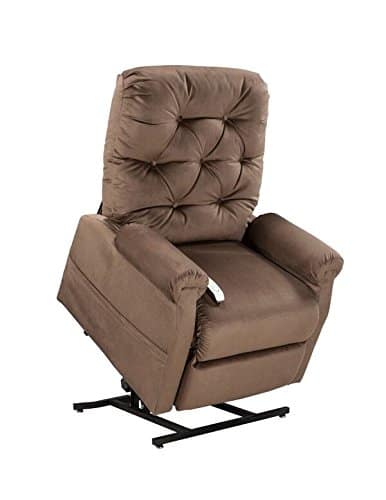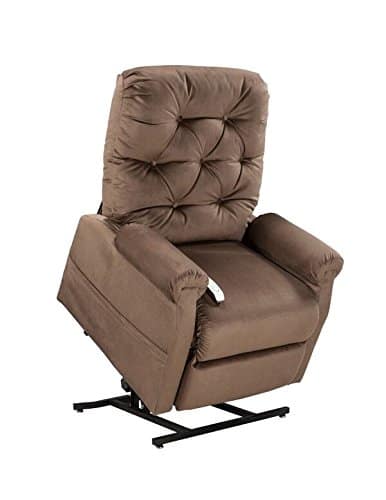 The Easy Comfort Two-Position Lift Chair is a good choice. It has a heavy-duty steel lift mechanism and a hardwood chair frame, so you know it's going to last. The upholstery is durable and available in three different colors, with comfortable padding.
Due to it only having two positions, you won't be able to recline fully back in this chair. However, if you just need it to assist you in standing, it could be the perfect choice for you.
Specifications for the Easy Comfort Lift Chair
| | |
| --- | --- |
| Overall Dimensions | 32" x 34" x 35" |
| Weight capacity | 325lbs |
| Positions | Two |
| Upholstery | Cocoa brown, blue, or tan |
| Price | Retail at $549 |
| Star rating on Amazon | 3.7 out of 5 stars |
| Seat Dimensions | 20" W x 20" D x 18" H |
What Customers Say About the Easy Comfort Lift Chair
We had a look at the pros and cons according to user reviews.
Pros:
Controls work well
Very comfortable
Users liked the color and style
Cons:
Some felt they needed a little more leg room
Others felt they would like more room in the seat too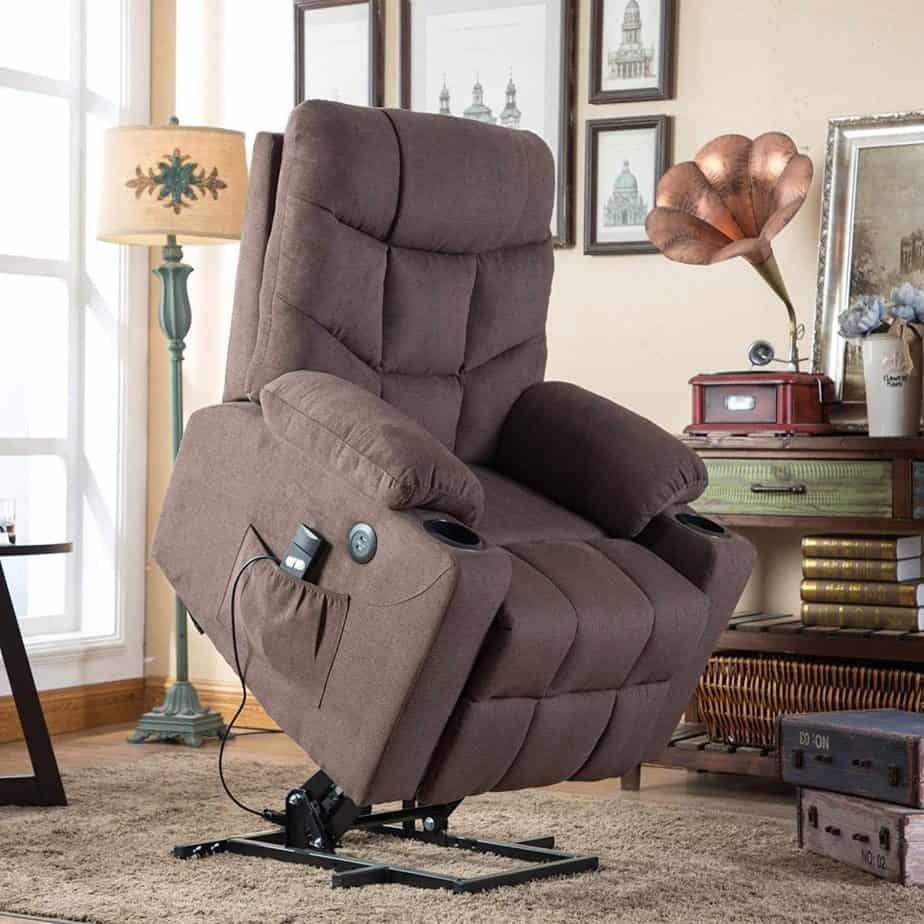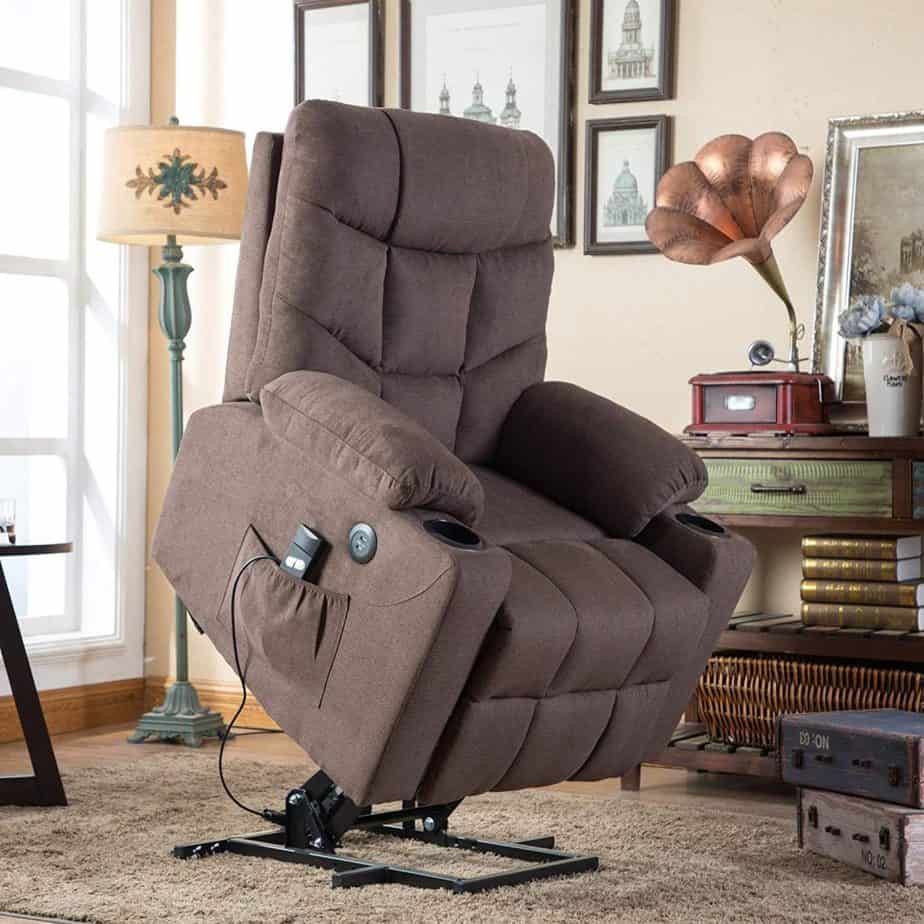 This highly-rated power lift chair has a counter-balanced lift mechanism, allowing you to be eased into a standing position smoothly. It only reclines to a 160-degree angle, however – so it won't be for you if you need to lay completely flat. It has a quiet motor, so you don't have to worry about making noise when you move around. The design is simple but attractive, and the upholstery is comfortable but durable and has anti-pilling properties to stop the chair from looking tired or worn, meaning it will look great in your living room. It has comfortable padded arms, too.
It also has a couple of handy extras: two USB charging ports on either side of the chair means you can always keep your devices topped up, and the two cup holders are handy, too.
Specifications for the Power Lift Recliner Chair
| | |
| --- | --- |
| Overall Dimensions | 34.6" W x 36.7"L x 41" H |
| Weight capacity | 350lbs |
| Positions | Three |
| Upholstery | Brown faux leather |
| Price | Retail at $409.90 |
| Star rating on Amazon | 4.9 out of 5 stars |
| Seat Dimensions | 22" W x 20.5" D |
What Customers Say About the Power Lift Recliner Chair
As we mentioned before, this chair is highly rated. Customers had this to say:
Pros:
Easy to assemble
Looks great
Firm but comfortable
Easy to use
USB charging ports are really handy
Cons:
Could have a slightly larger seat for some customers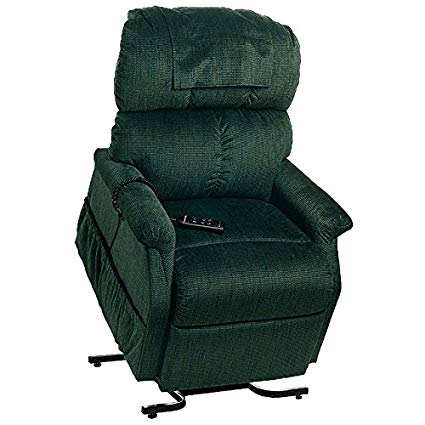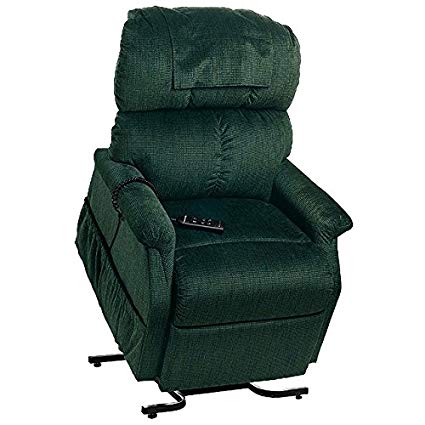 If you're looking for a power lift chair with infinite positions, this could be the perfect recliner for you. It comes with MaxiComfort positioning technology and claims to be the most advanced lift chair in the world. With many positions including TV recline, sleep, Tredelenburg, and zero-gravity, you're bound to get comfortable, and you could happily use this as a sleep chair. It has a plush seamed backrest, and padded arms, too. With its dual motors, it moves smoothly.
There are five sizes of MaxiComfort chairs to choose from – Junior Petite, Petite, Medium, Large, and Tall – so you should be able to find something that suits you.
Unfortunately, there are no user reviews on Amazon for the PR-505L. On other websites, however, it has pretty good feedback.
Specifications for the PR-505L MaxiComforter Lift Chair (in size large)
| | |
| --- | --- |
| Overall Dimensions | 34.5 W x 44 H |
| Weight capacity | 375lb |
| Positions | Infinite |
| Upholstery | Multiple color choices including green, burgundy, and cream |
| Price | Retail at $1309 |
| Star rating on Amazon | N/A |
| Seat Dimensions | 23" W x 22" D |
What Customers Say About the PR-505L MaxiComforter Lift Chair:
We had a look at the pros and cons according to user reviews from various websites.
Pros:
Nice upholstery
Very comfortable
Great customer service
Easy to use
Smooth movement
Cons:
The rest covers sometimes slip off the arms, which can be annoying
Sometimes difficult to get the exact size/color combination that you want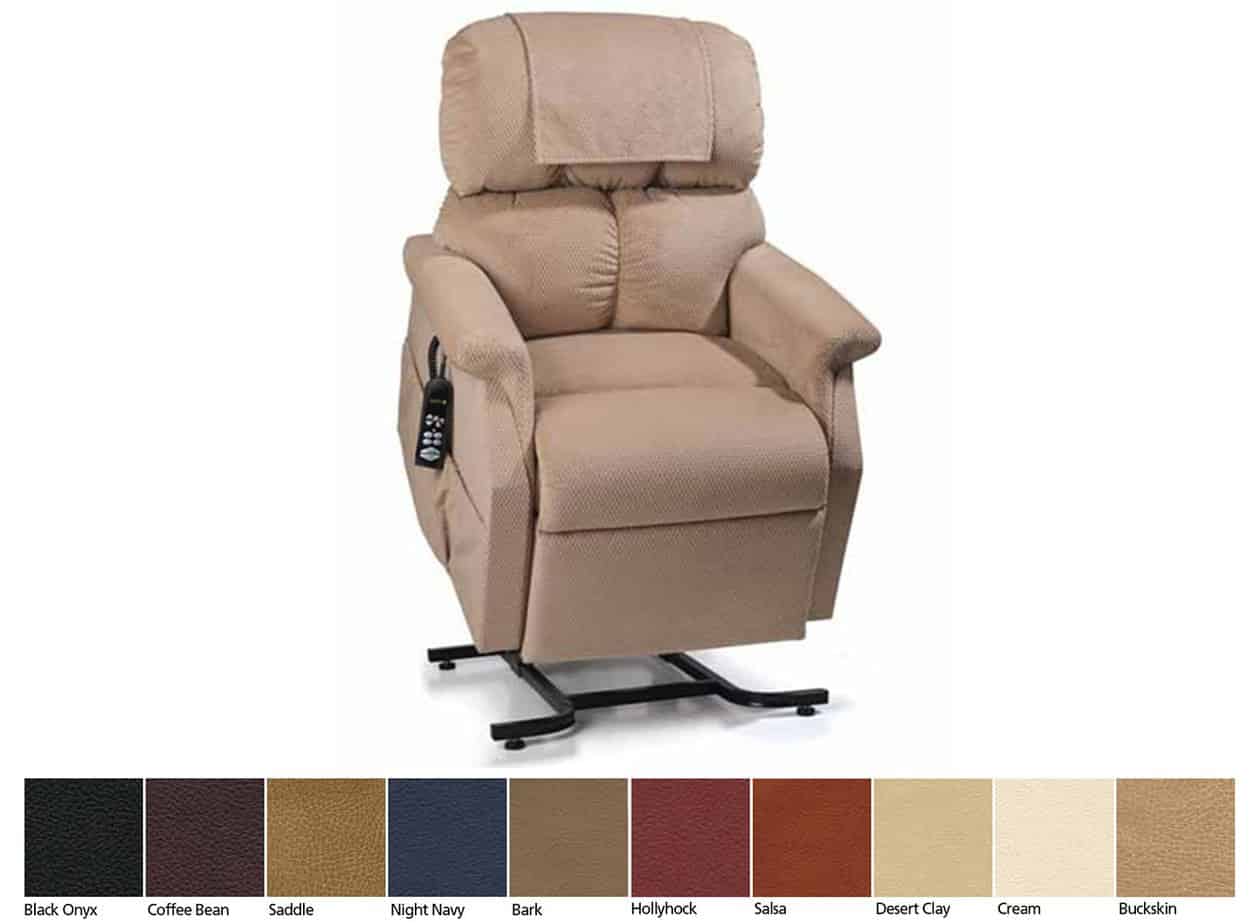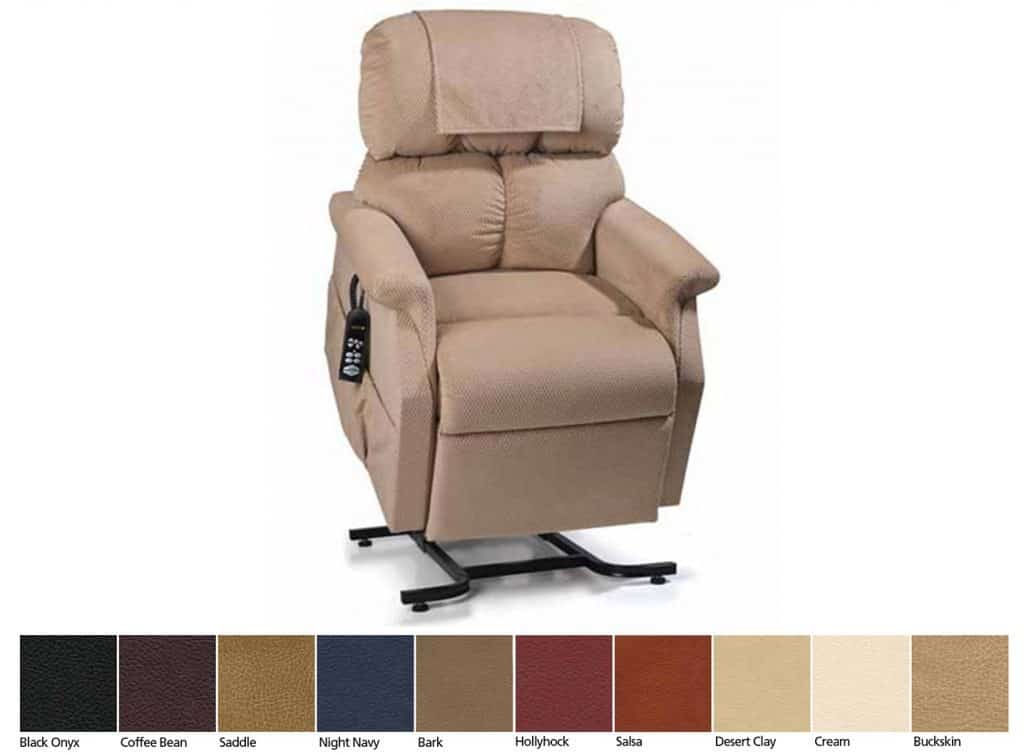 Another great chair by Golden Technologies! The MaxiComfort PR-505S features all the benefits of a MaxiComfort power lift chair – a plush, seamed backrest with lumbar support, padded arms, and a comfortable seat – as well as some added extras, including heat and massage, and an adjustable active seat.
It's an infinite-position reclining chair, including TV watching, sleep, zero-gravity, and Tredelenburg positions. Like the other Golden Technologies chair on our list, it comes in many color choices and five size options. It's the priciest option on our list, though, at nearly $2000 for the small size – but if you're using it all the time, it may be a worthwhile investment.
Again, there was no feedback for this chair on Amazon, so we looked at other websites to get users' lift chair reviews.
Specifications for the PR-505L MaxiComforter Lift Chair (in size small)
| | |
| --- | --- |
| Overall Dimensions | 38" W x 31.5"L x 40" H |
| Weight capacity | 300lbs |
| Positions | Infinite |
| Upholstery | 17 color options including black, brown, tan, and burgundy |
| Price | Retail at $1998.99 |
| Star rating on Amazon | N/A |
| Seat Dimensions | 19.5" W x 25"D |
Pros:
Smooth and soft upholstery

Works very well
Cons:
One user felt it wasn't as comfortable as another chair they had tried
Most expensive model – so a big investment
Frequently Asked Questions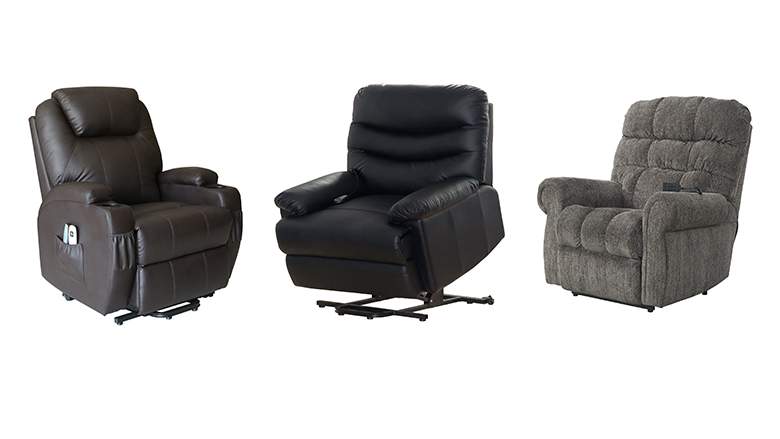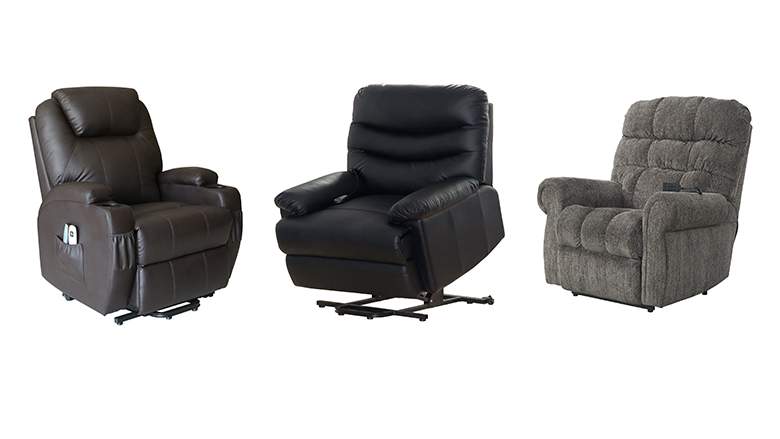 Here are some frequently asked questions about lift chairs:
Are lift chairs covered by Medicare?
Medicare may pay a portion of the lift chair – they only see the lifting mechanism itself as durable medical equipment.
Do lift chairs have batteries?
Lift chairs run using an electrical outlet. Different manufacturers will have different guidance on this. Generally, your chair will include back-up batteries in case of a power outage that needs to be changed every year (whether you've used them or not!)
How do I clean my lift chair?
The fabric can be spot-cleaned with a damp cloth. The remote control can be gently wiped with an antibacterial wipe or a very slightly damp cloth – take care not to get it too wet and make sure to unplug the chair before you clean it.
How does a lift chair work?
They work using an internal mechanism that pushes the entire chair up, gently placing the user into a standing position.
Are lift chairs good for elderly people?
Generally speaking, yes – but they're not necessary for everyone. Even if you find standing just a little bit of a struggle, a lift chair could improve your day to day life. You may find you can cope just fine without one – it depends on your needs.
Can a lift chair be rented?
It really depends. Renting could be a great option for short-term use, for example, if you have an injury and need time to recover. Renting them long-term can work out pretty costly, though. Rented chairs may not be in the best condition. It's best to rent them from a trusted company who can guarantee the chair works the way it should do.
Are lift chair recliners made from leather?
Not necessarily. There are many different types of upholstery for lift chairs, including faux leather recliners if you prefer that.
Conclusion
We hope you've enjoyed our guide to the best lift chairs, and that it has helped you to understand the different types. It can be difficult to know where to start when buying mobility equipment, especially when they cost a lot of money. Whether you go for a two-position lift chair to give you a bit of help when standing, or if you want the full infinite-position chair with added extras like back massage pads so you can be comfortable all day, there should be a model out there that suits you perfectly.
Want to keep reading? At Wizerlist, we want to keep you up-to-date and informed. You may find our guide to Medical Alert Systems helpful! Or, if you're looking to try out a phone designed for seniors, check out our Consumer Cellular vs. Jitterbug comparison.
Further read: