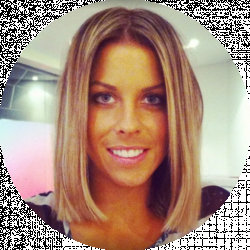 Latest posts by Jodie Chiffey
(see all)
A laptop is a very useful gadget to own. So much of life is online nowadays, and you can end up feeling left behind if you're not connected. From banking to online shopping, booking appointments, sending emails or keeping in touch with loved ones, there are many reasons why the internet can make life easier. A laptop can also offer you extra features, like games, apps, and streaming services.
The problem is, with so many types to choose from, it can be difficult to know where to start. Do you want the most up to date technology available? Or are you on a budget and need to keep costs down? Do you need something lightweight and easy to carry? Would you like touchscreen functionality? Do you travel often, and therefore need something light with good battery life? We've created this guide to help you to decide, exploring the range of laptops available, features you may want to look out for as a senior, and some recommendations to consider.
Types of Laptop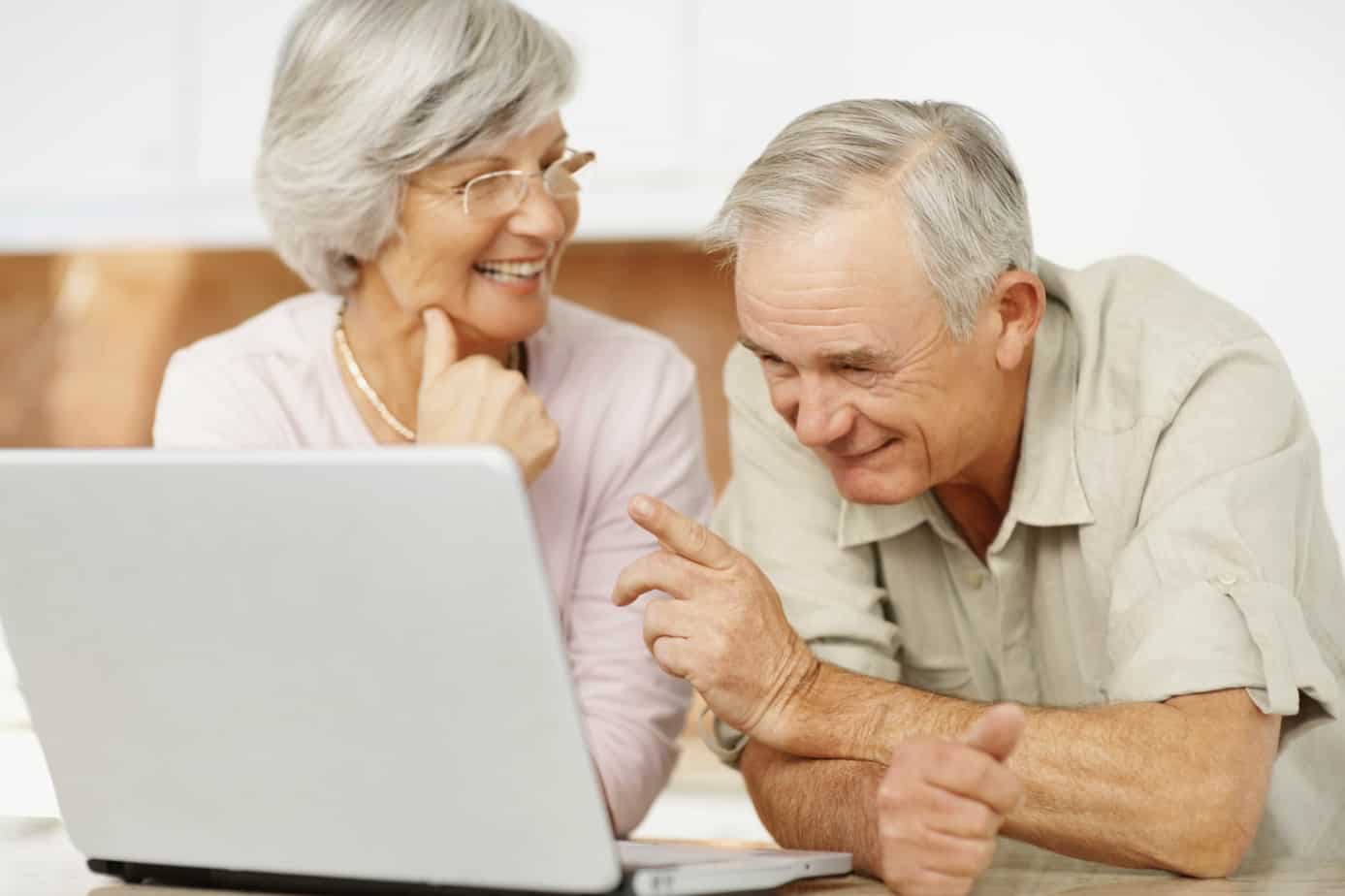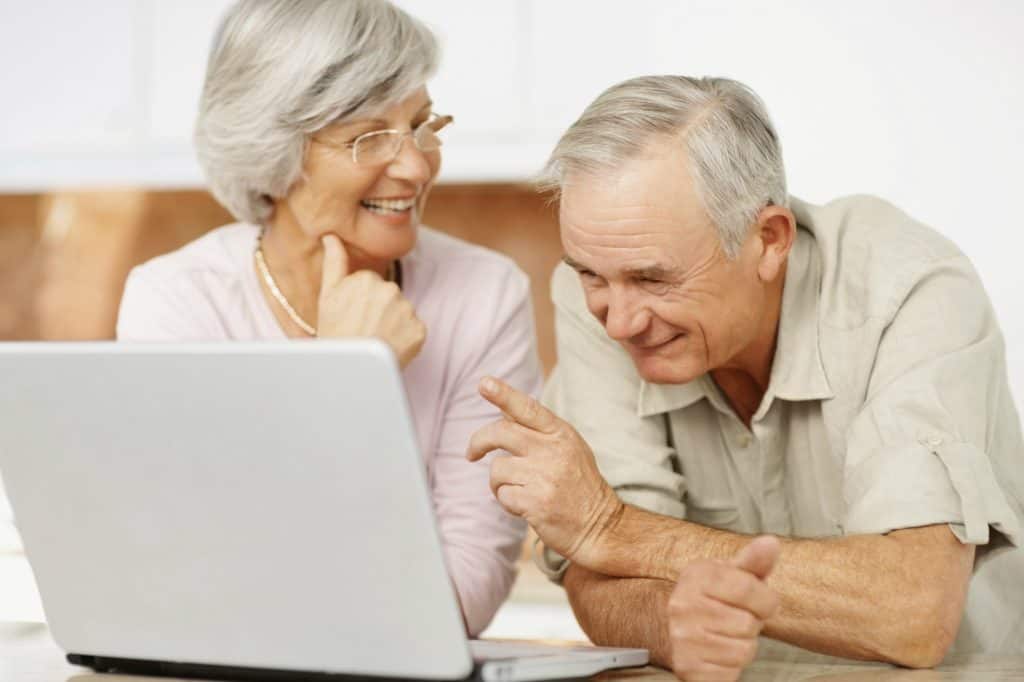 There are a few different types of laptop to choose from. What you choose will depend on your own circumstances, where you will be using it, and what you will be using it for. Broadly speaking, here are the categories:
Type

Features

Netbook

Portable and lightweight – great for traveling or if you don't want a heavy weight on your lap

Suited for internet-based activities

Tablet Laptop

Tablet attached to a keyboard with a joint

Allows you to swivel and tilt the screen in different positions

Usually lightweight and portable

Touchscreen

Some allow you to remove the keyboard completely

Rugged Laptop

Designed to work in harsh environments. Can withstand dusty or wet environments

Usually only made for military organizations, police, etc

Desktop Replacement Laptop

Larger laptop

Powerful processor – designed to run the same games and apps as a desktop PC

Usually bulkier and more expensive than other types of laptop

Subnotebook

Very small and portable

Usually have a long battery life, so great for traveling

Can be quite basic in terms of features

Traditional Laptop

A most common form of laptop

Larger than a netbook or subnotebook

Many models to choose from
What to Look for in a Laptop for Seniors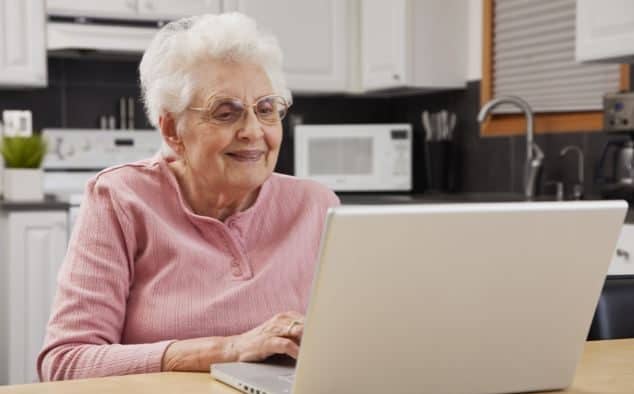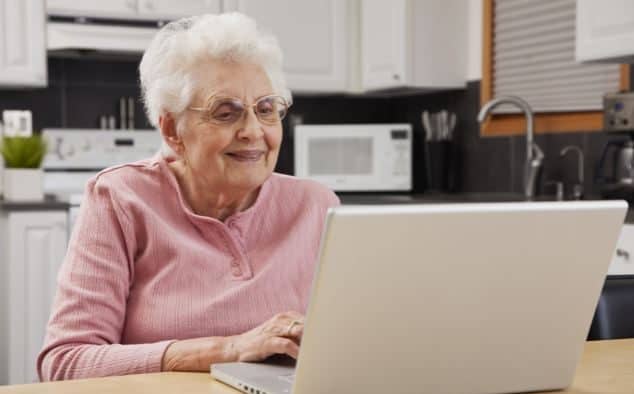 There are some things to look out for if you want to buy a laptop as a senior:
Price – this is an obvious one, but a good place to start when you are shopping for a laptop. Computers can be pricey, but there is a great range of products to choose from now. If you're on a budget, you should still be able to find something that suits your needs. Alternatively, if the price isn't a concern, you may want to splash out on something that has a few more features than a cheaper model. You can spend from around $300 for a cheaper model and $1000+ for a top-of-the-range laptop.
Sound – a common problem among seniors is not being able to hear properly when watching shows or listening to music or the radio. Ideally, you'll find a laptop with high-quality sound so that you can hear what's happening all the time. Also, it's a good idea to check if the laptop has a headphone jack if you like to use headphones.
Size of screen and resolution – if your eyesight isn't great, it may be a good idea to look out for a laptop with a good-sized screen so that you can zoom in close on what you're reading. Also, the better the screen resolution, the clearer the picture will be.
Ease of set-up and use – although many seniors use technology all the time, if you are buying a laptop for the first time, it's a good idea to read some reviews to see how easy it is to set up and use.
Weight – if you want to avoid heavy lifting, a lightweight laptop is a good choice. It's also a great idea to check the size first if you're traveling or going on vacation and want to take your laptop with you – some, like tablet laptops, can fit into a bag easily and are therefore more suitable for travel than a traditional laptop.
Technical Specifications – The Basics
If you're unfamiliar with buying computers, the terminology can be a little confusing. Here are the basics of what to look out for when you're deciding on a laptop:
RAM
RAM stands for Random Access Memory. It is the part of the computer that temporarily carries whatever files or software you are using. Simply put – the bigger the RAM, the more you will be able to multitask with your laptop, having several things open at once without the laptop slowing down. The standard amount of RAM for a laptop is 8GB.
Hard drive space
The hard drive is the part of the computer that stores your files permanently. The bigger this is, the more files and programs you will be able to store.
Graphics
The graphics card is the part of the computer that creates the images that you see on your laptop. For most people, the graphics card that comes integrated into the laptop works very well.
Processor
The processor – or CPU – is basically the brain of the laptop and makes it run properly. Processors can vary. On a cheaper or smaller laptop, you may find an older processor, which still works fine for basic tasks. Some processors are extremely powerful, but they're usually found in bulkier laptops that are made for video editors or people who want to play the latest games.
Operating System
The operating system is the software that comes with your laptop. It allows you to communicate with your laptop, essentially – it enables you to tell it what you want to do by clicking, scrolling, etc. There are three basic types of the operating system: Windows, Mac, or Chrome. Windows is the option that many people are familiar with, while Mac is used on Apple products. Chrome is used on Chromebooks and is a little different and less flexible than Mac or Windows.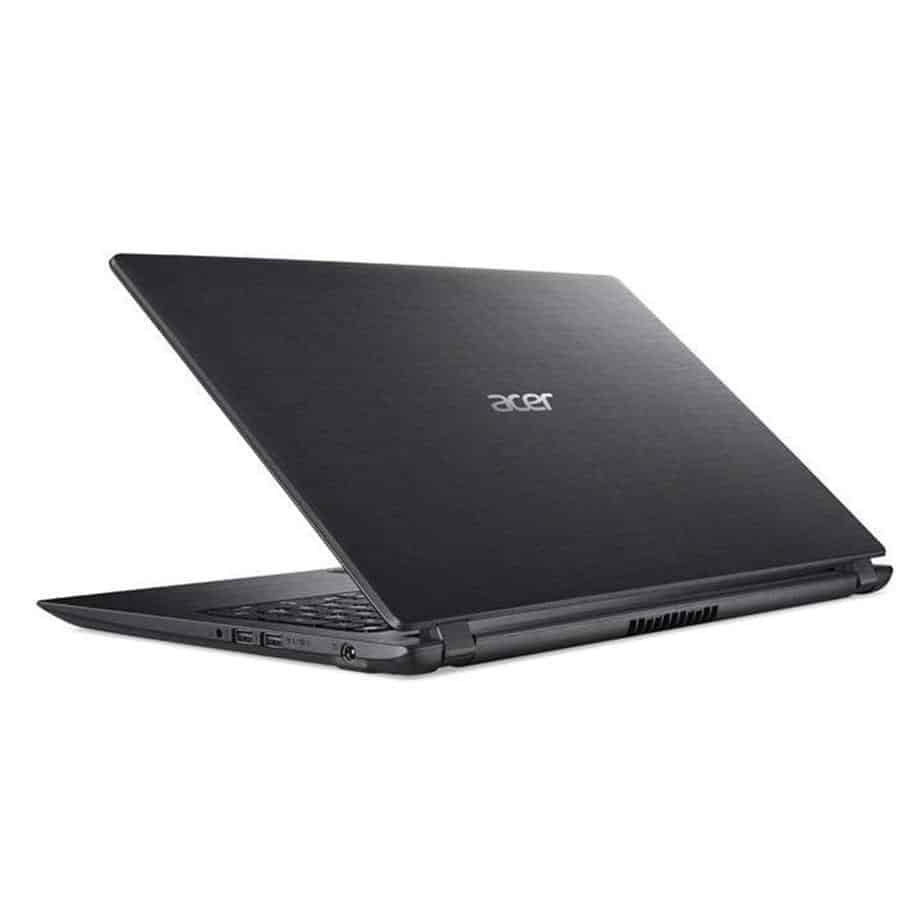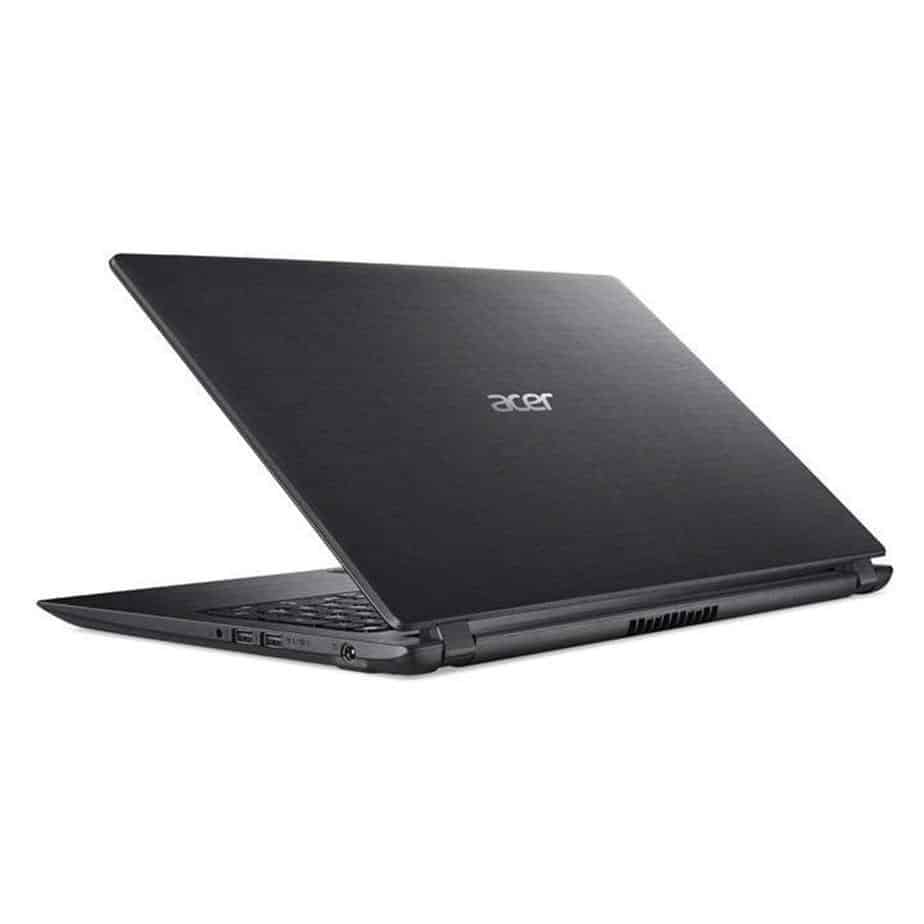 It can be a little tricky to find a great laptop under $400, which is why this one is a great find for those on a budget. Although relatively cheap, it's still got a great processor, so it will run pretty well, and it has a large hard drive, meaning you can keep a lot of movies, photos, and games on there. It has a headphone and microphone jack, an HD webcam, and a WLED backlit display – meaning it should be suitable for everyone. However, because it's a cheaper model, it doesn't have some of the features that some of the other laptops on this list have – it lacks a DVD drive, and it runs a little slower than more expensive models.
Pros and Cons of the Acer Aspire 5:
| | |
| --- | --- |
| Pros | Cons |
| Very cheap for what it offers – this makes it a great choice for those who do not have a lot of money to spend on a laptop | Runs a little slow if you want to run multiple applications at the same time |
| Decent sized hard drive – you will be able to store a lot on here | Quite basic design – not as sleek looking as some models |
| Good battery life | No CD/DVD drive |
| Nice-sized keyboard for comfortable typing | Won't run the latest games |
Specifications for the Acer Aspire 5:
Operating system – Windows 10 Home 64
Memory – 8 GB DDR4 Ram
Storage – 1TB HDD
Processor – 7th Generation Intel Core i3 Processor – 2.3 GHz speed
Display size – 15.6" (diagonal)
Weight – 4.73 lb
Ports – 1 USB 3, 2 USB 2, 1 HDMI
Audio – Acer TrueHarmony sound system (2 speakers)
Extras – webcam with integrated microphone, microSD card reader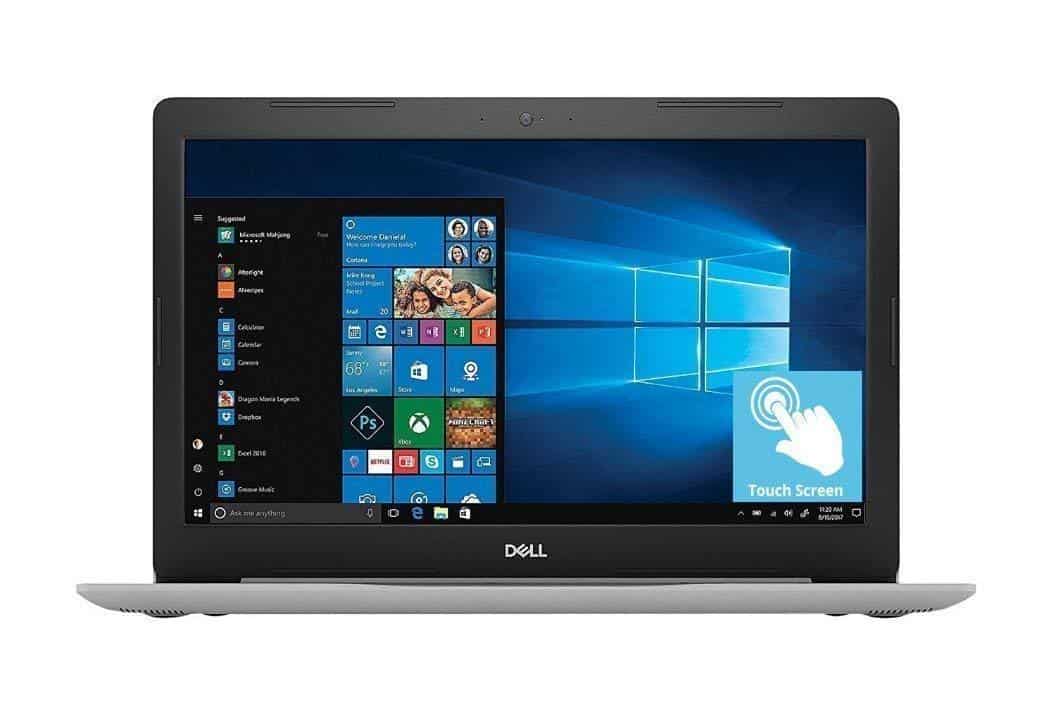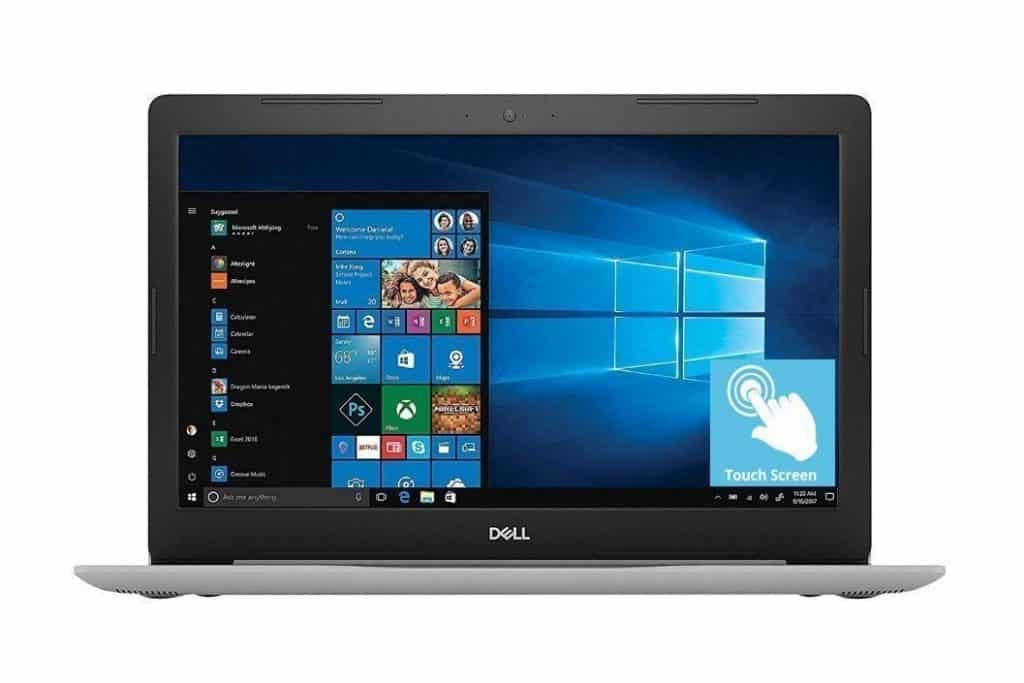 If you want to use your laptop to watch TV shows or movies, this would be a good choice for you. It has a good screen size of 15.6". It has a touch screen, making it easy to use if you don't get on with a touchpad or a mouse, and it has a backlit keyboard – great for those who struggle to see the keys clearly. Its sleek faux-metal casing makes it look more expensive than it is, and reviewers say that the sound quality is great. Although it's more expensive than the Acer Aspire, for $510, you're still getting a pretty powerful laptop – and it's lightweight, too, making it a good choice if you don't want a bulky machine.
Pros and Cons of the Dell Inspiron 15 5000
| | |
| --- | --- |
| Pros | Cons |
| Touch screen which may be more intuitive for those who do not like to use touchpads or a mouse | Only 5 hours of battery life – so won't last for a full day out of the house |
| Backlit keys – great for weaker eyesight | Doesn't have a CD/DVD drive |
| Good screen size | |
| Lightweight – good for those who want to avoid heavy lifting | |
Specifications for the Dell Inspiron 15 5000
Operating system – Windows 10 Home 64
Memory – 8GB DDR SDRAM
Storage – 1 TB
Processor –1.6 GHz Intel Core i5
Display size – 15.6"
Weight – 2.65lb
Ports – 1 USB 2.0, 2 USB 3.1, HDMI
Audio – Dual speakers
Extras – SD card reader, webcam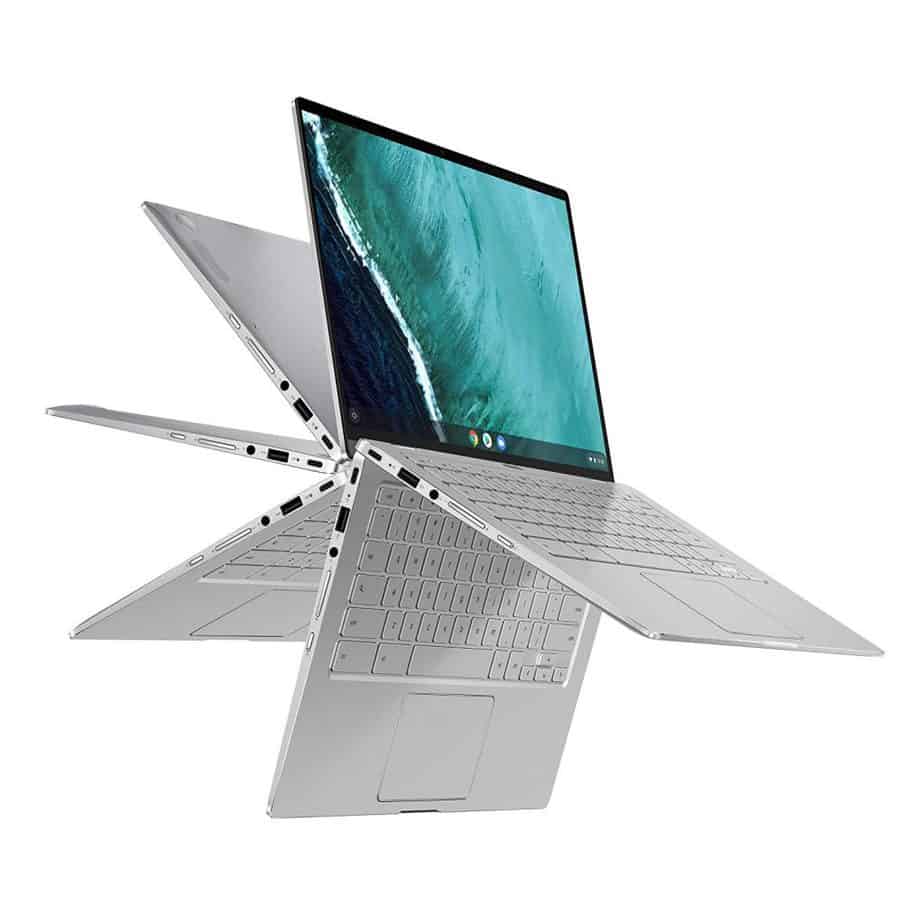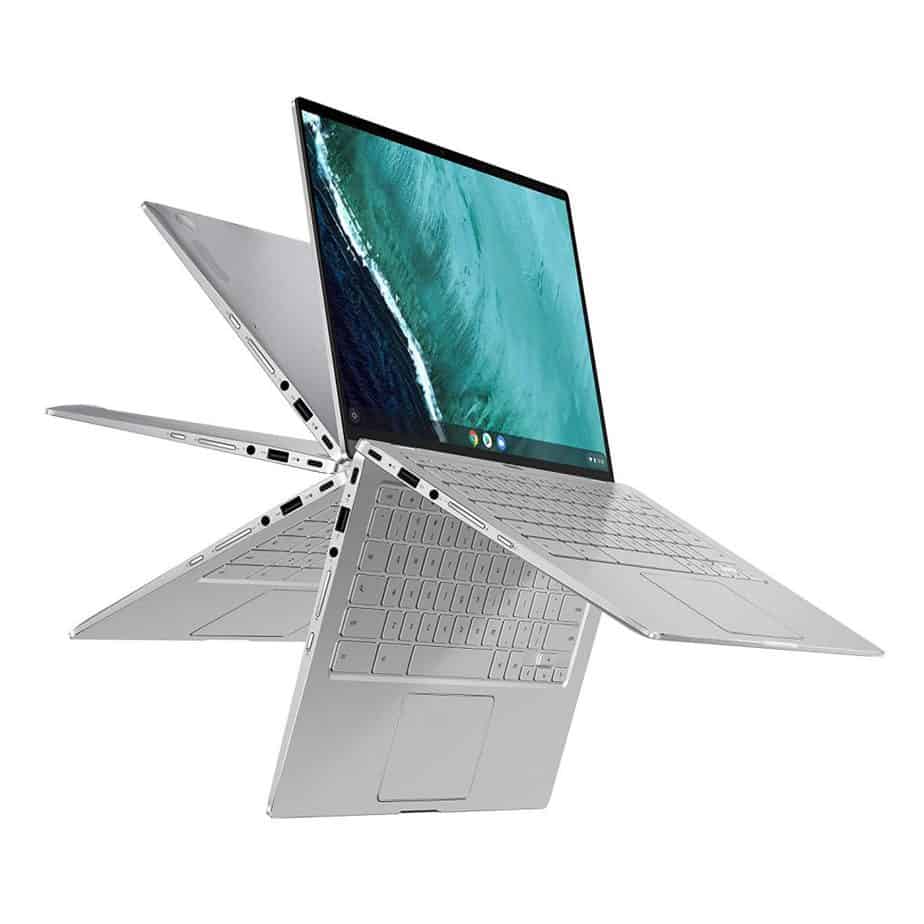 As we mentioned earlier, a tablet laptop is a great portable option. If you travel a lot, having a small laptop that you can take with you can be very useful. The biggest selling point of the Asus Chromebook Flip is the screen. As the name suggests, the screen can be flipped on its 360-degree hinge. This means that you can sit comfortably knowing you can position the screen exactly the way you want it. It also has a touchscreen, and a backlit keyboard – again this is great if you find it difficult to see the keys on a traditional keyboard. It has an aluminum casing that looks stylish as well as being durable.
The Chromebook Flip uses Chrome OS. It's not as flexible as Windows but is pretty simple to navigate with a user-friendly interface.
Pros and Cons of the ASUS Chromebook Flip C434TA-DSM4T
| | |
| --- | --- |
| Pros | Cons |
| Easy to use and set up | 4GB RAM – meaning you won't be able to multitask as much |
| A 360-degree hinge means that you can position the screen exactly the way you want it | On the pricey side for a Chromebook at $529.99 |
| Touch screen and backlit keyboard | Not as much storage on the hard drive as some of the other models |
| Very lightweight – good for traveling | No CD/DVD drive |
Specifications for the ASUS Chromebook Flip C434TA-DSM4T
Operating system – Chrome
Memory – 4GB
Storage – 64GB
Processor – Core M Family
Display size – 14"
Weight – 3.3lbs
Ports – 2 USB 3.1
Audio – Dual speakers
Extras – microSD card reader, webcam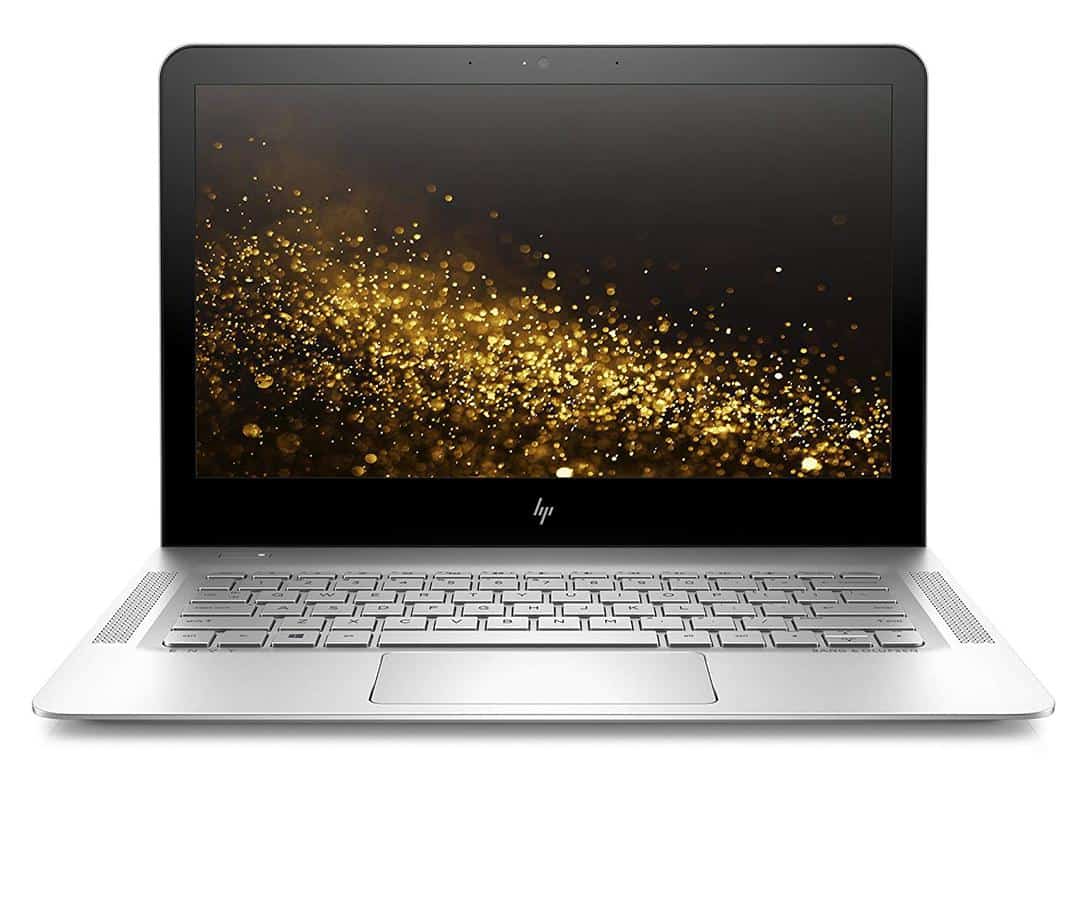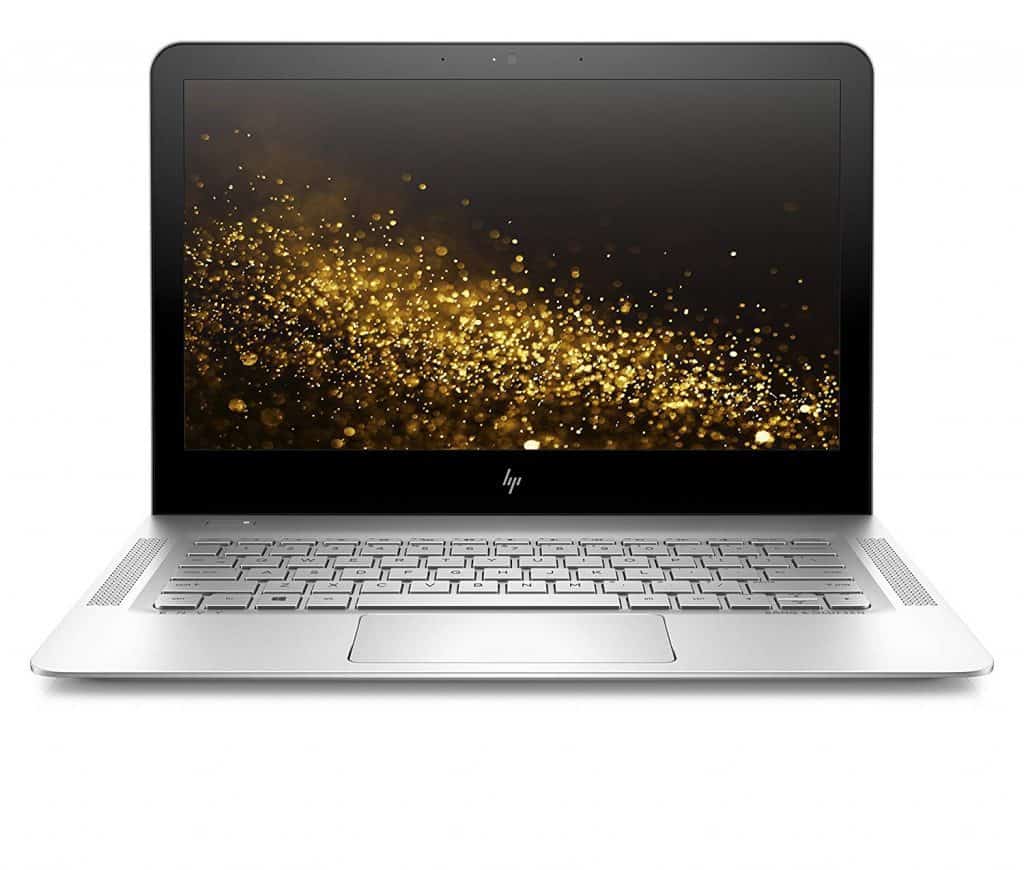 This is a higher-priced laptop – at time of writing it retails at $999.99, which is pretty steep. However, it's a great choice. It's powerful, meaning it can run multiple applications at once with no issues – this is helpful if you find yourself getting frustrated when a computer slows down. Despite the powerful processor, it's thin and light, meaning it won't feel heavy when it's on your lap. It also boasts an incredible 14 hours battery, which is great if you're out for the day and don't have access to a charger! Its HD Vision webcam can enable video chat with a vibrant picture – this is great if you want to keep in touch with loved ones using video calls.
Another good feature it has is the hinge design – the hinge props the keyboard up at a slight angle when the laptop is open, meaning you can type more comfortably. If you're looking for a great performing laptop that runs fast, this might be the choice for you.
Pros and Cons of the HP Envy 13-ab016nr
| | |
| --- | --- |
| Pros | Cons |
| Good quality webcam means chatting with friends and family will be an enjoyable experience | No DVD drive |
| Lightweight | On the pricier side – more of an investment |
| Extra-long battery life and fast charging | Some reviewers online suggest that the cooling fan is a little loud |
| Powerful processor means you can run multiple applications without it slowing down | |
| Clever hinge design means comfortable typing | |
Specifications for the HP Envy 13-ab016nr
Operating system – Windows 10 Home
Memory – 8GB
Storage – 256GB
Processor – Intel Core i5-7200U Processor
Display size – 13.3"
Weight – 3.31lbs
Ports – 2 x USB 3.1 Gen 1, 1 x USB Type-C 3.1 Gen 1
Audio – Dual speakers on top
Extras – microSD card reader, HD webcam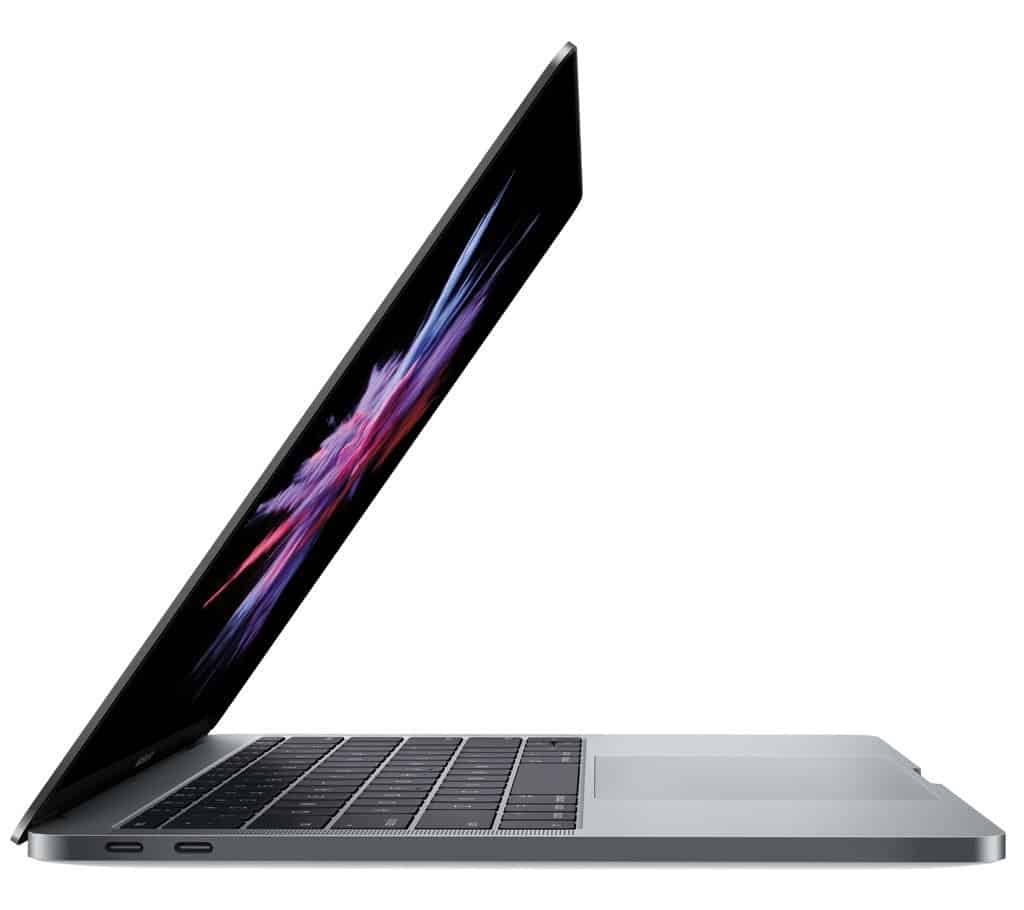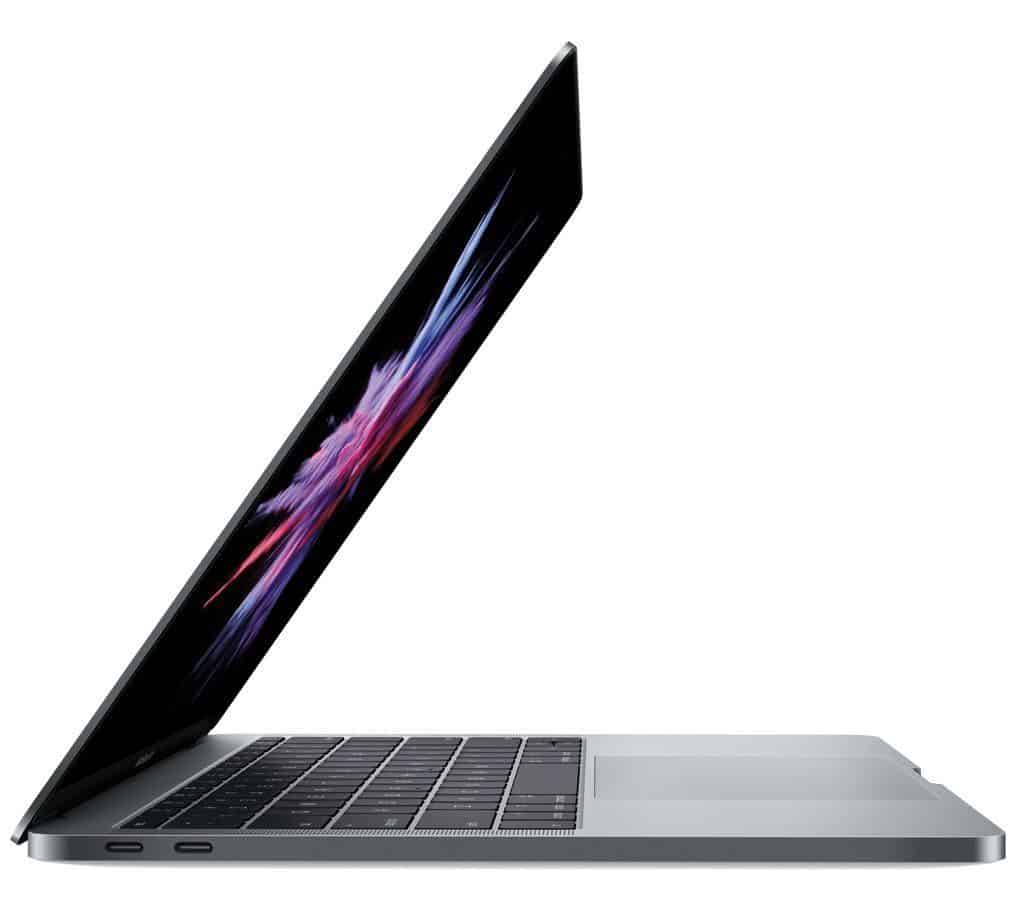 You might be more of an Apple person. A lot of people prefer Apple's sleek designs and user-friendly interface. Macbooks are a great choice if you want a powerful laptop – and its brilliant retina display means you'll get a sharp picture when you're watching movies or TV shows. This combined with the high-quality sound means you should be able to see it and hear it comfortably. It also features an intuitive touch bar at the top of the keyboard – this may take some getting used to, however.
It is, however, the most expensive item on this list – but if you're a fan of Apple products, you'll love a Macbook.
Pros and Cons of the Macbook Pro
| | |
| --- | --- |
| Pros | Cons |
| Brilliant retina display and sharp picture | Expensive – so a bigger investment than the others |
| High-quality sound | May take some time to get used to if you don't normally use Apple products |
| Lightweight | No SD card speaker |
| Powerful processor means you can complete all the tasks you want to | No CD/DVD drive |
Specifications for the Macbook Pro
Operating system – Mac OS
Memory – 8GB
Storage – 128GB
Processor – 2.3GHz dual-core 7th-generation Intel Core i5 processor (with Turbo Boost – up to 3.6GHz)
Display size – 13.3"
Weight – 3.02lbs
Ports – 2 x Thunderbolt 3 ports (USB-C)
Audio – High quality speakers
Extras – webcam
Extras To Consider
There are many extras and accessories you can buy for your laptop, and it can be tempting to think you have to own them all. You may find that your laptop is equipped with everything you need. Here's a few of the most important extras to consider:
Laptop insurance or extended warranty
It's far too easy to spill a drink over a laptop, or to accidentally drop it. Most manufacturers or retailers offer extended warranty for an extra cost. Alternatively, you could consider laptop insurance. You could cover the cost of your laptop if an accident happens – this could save on expensive repair bills later.
Anti-virus software
Your laptop will normally come with suggested anti-virus software. For some, the cost is included in the purchase of the laptop – with others, you must purchase it separately. Anti-virus software is the most important thing you can install on your laptop and can save a lot of pain and stress later – it's an extra expense, but it will block any nasty viruses from infecting your laptop.
Keyboard rest
Typing on a laptop for extended periods can cause your wrists to ache. You can purchase wrist support cushions, which sit in front of the laptop and allow you to rest your wrists on the padded cushion. This could be a good choice if you plan on doing a lot of writing!
USB mouse
Some people prefer to use a mouse rather than a touchpad or touchscreen. A USB mouse can be purchased at a low cost from Amazon.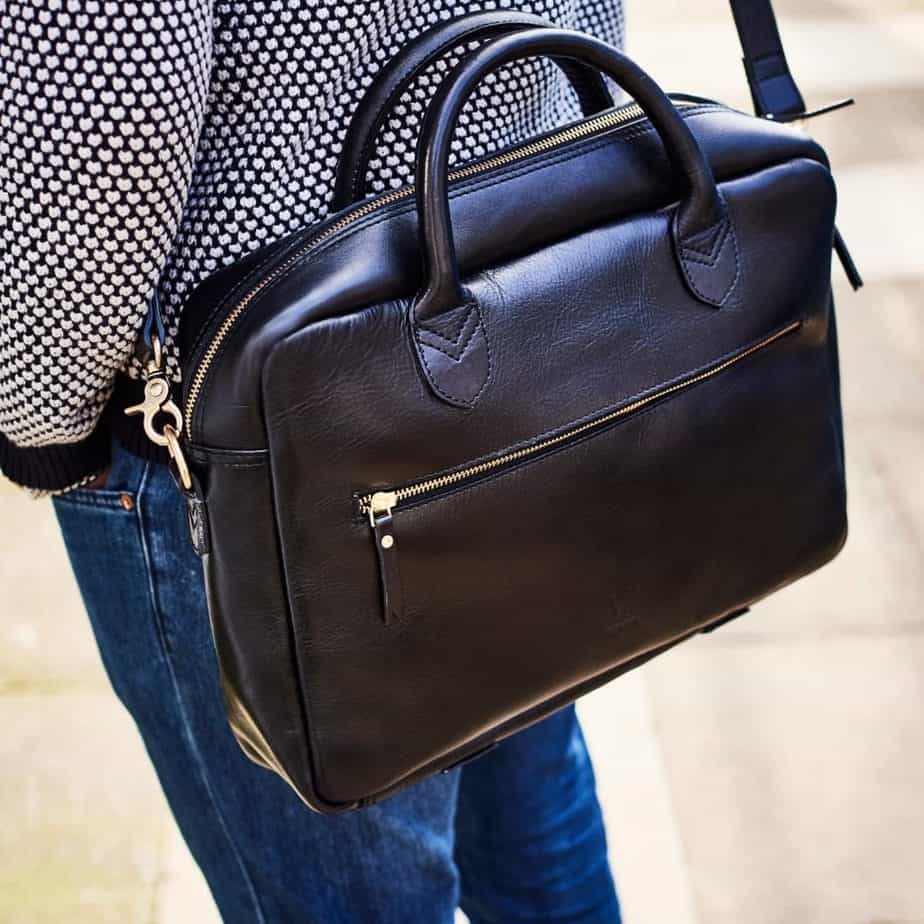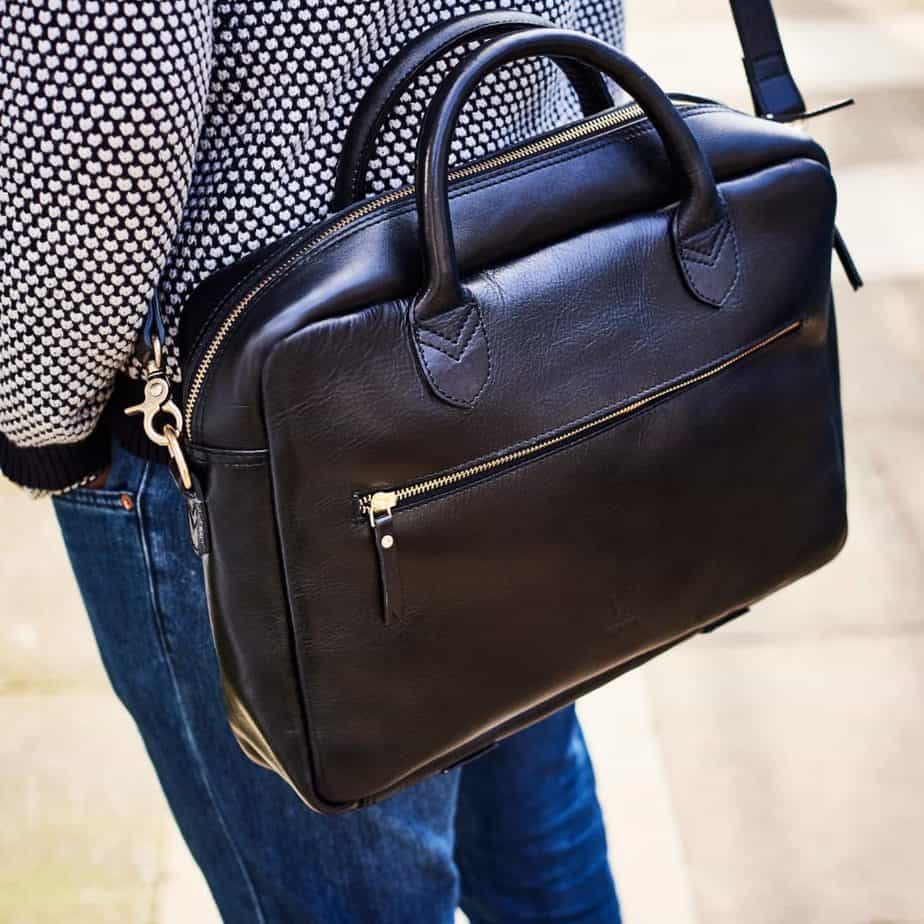 Laptop bag or case
If you plan to take your laptop on vacation, a bag or case for it is a real must. It doesn't have to be expensive – just something that fits your model of laptop and protects it from getting scratched or damaged whilst in transit.
External CD/DVD drive
Many laptops do not come with CD/DVD drives now. If they choose to not include them, it makes the laptop slimmer and lighter. Unfortunately, if you want to watch DVDs or listen to your favorite CDs on a laptop, you may need to consider purchasing an external CD/DVD drive. These connect to your laptop and allow you to watch movies or play CDs as normal.
Conclusion
There is a lot to think about when purchasing a laptop as a senior. Ultimately, the choice will be down to you, but hopefully, you can find something that will be both useful and provide entertainment. Whether you want something super portable, something cheap but useful, or something with extra power and crystal-clear display – there are many options out there for you.
Further read: