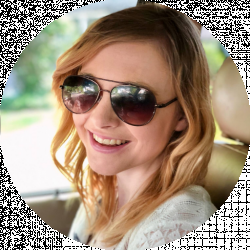 Latest posts by Erin Jamieson
(see all)
A superhero device that works like magic for anyone hard of hearing– that's the claim of Magic Ear. But can it really help people like my grandfather, or is it another made-for-TV scenario where expectations exceed reality? That's what I'll uncover in this review.
Magic Ear is still being offered at a time when hearing aids and technology for seniors is at an all-time high–and some of these innovations lead to potentially exciting possibilities for those like my grandfather, who's always having to go in to get his hearing aids adjusted.
But with that also comes a downside: finances. A report in The Wall Street Journal explained that the market in 2021– and on– is being flooded with new technology for hearing devices, from iPhone apps to in-ear AI options. Especially suited for those with more moderate hearing loss, gone are the days where wearable technology meant only a prominent, hunky piece of equipment in your ear.
But while these tiny, tech-forward devices, Family & Tech columnist Jule Jargon explains, are initially attractive–they may 'be a hard sell' for many.
These devices can be quite expensive, and simply not a realistic option for many. Any while it's true that many seniors use some great technology, not everyone wants or needs the newest technology possible.
That's where options like the Magic Ear purportedly come into play: less expensive by far than these new hearing aids, but more innovative than the traditional hearing aids, it's easy to see why they garnered a lot of attention when they first came out.
In this review, I'll investigate Magic Ear– from the price, whether they actually work, and if they could be a good solution for you or a loved one.
How do hearing aids work?
First, before I review Magic Ear, it's important to explain how hearing aids work– and what features you should look for to find the best hearing aid for you or a loved one. That ensures that you are getting the technology you need for daily life.
The goal of hearing aids is to amplify certain sounds while mitigating distracting background noises that can impede hearing. Hearing aids most commonly feature a battery of some kind, a computerized chip to transform sounds, and an amplifier as well as a small microphone.
Digital Hearing vs Analog
An analog hearing aid essentially simply amplifies sounds, but a digital hearing aid is able to convert sounds into a digital format– in fact, digital hearing aids are what make some other key features possible.
Directional Hearing
Directional hearing, or directionality, is an important feature– basically, it means you'll be able to hear sounds amplified by both directions. Some hearing aids only work in one direction, which not only is inconvenient but, in the case of something like traffic or an emergency, could even pose some danger.
Channels
Channels are likewise important. Channels organize sounds into different levels of frequency, which allows the user to adjust depending on the sound frequency.
This is important, as hearing loss differs from person to person– for instance, some have an especially hard time hearing higher frequencies, while others have issues with lower frequencies.
Noise Reduction
Noise reduction is a must, working for a hand with amplifying speech. Noise reduction reduces background sounds, such as wind, so it's easier to concentrate on speakers.
Normally, a computerized chip reduces static and hum, while simultaneously enhancing voices. I especially recommend looking out for wind reduction.
Feedback Suppression
One feature that's easy to forget about is feedback suppression. In fact, I can attest that feedback is one of the most persistent problems that my grandpa has had with his hearing aid– and too much feedback can overshadow other great features. Feedback often comes in the form of high pitch whistling and can be distracting.
Other Features to Consider
To find the best hearing aid, you'll want to take a close look at the features offered. Remote control technology or the ability to connect with a great cell phone may be important for some. Multiple options for programming, syncing with other devices, and wireless capability are features that expand your daily use.
What is Magic Ear?
Magic Ear is a company that offers smart tech hearing aids first advertised on TV. While many know Magic Ear for its original design, and targeting a more senior population, Magic Ear now offers a few models and options for adults and children alike.
In addition to hearing aids, they now also offer personal sound amplifiers and a blog about hearing loss awareness. Now, I want to take a look at some of the claims made, the different product options, and whether these products hold up as useful hearing aids.
About the Company
Before buying any hearing aid– and before investing in technology or senior care products of any kind– it's important to know who you're buying from.
Magic Ear has been around for some time: the company started selling devices in 1956 and is currently headquartered in Florida, but sells devices both nationally and internationally.
While not accredited through the Better Business Bureau, Magic Ear has no filed complaints on its profile, and holds an A+ rating, thus enjoying a relatively sound reputation at least within the business world.
Magic Ear claims to be "committed to providing" "advanced hearing instruments," with high "ethical standards." Their focus is to offer different devices for a variety of situations, with clear quality that reduces background noise.
Something that I did find interesting is that it was quite difficult to locate any information about the research or professionals behind their products.
What hearing aids does Magic Ear sell?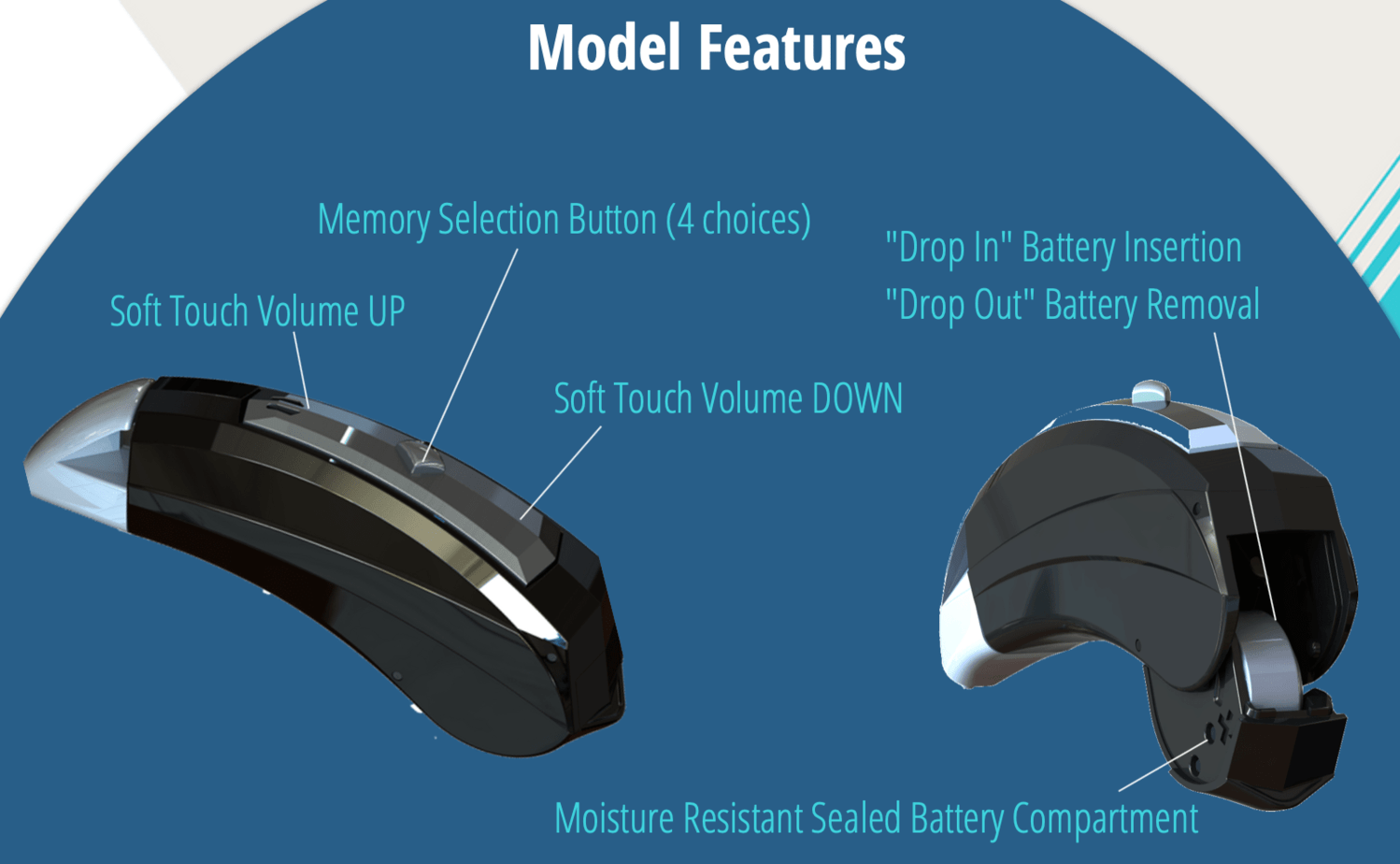 While Magic Ear may be known primarily for hearing aids, they offer both hearing aids and sound amplifiers, and, suffice to say, those models have evolved over time.
Main Features
Hearing Aids come with carrying cases in two series: the Harmony Series and the Audix Series. But first, here's a look at the main features of all of their hearing aids.
Small Size. Magic Ear hearing aids are meant to fit inside the ear seamlessly, for a far less notable appearance. This is a great way to reduce some stigma or any self-consciousness about wearing a hearing aid. While not as minute as some of the latest models for other hearing aids, it's a nice balance, and a great option for those transitioning from a larger, older hearing aid, or for someone who is looking for something smaller but doesn't want to buy the most expensive models.
Universal Fit. A universal fit makes for more versatility, in theory. Each hearing aid features an ear hook with an open thin tube.
Easy Controls. One thing I like about both models of Magic Hear is that, while these hearing aids do have a few solid features, they do so in a not too complicated way. Another thing that worries me about some of the newer hearing aids smart tech devices is how they may be a bit complicated to use. With Magic Ear, you have comfortable, large buttons for volume control, memory selection, and inserting batteries.
Dust and Moisture Resistant. We come into contact with dust and moisture on a daily basis– which can be harmful to electric or battery-operated devices over time. I like that Magic Ear hearing aids are designed with filters for both dust and moisture, as well as a dual insulated main compartment, and additional insulation for the wiring.
Tech Features/ Specifications
Of course, while these main features are helpful for everyday use, and I like some of the choices made here, even more, important are the sound technology and specifications behind the models. Note that all of these features are available in both Audix and Harmony hearing aids.
Noise Reduction. All Magic Ear hearing aids come with wind noise reduction, environmental noise reduction, and impulse sound suppression.
Multiple Channels. Magic Ear hearing aids multiple compression and gain channels, with up to four programmable options for memory, and 16 channels of layered noise reduction.
Adaptive Directionality. Not only do these hearing aids offer directionality– that is, the ability to use for sounds both in front–but also directionality that adapts as you move.
Adjustability and Warnings. Tone amplitude and frequency adjustments, as well as the ability to easily switch tones, makes for a more versatile hearing aid. I also appreciate the warning for a low battery so you can plan ahead and won't be left with a dead battery.
Other Noteworthy Features. Other noteworthy features include dual biquad filters, which allow for more personalization specific to the hearing loss type; dynamic compression; and an easy-to-program delay.
My Takeaway
Something that concerned me is that there is no description of the differences between models. Both models are said to have all of these same features, so likely it has to do with the design.
I also would have liked to have seen an option for feedback suppression– which really is quite important for a nuanced hearing aid experience.
There is a lot to like here on the specs otherwise, especially the multiple channels, easy use, and adaptive directionality. I was surprised by how many features it packs– but still concerned about how well they worked, some lack of details, and the lack of feedback suppression.
What other products does Magic Ear sell?
The magic ear also sells Personal Sound Amplifiers, known as PSAP's. Personal Sound Amplifiers make things louder, without all the tech features of hearing aids.
These are most useful for those with quite mild hearing loss, or for certain situations. They might be used, for instance, in an especially bustling social environment, when out in nature, an event, or even dining out.
To look at Magic Ear sound amplifiers, it's important to go in with those expectations: they won't do much for adjusting frequencies or adapting to specific needs. These are good in a pinch, or, like I said, for specific situations.
Still, the personal sound amplifiers have a number of features I appreciate, including ten channels of layered noise reduction; two compression channels; 12 channels for digital sound processing; as well as dynamic and adaptive compression. It'll also come with the same low battery warning and power-on delay as their hearing aids.
How do you use Magic Ear?
While older models used to once require you to plug in earbuds, the new models fit seamlessly into your ears, just as a hearing aid would. You have to make sure that batteries are in good working order.
You'll want to make full use of the programmable memory. To ensure a seamless fit, I recommend consulting a specialist. The softer design is meant to fit comfortably, but, as with any hearing aid, when inserted incorrectly, the issues can range from discomfort to pain and even additional hearing problems.
Generally speaking, Magic Ear, and other hearing aids like it, should point in the direction of the canal opening and gently placed so that the inner tubs sit against the side of the head. The fit should be secure, but not cause any discomfort or pain.
Does Magic Ear really work?
Magic Ear does work– it does an excellent job of amplifying sounds, even quiet ones from further away. Magic Ear has made great strides in overcoming its once cumbersome and more antiquated model by producing something more akin to a professional hearing aid, and many will find that it is helpful for situations like watching TV or holding a conversation.
With the new features of multiple channels and filters, some of the issues with Magic Ear have now been addressed– but it does have some small limitations.
While these models are relatively new, there is concern about volume consistency, as well as picking up static. That likely would come from the feedback feature that is not offered. For other reviewers, there are mixed opinions.
Without a doubt, Magic Ear works as a sound amplifier– but may fall a little short in terms of a nuanced, day-to-day hearing aid.
Who shouldn't use Magic Ear?
Magic Ear is not recommended for anyone with serious ear conditions. Those with ear pyogenesis, tympanitis. I also don't recommend Magic Ear for something more severe hearing loss.
It's important to understand the limits of even the best hearing aids: while they can improve hearing ability, they cannot reverse hearing loss, nor can they fully make up for any hearing loss that has occurred.
Frequently Asked Questions
Question: Does Walmart carry magic ears?
Answer: Walmart carries the older version of Magic Ear. The Walmart version includes a more basic version that does not have all the tech features the new series has. It looks more like a pocket radio, with plug-in headphones.

It features 15 volume levels and is meant to enhance sounds. This version is more like a basic sound amplifier and is very cheap, maybe best for tighter finances, coming in well under $35– but I don't think it's worth the money, based upon both specs and review.
Question: What is Miracle Ear?
Miracle Ear, not to be confused with Magic Ear, is another mass-market hearing aid device. Miracle Ear costs a few thousand dollars, is FDA approved, and comes with both custom fitting and free hearing testing. Such features are good to consider for overall health concerns and everyday home use.
Final Recommendation: Magic Ear for a Sound Amplifier, not a Hearing Aid
With Magic Ear, I would advise against using it as a long-term replacement for other hearing aids. There are a few features that are missing that may not make it suitable for long-term use, and the feedback may be problematic on a day-to-day basis.
It is not officially FDA approved, and it doesn't provide a custom fit. I do think it's an affordable option for a sound amplifier, and can be used around the house– but I'd lean against using it as your full everyday hearing aid.
Want to learn more? Read this guide to the best hearing aids.
Interested in Magic Ear? Visit their website.